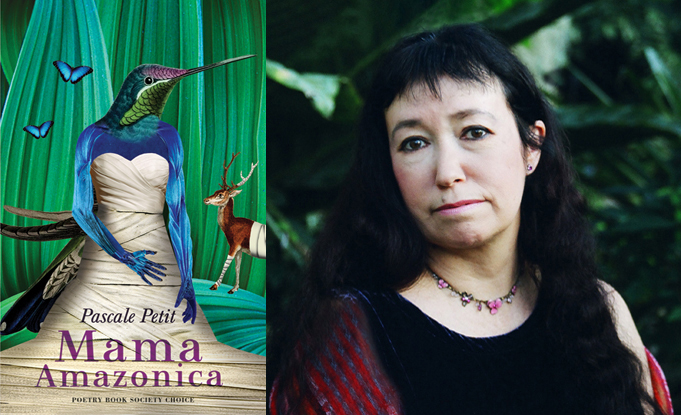 Pascale Petit wins Ondaatje Prize 2018
Pascale Petit's seventh poetry collection Mama Amazonica has won the Royal Society of Literature's 2018 Ondaatje Prize. This is the first time in the prize's 15-year history that a poetry title has won. This annual award of £10,000 is for a distinguished work of fiction, non-fiction or poetry, best evoking the spirit of a place. Pascale was announced as winner at a ceremony in London on Monday 14 May 2018.
The 2018 judges Tahmima Anam, Eva Hoffman and Daljit Nagra commented:
'Mama Amazonica is an unforgettable read - rich with metaphor, the poems explode on the page with the multiple narratives of motherhood, illness, pain, and redemption. All of this set in a rainforest that is both mythic and vividly alive. This is a book that feels almost magical in its unlikeliness, and that for me is what made it a clear winner.' - Tahmima Anam
'Rarely has the personal and environmental lament found such imaginative fusion, such outlandish and shocking expression that is at once spectacularly vigorous, intimate
and heartbroken.' - Daljit Nagra
'In Pascale Petit's evocations, the Amazon rainforest comes alive, with human characters as much a part of nature as the creatures and plants living there – alluring
and frightening, violent and vulnerable, dangerous and endangered. A feat of imaginative intensity, this is also an act of reckoning and reparation, in which deep empathy
for a disturbed mother is transmuted into the exacting beauty of poetic language.' - Eva Hoffman
Pascale Petit commented:
'I'm absolutely thrilled to win this particular prize for a book evoking the spirit of a place. I've been obsessed with the Amazon rainforest for 25 years, and I poured that obsession into Mama Amazonica. The Amazon has become my mother, in all her abused glory, and through that eco-system I am able to love an estranged and mentally ill parent. I've travelled to the Amazon four times, and recently stayed in a research centre deep in the Peruvian pristine jungle, and have observed at close hand how scientists are recording species as they vanish. It was there I saw a jaguar in his home!'

Further details, including the other titles shortlisted, are on the RSL website here.
'Magical' collection of poems about mental illness and the beauty of the rainforest scoops £10,000 Ondaatje Prize' . Read The Telegraph's report here.
Extracts from all from all six shorlitsted titles were featured in the Travel section of The Telegraph of 21 April. Pascale Petit's poem 'Río Tambopata' was included, and illustrated at the top of the print edition with a close-up of a spectacled caiman. Click here to read (by subscription or register for one free article a week).
'Petit won [the RSL Ondaatje Prize 2018] for her glittering and breathtakingly fearless book of poems, Mama Amazonica, which marks the first time that poetry has beaten novels and travelogues in this category… In just 112 pages, Petit creates a work of indelible power and tragic, dramatic force.' – Nilanjana Roy, Financial Times
Read Nilanjana Roy's full review in the FT of 25 May here.
While Pascale was in Belgrade for the poetry festival in May she gave an interview to the magazine Rhizome. Read the interview here.

An interview with Pascale Petit is included in the Summer 2018 issue of The RSL Review magazine. She was speaking to Eva Hoffman about winning the RSL Ondaatje Prize 2018. The three-page feature was illustrated with a photo of Pascale next to Grayson Perry at the award ceremony. Eva Hoffman was one of the three judges of the award.
'… Petit's poetic narrative delivered a jolt of surprise in its sheer imaginative intensity, and the originality of its poetic language… Mama Amazonica is both unflinching in confronting the violence of her mother's madness and a feat of understanding, even tenderness.' – Eva Hoffman, RSL Review
Pascale Petit spoke to Tishani Doshi about Mama Amazonica for The Hindu. Read the feature review here.

Mama Amazonica was also shortlisted for the Roehampton Prize 2018, along with fellow Bloodaxe poet Ahren Warner's third collection of poems Hello. Your promise has been extracted.
Pascale was filmed speaking to Roehampton judge Nathalie Teitler about her 25-year obsession with the Amazon rainforest here.
Mama Amazonica is set in a psychiatric ward and in the Amazonian rainforest, an asylum for animals on the brink of extinction. The book tells the story of Pascale Petit's mentally ill mother and the consequences of abuse, as well as celebrating the beauty of the wild, whether in the mind or the natural world. It evokes the spirit of the Peruvian Amazon, informed by two trips Pascale made to the region in 2016. Photographs she took there are included in an interview with Pascale Petit in the March 2018 issue of The Compass magazine here.
[22 August 2018]