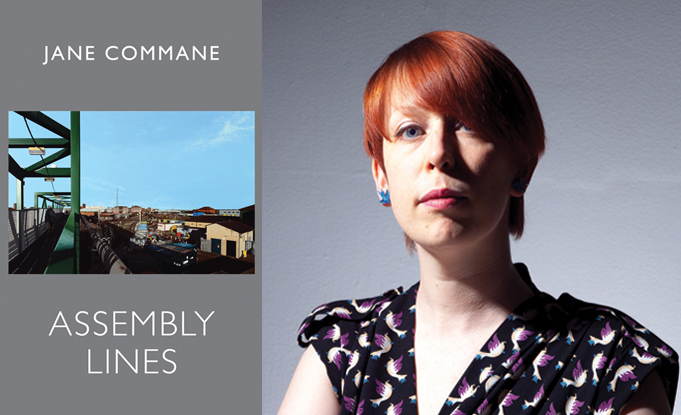 Jane Commane on Radio 4's Start the Week
Jane Commane's first full collection Assembly Lines, published in February 2018 by Bloodaxe, echoes the life of post-industrial towns and cities of the Midlands.

Start the Week: Dark Satanic Mills, BBC Radio 4, Monday 21 May 2018, 9am, repeated 9.30pm

Jane Commane was a guest on Start the Week, Radio 4's flagship weekly discussion programme, on 21 May. Fellow guests on the programme were Mariana Mazzucato, the architecture critic Rowan Moore and Joshua Freeman, who has written a history of giant factories. They were discussing work and labour, including a study of the labour market.
Jane spoke about the post-industrial setting of her collection
Assembly Lines
, and of the effect that deindustrialisation has on communities. She read her poem 'Midlands kids,' from the collection. Presenter Amol Rajan also mentioned her poem 'On the New Bypass'.
'The poems in Jane Commane's collection, Assembly Lines, are set in a Midlands where ghosts haunt the deserted factory floor and the landscape is littered with 'heartsick towns'.
Listen via
Start the Week
's webpages
here
. Jane's interview is at 9.06, but she contributes to the discussion at other points in the programme.
Carol Rumens discusses Jane Commane's poem 'Our Old Lady of the Rain' from
Assembly Lines
in her online
Guardian
Poem of the Week column for 19 March 2018
Click here to read.

'Jane Commane's first collection Assembly Lines … enjoys the "commonplace miracles" of the ordinary people who make the wheels go round… The whole book is an elegy for a generation of "Midlands kids" who "grew up in the back seats / of the long-gone marques of British manufacturing'…' – Andy Croft, Morning Star
Click here to read review in full.


[21 May 2018]