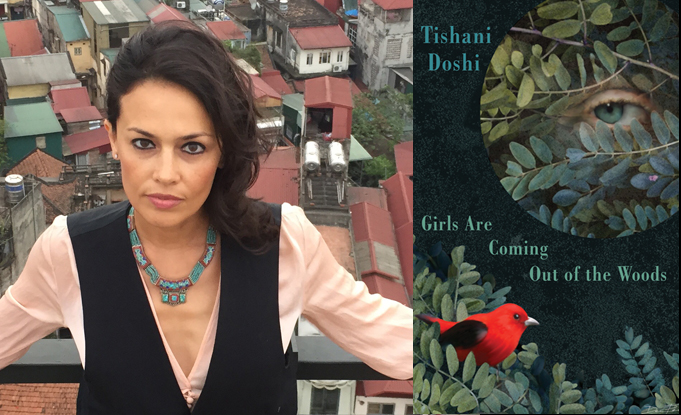 Tishani Doshi Interviews & Books of the Year
Shortlisted for the Ted Hughes Award 2018
'The poet revels in a love of language; its capacity for ambiguity, for awe, to express emotional fragility. Sometimes playful and ambivalent, this is an invariably profound and excavating experience in its search for meaning.' - Judges, Ted Hughes Award 2018
'Tishani Doshi's third collection, Girls Are Coming Out of the Woods, chillingly conjures an uprising of dead women who refuse to be silent victims of male violence... Elsewhere, there are frank and moving poems about the experience of ageing and pressures on women to reproduce, as well as a playful imagined meeting with a young Elizabeth Bishop in Madras and an ode to Patrick Swayze.' – Sandeep Parmar, The Guardian (Poetry Books of the Year 2018)
'Girls Are Coming Out of the Woods is one of the rare poetry collections that wholly captivates its reader from page to page. It absorbs its reader through tides of rage, defiance and peace; line by line it swells with Doshi as she experiences the every day, the violent, the unjust.' – Beth Cochrane, The Skinny (Best Books of 2018)
'I've already read Tishani Doshi's poetry collection Girls Are Coming Out of the Woods but I know I'll return to it many times. One of the poems talks about poets 'holding the throat of life/ till all the sunsets and lies are choked out/ till only the bones of truth remain' - that's precisely what Doshi does in this intelligent, elegant, unflinching collection. It's very much a collection for this moment in history, but one that will endure long past it. ' - Kamila Shamsie, The Guardian (Best Summer Books 2018)
Poet and dancer Tishani Doshi launched her third collection Girls Are Coming Out of the Woods with a three-month tour of the UK and Ireland from May to August 2018. She gave a mix of readings, 'in conversation' events and dance performances. Girls Are Coming Out of the Woods is a Poetry Book Society Recommendation for Summer 2018. It follows on from Everything Begins Elsewhere, published by Bloodaxe in 2012, and her debut, Countries of the Body, winner of the Forward Prize for best first collection. Tishani is of Welsh/Gujarati descent (this new collection is dedicated to her Welsh mother) and she currently lives on a beach in Tamil Nadu, Southern India.
Tishani Doshi devised a powerful twenty-minute dance sequence to her poem 'Girls Are Coming Out of the Woods' and performed this at venues across the UK and Ireland. Tishani danced for many years with the renowned choreographer Chandralekha, with whom she performed internationally. She gave a launch reading at the Hay Festival, and read at Ledbury Poetry Festival in July. Her final reading was with John Burnside at Edinburgh International Book Festival on 20 August. She'll be back in the UK in summer 2019.
Thishani Dosh has been shortlisted for the Ted Hughes Award 2018 for Girls Are Coming Out of the Woods and for her accompanying dance piece. The winner will be announced on 27 March 2019. More here.
You can watch Tishani's reading at the Hay Festival here. Girls Are Coming Out of the Woods was the Hay Festival's Book of the Month for October 2018.
Vanity Fair, Ten Questions with Tishani Doshi: read the interview here.

RADIO 4 INTERVIEW WITH TISHANI DOSHI

Front Row, BBC Radio 4, Monday 21 May 2018, 7.15pm

Poet & dancer Tishani Doshi kicked off her UK & Irish tour with an interview on Radio 4's Front Row. She was talking about and reading from her new collection Girls Are Coming Out of the Woods. Shei read her poem 'When I Was Still a Poet' in the introduction, and then read an extract from the opening poem 'Contract' in the main interview (with a bonus poem 'Ode to Patrick Swayze' on the podcast.
'Poet, writer, and dancer Tishani Doshi talks about her new poetry collection, The Girls Are Coming Out of the Woods, which was inspired in part by the murder of a close friend. The poems consider how women's bodies are treated, and explore themes of anger, love and loss as well as ways to find hope and strength in the modern world.'
Listen here. Available to download as a podcast (Tishani reads an additional poem on the podcast).
PODCAST INTERVIEWS WITH TISHANI DOSHI

Scottish Poetry Library, podcast interview online 17 October 2018

A half-hour podcast interview with Tishani Doshi is on the Scottish Poetry Library's website. She was interviewed when she was in Edinburgh for the final reading in her three-month UK and Irish tour. She was talking to Colin Waters about her third collection Girls Are Coming Out of the Woods, and read and spoke about her poems 'Contract', 'Ode to Patrick Swayze', the title poem and finally 'A Fable for the 21st Century' from it.

She talked about writing poems that address violence against women during the MeToo era, how comfortable she is to describe herself as a poet, and why Patrick Swayze is worthy of an ode. She also spoke about her career as a dancer.

'Tishani Doshi's third collection Girls are Coming Out of the Woods (published in the UK by Bloodaxe) is one of the great collections of 2018.' – Colin Waters, Scottish Poetry Library

Click here to listen.


Guardian Podcast, online Friday 1 June 2018

Tishani Doshi was interviewed on the Guardian podcast with Claire Armitstead and Sian Cain, recorded at the Hay Festival. She read the title poem from her new collection Girls Are Coming Out of the Woods and then spoke about the background to the poem.

'The Indian poet Tishani Doshi spoke in a series of sessions at the Hay Festival this year. Claire was so impressed with her, after an event with Salman Rushdie, that she nabbed her to give us her take on the #MeToo movement by a reading of the title poem of her new collection.' – Sian Cain

'Poet Tishani Doshi gives an impassioned response to the problem of violence against women in India.'

Click here to listen. Tishani Doshi features from 31.12.
'It's impossible not to cheer the boldness and liberation enacted by much of this book, and to be stirred by its bravery. To paraphrase one interviewer, Doshi is writing the anthems of her generation.' - Sandeep Parmar, The Guardian
Read Sandeep Parmar's review in The Guardian in full here.
ONLINE INTERVIEW

'Tishani Doshi's Girls Are Coming Out of the Woods is an unflinching, tender, witty and wise collection of poems about danger, memory, beauty, time and tide, and transient but treasured joy. I catch up with her at the start of a marathon book tour that takes her from London and Newcastle to Ireland and Cornwall and many points in between.' - Mark Reynolds, Bookanista
Read the interview with Tishani Doshi on Bookanista here.
Tishani also gave interviews to Radio 3's The Verb, Radio Ulster's The Arts Show and to BBC Asian Network's Big Debate (live from the Hay Festival) - no longer available to listen to online.

[27 February 2019]