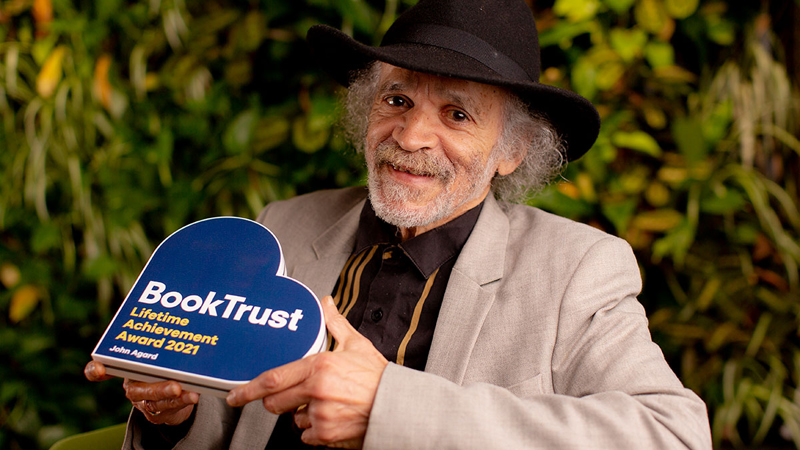 John Agard first poet to receive the BookTrust's Lifetime Achievement Award
Photo: David Bebber
'... if Agard had not already been forged in the roller-coaster aftermath of empire, there would be an urgent need for society to invent someone like him.' – William Wallis, Financial Times Magazine
Poet, performer, anthologist, John Agard was born in Guyana and came to Britain in 1977. His many books include nine from Bloodaxe, most recently The Coming of the Little Green Man (2018), with his ninth collection Border Zone published in April 2022.
John Agard was awarded the Queen's Gold Medal for Poetry for 2012 for his Bloodaxe retrospective Alternative Anthem: Selected Poems (2009, with DVD), which includes some of his poetry for children along with a selection of his poetry for adults. In November 2021 John Agard became the first poet to win BookTrust's Lifetime Achievement Award for his contribution to children's literature.
An interview with John Agard in connection with this award is on the BookTrust website here. The Guardian's feature on the BookTrust Award here links to a Poem of the Week column by Carol Rumens.
John Agard is featured on the cover of The Bookseller magazine of 12 November 2021. In that issue, fellow authors Benjamin Zephaniah, Malorie Blackman, Cressida Cowell and Michael Morpurgo, welcomed the news of John Agard's award. Read in full here.

'Meet John Agard and you'll have met the warmest of men, and you'll have met one of our finest poets. How many thousands of children and grown-up children must there now be who have come to love poetry, and write their own poetry, through the work of John Agard?' – Michael Morpurgo, The Bookseller
A piece on John Agard by Frank Cottrell Boyce, one of the BookTrust's Lifetime Achievement Award judges, is here.
RADIO 3 INTERVIEW WITH JOHN AGARD

The Verb: Live from Contains Strong Language, Friday 24 September 2021, 10pm

John Agard took part in a special live edition of Radio 3's The Verb broadcast from the Belgrade Theatre Coventry as part of the BBC's Contains Strong Language Festival. He read a tender poem in response to the death of his mother in 2015, 'A Mariner of Any Kind', along with another new poem, 'Flag Speaks' (from his 2022 collection Border Zone).
John's most recent collection is The Coming of the Little Green Man. His next collection Border Zone is published by Bloodaxe in April 2022.
'This year the Contains Strong Language festival of poetry and performance is in the 2021 City of Culture, Coventry. Ian McMillan is broadcasting live from the Belgrade Theatre, joined by some of the festival guests. Loyle Carner is a Mercury Prize-nominated musician who will be performing his poetry. We celebrate the poetic links between Guyana and Britain with the poet John Agard. Former Birmingham Laureate Roy McFarlane on his work specially commissioned for Contains Strong Language as well as poetry about Coventry's musical heritage..'

Listen here. John Agard features from 09:18. He reads 'Flag Speaks' from 17:08.


INTERVIEW WITH JOHN AGARD ON BBC RADIO 4

Start the Week, BBC Radio 4, Monday 8 April 2019, 9am & 9.30pm

John Agard was one of the guests on Radio 4's flagship discussion programme Start the Week on Monday 8 April. He was talking to Andrew Marr about his latest collection The Coming of the Little Green Man and read his poem 'Not Lost in Translation' from the collection. The focus of the rest of the discussion was on ageing.
Andrew Marr introduced John Agard as 'one of our most loved and well-known poets', and of his book said: 'His new collection, The Coming of the Little Green Man, takes the world of the outsider to its logical, if extreme, conclusion.'
Fellow guest, science writer Sue Armstrong, said in response to John's contribution:
'I loved your poems, John, I really did. The language was beautiful, I found it really thrilling, but one of the things I loved was the simplicity of it… This little green man had a back story and all kinds of possibilities, so you found your mind really firing with each of these poems – I thought they were absolutely wonderful.'
'The poet John Agard is 70 this year. In his latest collection, The Coming of the Little Green Man, he explores the world from the stance of the outsider. In a series of mischievous, satirical fables he gives voice to the political and spiritual, comic and poignant.'

The full programme is available on the Start the Week webpages (John Agard features in the intro & from 18.40).
https://www.bbc.co.uk/programmes/m00040l9
INTERVIEW WITH JOHN AGARD IN THE FINANCIAL TIMES WEEKEND MAGAZINE

FT Weekend Magazine, 5/6 May 2018
'If Agard had not already been forged in the roller-coaster aftermath of empire, there would be an urgent need for society to invent someone like him.' - William Wallis, Financial Times Magazine
A four-page feature on John Agard ran in the Financial Times' FT Weekend Magazine of 5/6 May 2018. It was illustrated with a full-page colour portrait and a small headshot of John Agard, both taken especially for the piece, along with a b/w photo of some of the first immigrants from Jamaica arriving on the Empire Windrush, June 1948.

The piece was accompanied by a new poem by John Agard, 'Windrush Postcript'. The FT also created a short film of John reading his poem 'Amidst a Multitude of Vegetables', which is published in The Coming of the Little Green Man, published by Bloodaxe in October 2018. The poem is discussed within the feature:

'Telling it slant is what he does in answer to my next question about globalisation. Instead of killing the moment with talk of Brexit, he declaims another poem from a new collection he has written, which looks askance at multiracial London through the eyes of a "Little Green Man" who arrives at Heathrow in a uniquely green minority of one.'

The film of John reading the poem 'Amidst a Multitude of Vegetables' was posted on Twitter. View here.

The piece referred to his recent collection Playing the Ghost of Maimonides and his The Coming of the Little Green Man.
Full interview available by subscription online here.

[12 November 2021]