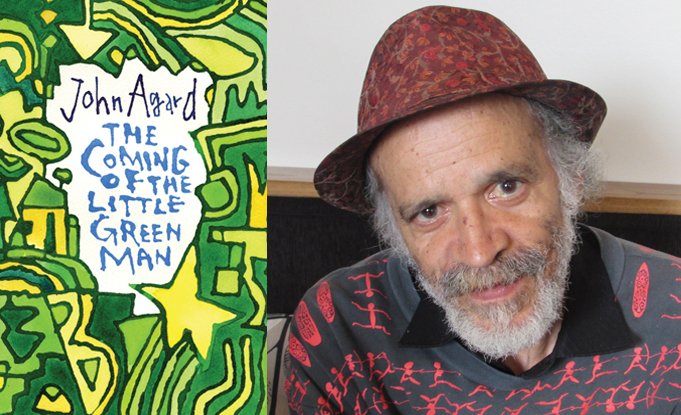 John Agard Interview & Book of the Year in FT
FT Weekend, Books of the Year, Saturday 24 November 2018
John Agard's new collection The Coming of the Little Green Man was one of the poetry titles chosen by Maria Crawford for the Financial Times' Books of the Year feature of 24 November. Illlustrated online with colour cover images of 3 of the titles chosen.
'In the year when we learnt of the damage and cruelty that the UK's hostile-environment policies inflicted on the Windrush generation, John Agard strikes back with these cleverly crafted parables of an outsider. The little green man's encounters and observations, his mix of wonder and wise caution, are given a voice that manages to be both naïve and incisive.' – Maria Crawford, Financial Times (Poetry Books of the Year 2018)
Click here to read: Maria Crawford selects her must-read titles. Available online by subscription.

FT Weekend Magazine, 5/6 May 2018
A four-page feature on John Agard ran in the Financial Times' FT Weekend Magazine of 5/6 May. It was illustrated with a full-page colour portrait and a small headshot of John Agard, both taken especially for the piece, along with a b/w photo of some of the first immigrants from Jamaica arriving on the Empire Windrush, June 1948.

The piece was accompanied by a new poem by John Agard, 'Windrush Postcript'. The FT also created a short film of John reading his poem 'Amidst a Multitude of Vegetables', which is published in The Coming of the Little Green Man, published by Bloodaxe in October 2018. The poem is discussed within the feature:

'Telling it slant is what he does in answer to my next question about globalisation. Instead of killing the moment with talk of Brexit, he declaims another poem from a new collection he has written, which looks askance at multiracial London through the eyes of a "Little Green Man" who arrives at Heathrow in a uniquely green minority of one.'

The film of John reading the poem 'Amidst a Multitude of Vegetables' was posted on Twitter. View here.

The piece referred to his recent collection Playing the Ghost of Maimonides and his The Coming of the Little Green Man.
Full interview available by subscription online here.


[04 December 2018]