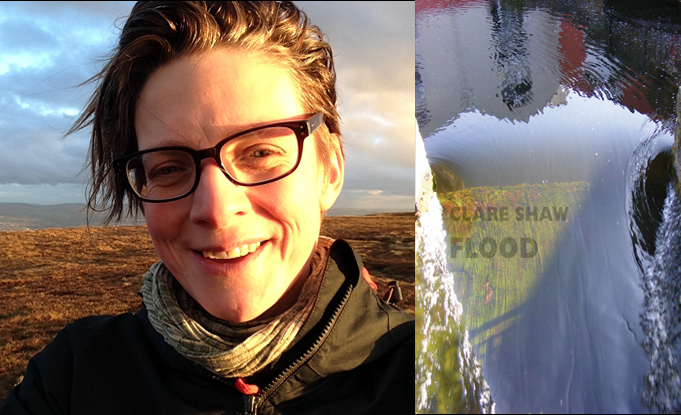 Clare Shaw on BBC Radio 3 & Radio 4
'Caught directly in the deluge's rising tide, Shaw is a witness who gives incantatory evidence of poetry's power to define, rather than simply describe, the existential pain of being caught helpless in maelstroms both external and psychological.' - Steve Whitaker, The Yorkshire Times
The territory of Clare Shaw's third collection isn't one she chose herself, but one which chose her: the flooded valley and the ruined home. The 2015 floods in Britain left whole swathes of the country submerged, including her home town of Todmorden. Flood offers an eye-witness account of those events, from rainfall to rescue, but ripples out from there. Intimately interwoven with the breakdown of a relationship, flooding serves as a powerful metaphor for wider experiences of loss, destruction and recovery.
Two poems from Flood are featured on the Bookanista website here. An in-depth review is online at The Yorkshire Times here.
BBC RADIO 4 FEATURE PRESENTED BY CLARE SHAW

Ways to Weather the Storm, BBC Radio 4, Sunday 21 March 2021, 4.30pm (repeated Saturday 27 March, 11.30pm)

Clare Shaw presented this half-hour feature for BBC Radio 4 on 21 March. Her 2018 third collection Flood was her personal account of the devastating floods in the Calder Valley in 2015. The programme draws on and refers to her collection, as well as work by other poets, artists, musicians and historians.

'In the flood-prone landscape of the Calder Valley, poet Clare Shaw asks what it means to live with the inevitability of severe flooding, and why this part of England continues to be loved by its communities - in particular by its many resident artists who are inspired by this watery, often bleak surrounding. Recorded entirely on location on the steep-sided valleys and wind-swept tops of Calderdale, Clare discusses the pull and the perils of living here, and what this landscape and its communities can teach us about living with disaster of the most elemental kind…. We hear too from Clare's own collection Flood: a poetic exploration not just of flooding, but also of flood as metaphor in her own life, from breakdown to her mother's death, to the end of a failing relationship. We shape our own world - through stories and music and art and through everyday acts of kindness and resilience.'

The programme ended with Clare reading her poem 'Flood as Redemption' from her her Bloodaxe collection Flood.

Listen here.
The programme was a radio highlight in Sunday Times's Culture magazine on 21 March. See here.



Hebden Bridge Film Festival, 20-21 March 2021 – film of a new poem by Clare Shaw
Clare was commissioned to write a poem for Hebden Bridge film festival. Her poem 'The Picture House' was made into a short film performed by Maxine Peake, who is the patron of the festival.
Maxine Peake recites 'The Picture House' - a poem by Clare Shaw celebrating the beautiful and historic Hebden Bridge Picture House.

PODCAST INTERVIEW WITH CLARE SHAW

Planet Poetry podcast: Climate | Weather | Rain Landscape and Language, Thursday 5 November 2020

Clare Shaw was interviewed for the second episode of the Planet Poetry podcast. She was in conversation with poet Robin Houghton, who then went on to discuss the book with her co-presenter Peter Kenny.

Clare read her poems 'And still I don't know', 'Instructions for coping in terrible times' and finally her 'really moving' poem 'Open Door Policy' – all from her third collection Flood. She spoke about the devastating floods in Hebden Bridge in 2013 and 2015 that informed the collection. The book is also the story of a relationship from the beginning to its end, and the story of how we can survive and come back from disaster.

She also mentioned her forthcoming fourth collection Towards a General Theory of Love, which is due from Bloodaxe in 2022, and which won a Northern Writers Award.

The podcast began with Peter Kenny reading Edward Thomas's poem 'Rain' – which is included in Edna Longley's Edward Thomas: The Annotated Collected Poems, which was published by Bloodaxe in 2008.

The first episode of the Planet Poetry podcast featured an interview with Pascale Petit.

Listen to the podcast here. Interview with Clare Shaw from 05:56.

BBC RADIO 3 INTERVIEW WITH CLARE SHAW

The Verb: Landscape and Language, Friday 2 October 2020, 10pm

Clare Shaw was a guest on The Verb on 2 October. This was one of the programmes recorded in front of an audience at the BBC Contains Strong Language festival in Cumbria. Clare was reading from her third collection Flood, her first-hand account of the devastating floods of 2015.

Clare read and talked about her poems 'Teaching Your Daughter to Swim' and 'Catastrophic devastation; damage complete.' She spoke about wild swimming, the 2015 floods in Hebden Bridge and Todmorden, and about finding a safe haven in that community.

'This year the Contains Strong Language Festival of poetry and spoken word goes to Cumbria, as part of the programme of events marking the 250th anniversary of William Wordsworth's birth. This week's Verb was recorded at the Forum Theatre in Barrow-in-Furness, with a small, but enthusiastic socially distanced audience. Our theme is the meeting of language and landscape, and Ian's guests are the poet Clare Shaw whose 2018 collection Flood conveys water at its most awesome and destructive, writer and playwright Zosia Wand, who uses the shifting sands of Morecambe Bay as her stage in work that examines how we find identity amidst unreliable memories and family secrets. National Youth Slam Poetry Champion Matt Sowerby is one of the poets commissioned by the Contains Strong Language Festival to write a poem in response to Ruskin's View, alongside Karen Lloyd, who also reads from her work in progress book of essays on the importance of telling hopeful stories and truly paying attention to the natural world.'

Clare Shaw is interviewed first, and then again at 30:36. Listen here.


RADIO 4 INTERVIEW WITH CLARE SHAW

Hacking Happiness: Self-Harm Nation, BBC Radio 4, Tuesday 17 July 2018, 1.45pm

Clare Shaw has contributed to a Radio 4 series Hacking Happiness. She spoke to presenter Leo Johnson about her experience of self-harm. This episode opened and closed with Clare reading extracts from the beginning and end of her poem 'I came back' (from her new collection Flood).

Click here to listen.
This series was chosen by Adrian Chiles for Radio 4's Pick of the Week on 22 July.





[19 August 2019]