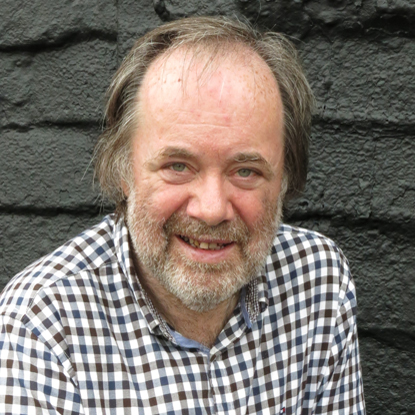 Matthew Sweeney (1952-2018)
We are very saddened by the news of Matthew Sweeney's death from motor neurone disease, which hit him only last autumn. He was 65. His sister died from the same disease in 2009.
Matthew Sweeney published his twelfth collection, My Life as a Painter, in April of this year. Launching the book at Cork World Book Fest, he talked to journalist Colette Sheridan in a moving interview for the Irish Examiner headed 'I prefer not to dwell on my demise' (this can be read by clicking on this link). The book's publication was celebrated with readings in Cork and London with Matthew supported by poet friends including Jo Shapcott and Maurice Riordan. A video of the Cork event can be seen below.
The Irish Times has published an obituary (click on this link to read) by Mary O'Halloran in which other poets pay tribute to him, including Theo Dorgan, who described him as 'one of the finest poets of his generation, a craftsman of the highest achievement, with a distinct music all his own. More than this, though, and from the start, he had the courage of his own idiosyncratic sensibility; nobody now writing has Matthew's gift for employing the language and images of fable to such dark and unsettling effect, ringing the changes from tenderness to dark comedy with such power and verve... Always, he was determined to place his poetry in the largest possible context. Matthew was a kind and witty man, a good and helpful friend to young poets, a stalwart colleague and, faced with a terminal diagnosis, brave and true to the end.'
Matthew Sweeney was born in Lifford, Co. Donegal, Ireland in 1952. He moved to London in 1973 and studied at the Polytechnic of North London and the University of Freiburg. He married Rosemary Barber in 1979, and they had two children. They separated in 2002. He established his literary reputation while based in London over two decades, becoming as well known in Britain – where he was always published – as in Ireland. In later years he lived in Berlin and Timisoara, Romania, before returning to Ireland, initially to Ballyliffin in Donegal and then settling in Cork, where he met his partner the poet Mary Noonan.
His poetry collections include A Dream of Maps (Raven Arts Press, 1981), A Round House (Raven Arts Press, 1983), The Lame Waltzer (Raven Arts Press, 1985), Blue Shoes (Secker & Warburg, 1989), Cacti (Secker & Warburg, 1992), The Bridal Suite (Jonathan Cape, 1997) and A Smell of Fish (Jonathan Cape, 2000), Selected Poems (Jonathan Cape, 2002), Sanctuary (Jonathan Cape, 2004), Black Moon (Jonathan Cape, 2007), The Night Post: A Selection (Salt, 2010); and three from Bloodaxe, Horse Music (2013), Inquisition Lane (2015) and My Life as a Painter (2018). Black Moon was shortlisted for the T.S. Eliot Prize and for the Irish Times Poetry Now Award. Horse Music won the inaugural Pigott Poetry Prize in association with Listowel Writers' Week, and is a Poetry Book Society Recommendation. He also published editions of selected poems in Canada (Picnic on Ice, Vehicule Press, 2002) and two translated by Jan Wagner in Germany, Rosa Milch (Berlin Verlag, 2008) and Hund und Mond (Hanser Berlin, 2017).
He won a Cholmondeley Award in 1987 and an Arts Council Writers' Award in 1999. He also published poetry for children, with collections including The Flying Spring Onion (1992), Fatso in the Red Suit (1995) and Up on the Roof: New and Selected Poems (2001). His novels for children include The Snow Vulture (1992) and Fox (2002). He edited The New Faber Book of Children's Poems (2003) and Walter De la Mare: Poems (2006) for Faber; co-edited Emergency Kit: Poems for Strange Times (Faber, 1996) with Jo Shapcott; and co-wrote Writing Poetry (Teach Yourself series, Hodder, 1997) and the comic novel Death Comes for the Poets (Muswell Press, 2012) with John Hartley Williams.
Matthew Sweeney held residencies at the University of East Anglia and the South Bank Centre in London, and was Poet in Residence at the National Library for the Blind as part of the Poetry Places scheme run by the Poetry Society in London. He was writer-in-residence at University College Cork in 2012-13, and was a member of Aosdána.
Matthew Sweeney leaves his partner Mary Noonan, (his and Rosemary's) daugher Nico and son Malvin, grandchildren Nell and Jude, and brothers Páid and Damhnait. A celebration of his life and poetry took place on Wednesday 8 August in the Triskel Arts Centre, Tobin Street, Cork City.
'... one of the most adventurous, life-enhancing and distinctive poets of his gifted generation.' - Bill Swainson pays tribute to Matthew Sweeney in The Guardian. Obituary can be read here.
[Matthew Sweeney, born Lifford, Co. Donegal, 6 October 1952, died Cork University Hospital, 5 August 2018]
Launch of Matthew Sweeney's My Life as a Painter in Cork
Matthew Sweeney's My Life as a Painter was launched in Cork City Library as part of the Cork World Book Festival in April 2018, when the poet was joined by friends Dean Browne, Patrick Cotter, Gerry Murphy, Mary Noonan, Maurice Riordan and Jo Shapcott.
Matthew Sweeney reads from Horse Music
Matthew Sweeney introduces and reads six poems from Horse Music (2013): 'Horse Music', 'Fans', 'The Tunnel', 'Sunday Morning', 'The Slow Story of No' and 'Booty'. Neil Astley filmed Matthew Sweeney at his home in Cork in February 2012.
Matthew Sweeney reads from Inquisition Lane at Ledbury
Matthew Sweeney reads and introduces five poems from Inquisition Lane: 'The Biggest Task', The Insurance Agent', 'Into the Air', 'Elegy for the Moonman' and 'Inquistion Lane'. Filmed by Neil Astley, this video shows part of his reading following an interview with Maitreyabandhu at the Adisthana Retreat Centre, Coddington, part of Ledbury Poetry Festival on 6 July 2016.
[05 August 2018]