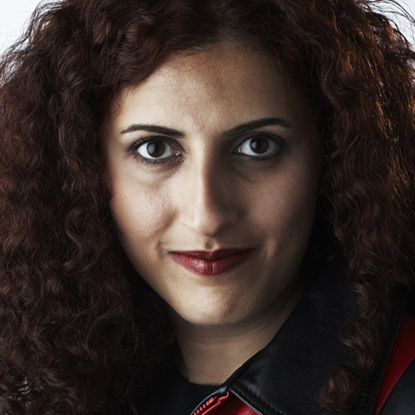 Priscila Uppal (1974-2018)
The Canadian writer Priscila Uppal died yesterday, aged 43. She had been suffering from a rare aggressive form of cancer called synovial sarcoma, and had latterly been hoping that a new experimental drug treatment would work.
Born in Ottawa of South Asian descent, she was professor of Humanities and English at York University in Toronto. She was a poet, fiction writer, memoirist, editor and playwright, the author of eleven books of poetry, including Ontological Necessities (2006), a finalist for the Griffin Poetry Prize.
Her memoir, Projection: Encounters with My Runaway Mother (2013), chronicled her reunion in Brazil with her mother, who abandoned her children and disabled husband, leaving Priscila as a young teenager as chief carer for her father and their family. Shortlisted for the Governor General's Literary Award for nonfiction and Hilary Weston Writers' Trust Prize for Nonfiction, the book was the basis of her play Six Essential Questions, premiered in the Factory Theatre 2013-14 season.
In just a dozen years she gained an international reputation for her boldly provocative poetry, following the publication of her first collection, How to Draw Blood from a Stone, at the age of 23. Noted for their startling imagery, unforgettable characters and visionary lines, her poems are exact and penetrating, yet surreal and deeply moving. Drawing from the scientific to the literary, the medical to the historical, Uppal was as concerned about the inheritance of the past as she was about the tragedies of the present, making her both a witness of the terrors and inconsistencies of the past and a messenger of an incomprehensible future. Time Out called her 'Canada's coolest poet'.
Her first UK poetry selection, Successful Tragedies: Poems 1998-2010, drew on six collections of poetry published in Canada: How to Draw Blood From a Stone (1998), Confessions of a Fertility Expert (1999), Pretending to Die (2001), Live Coverage (2003), Holocaust Dream (with photographs by Daniel Ehrenworth, 2005), Ontological Necessities (2006) and Traumatology (2009). Her most recent collection is Sabotage (Bloodaxe Books, UK; Mansfield Press, Canada, 2015).
She recently co-edited Another Dysfunctional Cancer Poem Anthology with Meaghan Strimas, due out from Mansfield Press in October, and had also completed a new collection of her own poems.
A vivacious gymnast and tennis player, she was the first-ever poet-in-residence for Canadian Athletes Now during the 2010 Vancouver and 2012 London Olympic and Paralympic Games as well as the Rogers Cup Tennis Tournament in 2011.
In 2013 she gave a series of readings with Tishani Doshi around Britain and Ireland, delighting audiences at events in Newcastle, Galway, Grasmere, Edinburgh, Liverpool and Sheffield.
In Newcastle she was filmed by Pamela Robertson-Pearce reading from Successful Tragedies and talking about her work. Here she reads five poems from the book: 'If Abraham', 'Sex with Columbus', 'Sorry, I Forgot to Clean Up After Myself', 'The Old Debate of Don Quixote vs. Sancho Panza' and 'My Mother Is One Crazy Bitch'.
Following her diagnosis in 2015, she was interviewed by Matt Galloway on CBC Toronto's Metro Morning, sharing recent poems about her cancer, telling him: 'I think a very undervalued and powerful tool is the imagination. When you're facing something like [cancer], many people like me feel disconnected and alienated from themselves – from their bodies, from their coworkers, from their loved ones, from the world… The imagination is actually a way to repair and reconnect and heal those connections to yourself and other people.'
When Priscila Uppal's collection Ontological Necessities was a finalist for the Griffin Poetry Prize in Canada in 2007, she was introduced by Charles Simic before reading her poem 'Sorry, I Forgot to Clean Up After Myself', later included in her Bloodaxe Selected, Successful Tragedies:
Her Canadian publisher, Mansfield Press, has posted a recent poem of hers, 'A Good Death', on this webpage.
This article includes some information given in an article on CBC.CA (5 September 2018]
[06 September 2018]