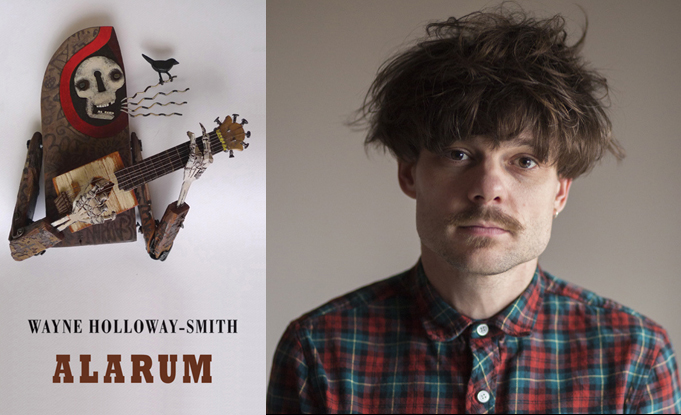 Wayne Holloway-Smith on Radio 3 & Radio 4
Wayne Holloway-Smith's first full-length collection Alarum was published by Bloodaxe in March 2017. It was shortlisted for the Roehampton Poetry Prize 2017 and for the Seamus Heaney Centre for Poetry Prize for First Full Collection, and was a Poetry Book Society Wild Card Choice for Winter 2017. 'Short', the final poem in Alarum, won the the Poetry Society's 2016 Geoffrey Dearmer Prize for the best poem in The Poetry Review during 2016. His next collection Love Minus Love will be published in May 2020.
Wayne won the National Poetry Competition 2018 for his new poem 'The posh mums are boxing in the square'. Read the winning poem here. He read the winning poem on BBC Radio London's Robert Elms show. Click here to listen (availble as a separate 14-minute clip). Wayne made two further appearances on the Robert Elms show on 18 May and 5 October 2019, and has been made 'Poet in Residence' for the show.

RADIO 4 INTERVIEW WITH WAYNE HOLLOWAY-SMITH

Power Lines: Class, BBC Radio 4, Sunday 8 December 2019, 4.30pm (repeats Saturday 14 December, 11.30pm)
Wayne Holloway-Smith contributed to a Radio 4 feature which aired on 8 December. He was interviewed together with his friend Anthony Anaxagorou – they were asked to talk about how class is relevant to their writing. They also spoke about their poetic collaborations, which involve them giving each other lines to prompt a poem. Wayne read his new poem 'Yellow-tiled Kitchen'. Featuring poets from Anthony's 'working class poetics' group at The Poetry School along with other poets.

'Poet, playwright and performer Sabrina Mahfouz looks at working class poetics, talking to poets across the UK about their work and how performing poetry shows has been an avenue into theatre and page poetry for many who would have otherwise been excluded due to class.'

Click here to listen. The programme is available until 20 January 2020. Wayne features from 16:33.

RADIO 3 INTERVIEW WITH WAYNE HOLLOWAY-SMITH
The Verb, BBC Radio 3, Friday 22 November 2019, 10pm
Wayne Holloway-Smith was a guest on Radio 3's The Verb on 22 November. He was discussing the male body with fellow guests and reading from his two Bloodaxe collections. He read two poems from his forthcoming Love Minus Love (at 11:30 and in the podcast). He also read and talked about three poems from his debut Alarum: 'There is absolutely no way to make this real life interesting', 'No worries' and 'Self Portrait #3'.

'The Verb looks at writing about the male body and its malest part - with David Baddiel, Joanna Bourke, Wayne Holloway Smith - and Rob Drummond, who explores male terms of address.'

Available until 22 December 2019 (or download). Over 16s only. Wayne features at 11.30, 24.00, at the end of the programme and reads an extra poem for the podcast.
Click here to listen.
RADIO 4 INTERVIEW WITH WAYNE HOLLOWAY-SMITH

The Echo Chamber: Live at the Contains Strong Language Festival, BBC Radio 4, Sunday 7 October 2018, 4.30pm (repeated Saturday 13 October, 11.30pm)
Wayne Holloway-Smith took part in special live edition of The Echo Chamber that was recorded in front of a theatre audience at the BBC Contains Strong Language Festival in Hull on 30 September 2018. All four interviewed poets spoke about how they came to poetry.
'Jacob Polley, Caroline Bird, Wayne Holloway-Smith and Mary Jean Chan join Paul Farley on stage for a special edition of BBC Radio 4's contemporary poetry series The Echo Chamber.'
The full programme is no longer available, but a separate clip is still available to listen to via BBC Sounds. It features Wayne Holloway-Smith speaking about what he thought about poets & poetry when growing up: "I don't think I really knew that poets existed." Click here to listen.

'A vital book about working class identity' - Andrew McMillan on Alarum, his Winter Guest Selection for the Winter 2017 PBS Bulletin
'This book is funny, clever, serious, touching, and extraordinarily imaginative.' – Mark Waldron on Wayne Holloway-Smith's Alarum.
'enviably good.. hilarious and witty, it's also terrifically sad, but wears its tragedy so lightly at first it's hard to notice. - John Challis writing about Alarum for The Poetry School
Click here to read the full review

Interviews with Wayne Holloway-Smith
An interview with Wayne is in Honest Ulsterman magazine here.
Click here to read an interview with Wayne Holloway-Smith on Poetry Spotlight.
Wayne Holloway-Smith will be reading at the Swindon Poetry Festival on 7 October 2018. See details here.
[26 November 2019]