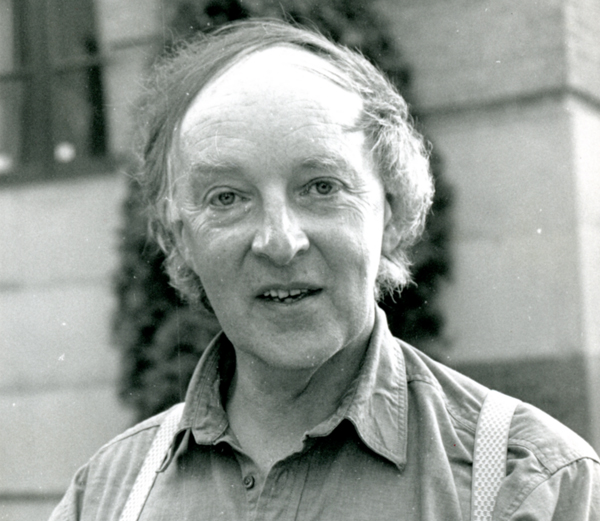 Alistair Elliot (1932-2018)
The poet and distinguished translator Alistair Elliot died on 3 November. He had been ill for the past year.
Born in Liverpool in 1932, the son of a Scottish doctor and an English mother, Alistair was evacuated with his two sisters to Florida in 1940, living for five years at the Palm Beach home of industrialist Charles Merrill, father of the poet James Merrill, while attending school in the US. His later education was at Fettes College, Edinburgh, and Christ Church, Oxford. He did various jobs after university including vegetable invoice clerk in Covent Garden market, night steriliser in a food factory, waiter, film critic, supply teacher, and actor and stage manager with the English Children's Theatre under Caryl Jenner (1957-59). For the rest of his working life he was able to combine writing and translating (from Greek, Latin and French) with his day job as a librarian, starting as an assistant librarian at Kensington Public Library in 1959. From there he moved to the University of Keele (1961-65), Pahlavi University, Shiraz, Iran (1965-67), and lastly Newcastle University, where he was Special Collections Librarian from 1967 until taking early retirement in 1982. His awards included a Cholmondeley Award from the Society of Authors in 2000. He lived for fifty years in Gosforth, Newcastle, and was a member of the Northern Poetry Workshop, a modest man, highly regarded by fellow writers, academics and librarians both in the North East and further afield. Reviewing one of Alistair Elliot's collections in the Observer, Peter Porter wrote that 'his poetry is ruminative, the product of a keen mind writing itself memos about life and art and time… His sexy moments, and their opposites, also pleased me'. In another review, Anne Stevenson praised 'an exceptional book of poems, both resonant and immediate, historically demanding and yet always lively and readable'.
He published nine books of verse translation, including Verlaine's Femmes/Hombres (Anvil Press, 1982/2004), Heine's The Lazarus Poems (MidNAG/Carcanet, 1979), Roman Food Poems (Prospect Books, 2003); and for Bloodaxe, French Love Poems (1991), Italian Landscape Poems (1994) and Paul Valéry's La Jeune Parque (1997). He translated Euripides' Medea for Jonathan Kent's 1982 Almeida Theatre production featuring Diana Rigg which later transferred from the West End to Broadway, and he reconstructed Euripides' play Phaethon from the fragments (Oberon Books, 2008). His own poetry titles included Contentions (Ceolfrith Press, Sunderland, 1977); On the Appian Way (1984) and Talking Back (1984) with Secker & Warburg; My Country: Collected Poems (1989), Turning the Stones (1993), and Facing Things (1997) from Carcanet; and The Real Poems (2008), Imaginary Lines (2012), Telling the Stones (2017) and Great Games (2018) from Shoestring.
Alistair Elliot, born 13 October 1932, died 3 November 2018
Photograph of Alistair Elliot by William Stafford (1989)
Sean O'Brien's tribute to Alistair Elliot in The Guardian is here.
[07 November 2018]