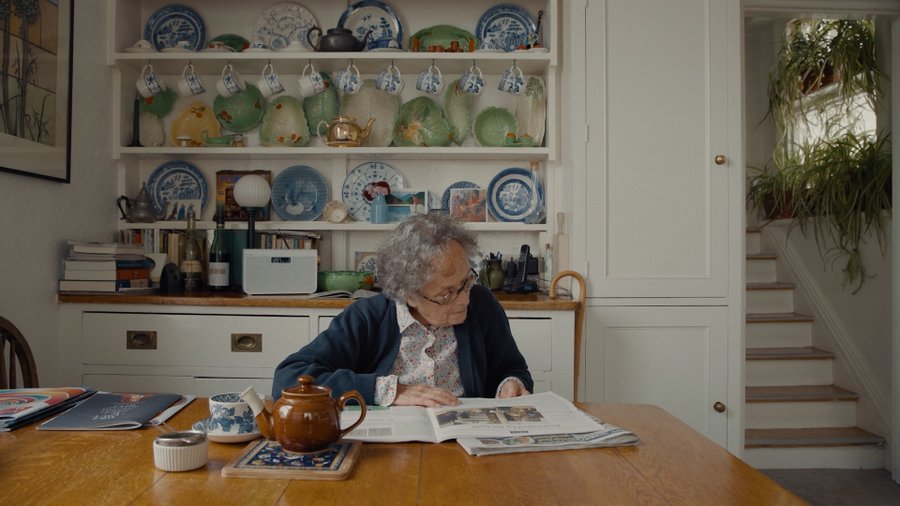 Ruth Fainlight Exhibition in Nottingham, March-May 2023
Portrait of Ruth Fainlight at her kitchen table by Emily Andersen

Ruth Fainlight is one of Britain's most distinguished poets. Born in New York City, she has lived mostly in England since the age of 15, publishing her first collection, Cages, in 1966, and her retrospective, New & Collected Poems, in 2010. This was followed in 2018 by a new collection of poems written in her 80s, Somewhere Else Entirely.
INSTALLATION ON THE POETRY OF RUTH FAINLIGHT

Bonington Gallery, Nottingham, 25 March-13 May 2023

Nottingham Trent University (NTU), Bonington Building, Dryden Street NG1 4GG
Monday to Friday, 10 am – 5 pm, Saturday, 11 am – 3 pm
Emily Andersen: Somewhere Else Entirely

A multi-channel film installation from internationally-acclaimed photographer Emily Andersen, explores the work and life of Ruth Fainlight – an American-born poet and writer. Ruth's intensely visual poetry and fiction touch on themes of psychological and domestic situations, time, memory and loss. This immersive installation features projections representing different fragments of her work, which visitors are invited to explore and reflect upon.

Combining installation, educational workshops and performative readings,the exhibition Somewhere Else Entirely uses the work and life of Ruth Fainlight to reflect on the reciprocity of words and images, and processes of biography. The presentation of this film at Bonington Gallery at Nottingham Trent University is significant, as Ruth Fainlight was married to the late Alan Sillitoe, the eminent Nottingham author.
The cover picture of Ruth Fainlight's 2018 poetry collection Somewhere Else Entirely is a photograph by Emily Andersen.
More information about the exhibition is on the Bonnington Gallery website here, where you can book tickets for the free launch event on Friday 24 March, 6 pm – 8 pm.
Film with photographer Emily Andersen and clips from her film portrait of Ruth Fainlight

Andersen's work is an intimate portrait of Fainlight, now aged 91, presenting fragments of the poet's life. Taking inspiration from Renaissance triptychs and their depiction of different elements of the same subject across three panels, Somewhere Else Entirely captures the poet and writer at her home in London, making notes, on her walks, and in the seaside town of Brighton where she spent her teenage years.

In Somewhere Else Entirely Fainlight talks off-screen, revealing fascinating insights into her life, her creative process, and how she is 'in the hands of the poem'. In her voiceover, she movingly recites her poem 'Somewhere Else Entirely' composed after the death of her husband, the title poem from her most recent collection.

Film by Reece Straw.
Still available:
BBC RADIO 4 INTERVIEW WITH RUTH FAINLIGHT

Front Row, BBC Radio 4, Tuesday 20 November 2018, 7.15pm

Ruth Fainlight was Front Row's studio guest on 20 November. She spoke to John Wilson about her newly-published poetry collection Somewhere Else Entirely.

Ruth read her poem 'The Motorway', and they discussed her poems 'Oxygen Mask' and then 'World Events'. In the latter she writes about the trip to Devon that she had planned to make with her friend Sylvia Plath, and which never took place - the year being written about was 1963.

'Poet Ruth Fainlight talks about her new collection Somewhere Else Entirely, her first book in eight years and the first since the death of Alan Sillitoe, her husband of 50 years. Several of the works in Fainlight's collection serve as elegies to him, a meditation on mortality and memory in poetry and prose.'

Click here to listen. The programme is also downloadable as a podcast. Intro & final item, from 19:00.
REVIEW COVERAGE

'Ruth Fainlight is an American-born poet, now eighty-eight, who moved to England at the age of sixteen… She published a New and Collected Poems in 2010, and the motherhood poems of her first collection Cages (1966), as well as the elegy for Plath, "Autumn Stirring", provide a useful context for the humility, the acquired wisdom and uncertainty we find in her latest book, Somewhere Else Entirely, which is a welcome addition to her considerable achievement.' – Kathryn Maris, Times Literary Supplement

[08 December 2022]