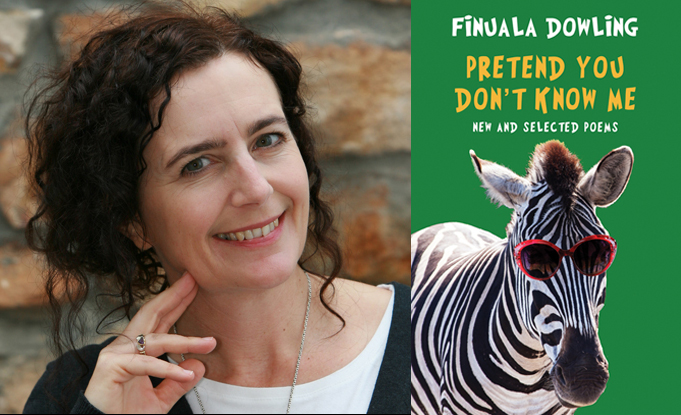 Finuala Dowling Book of the Year & Poem Features
'Pretend You Don't Know Me, by South African Finuala Dowling, is a witty and wise collection of new and selected poems... these vital works will have you crying with laughter.' – Jackie Kay, The Guardian (Books of the Year 2018)
Finuala Dowling
is one of South Africa's most popular poets and novelists. Her poetry has been praised as revealing 'the domestic sublime', while her novel,
The Fetch
, was described as a book that 'in years to come, will bear testimony to the maturity and intelligence of South African culture and literature'. Her first book-length UK publication,
Pretend You Don't Know Me: New and Selected Poems
, was published by Bloodaxe on 27 September 2018, and launched by Finuala with a series of readings at literary festivals across the North of England.
Carol Rumens wrote about Finuala Dowling's poem 'Catch of the Day' in her online Poem of the Week column in
The Guardian
of 13 May 2019.
Click here
to read.
'Her work, already highly acclaimed in South Africa, has proved a rewarding new discovery for British readers. Her technique may appear effortless, and suggest the audience-friendly colloquialism of spoken word poetry, but there is crafted precision in her writing… there's always an edge of sharp self-awareness to the humour.' – Carol Rumens, Poem of the Week, on Finuala Dowling
Steve Whitaker discussed Finuala's poem 'The Lawmaker' in his Poem of the Week column in The Yorkshire Times of 21 February 2019.
'South Africa's turgid history seems likely to be breaking the surface of Dowling's imagination here':
Click here
to read.
'Pretend You Don't Know Me, by South African Finuala Dowling, is a witty and wise collection of new and selected poems. Her sequence about her mother's dementia is very touching. Elsewhere, these vital works will have you crying with laughter.' – Jackie Kay, The Guardian (Books of the Year 2018)
Finuala Dowling
was born in Cape Town, South Africa in 1962, the seventh child in a family of eight. She started to write poetry in her late thirties, but has since become one of South Africa's most popular poets and novelists. She divides her time between writing and her role as senior lecturer in the Centre for Extra-Mural Studies at the University of Cape Town. She has previously read twice at Aldeburgh Poetry Festival, selling out a chapbook produced for the festival on the second occasion, when her poetry was otherwise unpublished in the UK.
Renowned for her poetry's accessibility, humanity and wit, as well as her beguilingly honest stories of home, parenthood, love, loss and desperation, Finuala has won many new converts to poetry in her native South Africa. At the heart of her book are the funny and poignant connections we make with other people, and the lifelong effort to stay whole.
[13 May 2019]