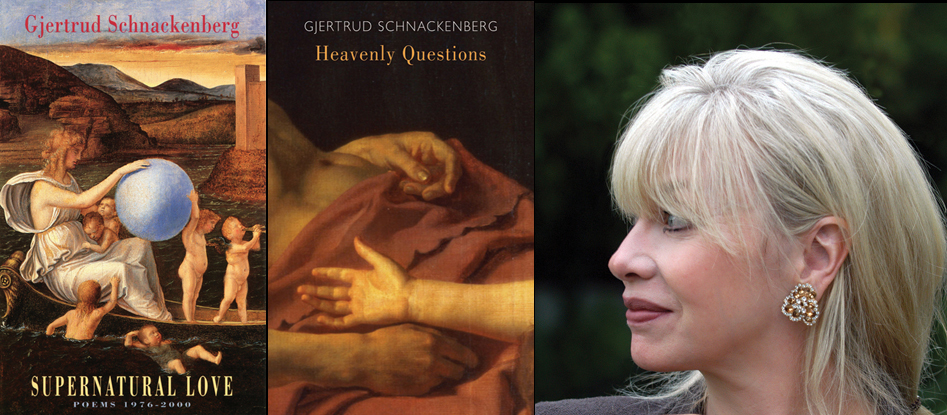 Gjertrud Schnackenberg recommended by Clive James
'I've just discovered a wonderful American poet called Gjertrud Schnackenberg... I think she's brilliant.' - Clive James, speaking on BBC Two's Front Row Late

Bloodaxe has published two titles by the American poet Gjertrud Schnackenberg. Her retrospective Supernatural Love: Poems 1976-2000 was published in 2001, followed by Heavenly Questions, winner of the Griffin International Poetry Prize, in 2011.
Clive James warmly recommended Gjertrud Schnackenberg's poetry on a special edition of Front Row Late, BBC Two, broadcast on Friday 21 December 2018. A copy of her Bloodaxe retrospective Supernatural Love was on his desk and was seen every time the camera turned to Mary Beard.
'I've just discovered a wonderful American poet called Gjertrud Schnackenberg - she really is called that - and I wish I had the time to catch up with everything she's done. I think she's brilliant.' - Clive James, speaking on BBC Two's Front Row Late: When Mary Beard met Clive James
Watch here (available until 7 February 2019). Forward to 14.15 to see Clive speak about Gjertrud. Her photo and the covers of her two Bloodaxe titles were shown while he was speaking about her work.
Clive James also chose Supernatural Love as one of his books of the year in the TLS.
'Is there another woman poet so good at the historical stuff [as U A Fanthorpe]? There is, and her name is Gjertrud Schnackenberg, whose Bloodaxe collection Supernatural Love (Poems 1976–2000) teems with thought-packed things, and thing-packed thoughts, that even Fanthorpe would have had to bless for their richness.' – Clive James, Times Literary Supplement (Books of the Year, 2018)
[10 January 2019]