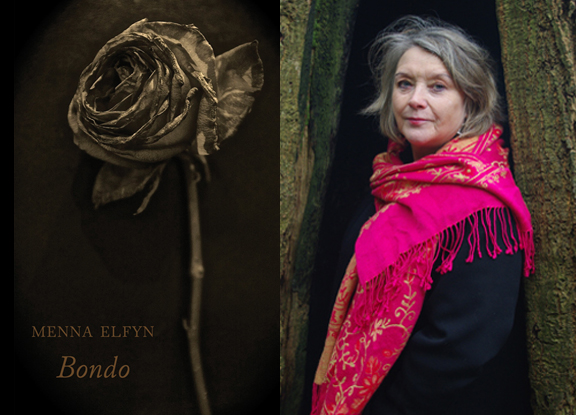 Menna Elfyn on Woman's Hour & The Verb

Wales's best-known and most travelled Welsh-language poet, Menna Elfyn was a guest on BBC Radio 4's Woman's Hour on 20 March 2020. She was reading poems to mark the sping equinox. Her most recent collection Bondo (Welsh for eaves) was published Bloodaxe in 2017 in a dual language Welsh-English edition.

Bondo has at its heart a sequence of poems in response to the mining disaster that took place at Aberfan on 21 October 1966. These poems were written over a number of years in private journals and notebooks, and reflect a deep and continuing connection with the mining communities in Wales. Menna Elfyn's poem 'The Gate' / 'Y Glwyd', first published in her 2012 Bloodaxe collection Murmur, is reprinted here in remembrance of the loss of her grandfather in a mining accident.


MENNA ELFYN ON BBC RADIO 4 & RADIO 3
Woman's Hour, BBC Radio 4, Friday 20 March 2020, 10am

Welsh poet Menna Elfyn was a guest on Woman's Hour on 20 March. She was celebrating the spring equinox by reading 'Growth Rings' from her 2012 Bloodaxe collection Murmur and 'Teaching Dylan Thomas's Muse to speak Welsh' from her 2007 retrospective Perfect Blemish. Her most recent collection is Bondo. She spoke about how she can only write her poetry in Welsh, her mother tongue, but read the poems in their English translations. She also contributed to the discussion of how to keep young children entertained during our current period of confinement.
Listen here (Menna was interviewed from 28.30).
Four Seasons: Poems for the Spring Equinox, BBC Radio 4, Sunday 22 March 2020, 4.30pm

Menna Elfyn's poems were repeated on Radio 4's Four Seasons, along with poems by Helen Dunmore, Brendan Kennelly and Kerry Hardie. Christopher Eccleston read Alistair Elliot's poem 'A Northern Morning' on the Today Programme on 20 March, repeated here - a poem included in the Bloodaxe anthology Staying Alive: real poems for unreal times.
The late Helen Dunmore's 'City Lilacs', originally from Glad of These Times, is included in her 2019 retrospective Counting Backwards. The two poems by Bloodaxe Irish poets Brendan Kennelly and Kerry Hardie were the ever-comforting poem 'Begin' (read by the author on the CD accompanying The Essential Brendan Kennelly) and Kerry Hardie's 'May' from her Selected Poems). Kerry's next collection Where Now Begins is forthcoming in August 2020.
Click here to listen. Available until 28 March 2020.
Menna's 2019 interview on The Verb is still available to listen to.

The Verb: The Subjunctive Verb, BBC Radio 3, Friday 1 February 2019, 10 pm

Menna Elfyn was one of Ian McMillan's guests on The Verb on 1 February.

'Poet Menna Elfyn explains the importance of the subjunctive to Welsh poetry, which is filled with nostalgia, melancholy and hope. She discusses the contradictions present in the use of the Welsh language today, whilst the literature is thriving, the number of speakers are declining. She reads her poem 'Nebbish', which plays on the dual meaning of the word 'Bach', which means both 'small' and 'dear' in Welsh. Menna's latest collection, 'Bondo', is published by Bloodaxe.'

Menna read two poems on the programme, 'Nebbish' and her poem 'Unravelling' about the 1966 mining disaster at Aberfan. She also read her beautiful love poem 'Love Knot' for the podcast, and the guests discussed it before settling down to eat cake. All these poems are from her 2017 Welsh-English collection Bondo . She started off by reading the original Welsh version of the poems, and then read the English translations.

Menna joins the discussion at 5.58, but her main contribution begins at 33.26. Download the podcast to hear Menna Elfyn read and talk about her beautiful love poem 'Love Knot'.
https://www.bbc.co.uk/programmes/m00028n4

[20 March 2020]