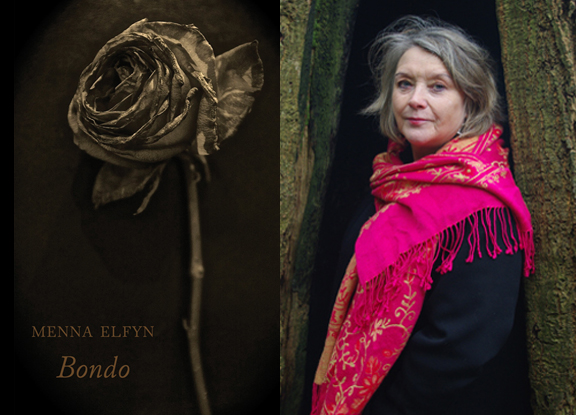 Menna Elfyn on BBC Radio & featured in Wales Arts Review

'Menna Elfyn is a major figure in contemporary Welsh poetry, writing exclusively in Welsh. A true internationalist, her work has been translated into over eighteen languages...Her voice is challenging and compassionate by turn, unafraid of joy, and full of the energies of community, offering through the power of language, truth, consolation, and possibility.' - Deryn Rees-Jones, Co-Judge, Cholmondeley Awards 2022

Wales's best-known and most travelled Welsh-language poet, Menna Elfyn was a guest on BBC Radio 4's Woman's Hour on 20 March 2020. She was reading poems to mark the sping equinox. Her most recent collection Bondo (Welsh for eaves) was published Bloodaxe in 2017 in a dual language Welsh-English edition.

Bondo has at its heart a sequence of poems in response to the mining disaster that took place at Aberfan on 21 October 1966. These poems were written over a number of years in private journals and notebooks, and reflect a deep and continuing connection with the mining communities in Wales. Menna Elfyn's poem 'The Gate' / 'Y Glwyd', first published in her 2012 Bloodaxe collection Murmur, is reprinted here in remembrance of the loss of her grandfather in a mining accident.
Menna Elfyn was awarded a Cholmondeley Award in June 2022, a prize which recognises a poet's body of work. Wales Arts Review ran a feature about Menna Elfyn in response: here.


ESSAY BY MENNA ELFYN ON BBC RADIO 3

The Essay, The Demeta: Unearthing Britannia's Tribes, BBC Radio 3, Friday 21 January 2022, 10.45pm

Welsh poet Menna Elfyn was commissioned to write a piece for BBC Radio 3's The Essay. One of a series of 15 essays on the peoples of Iron Age Britain.

Menna's essay was 'Today's Pick' for 17 January in the Radio Guide of the print edition of The Times (it was originally scheduled for broadcast on 17 January).

'The Essay unearths the peoples of Iron Age Britain from warrior queens to Lindow Man in a major new series. Explore the worlds of ancient Albion; from the western reaches of Cornwall to the tribes of Essex and across to the wilds of Scotland and Wales. Their stories, footprint and traces have been dug from the ground, pored over by archaeologists and historians, and informed by the accounts of travellers and conquerors who visited the far shores of exotic Britannia for trade or glory. With the arrival of Caesar's armies, nothing would be the same again. In this episode, poet Menna Elfyn senses the enduring presence of the Demetae in Carmarthen, the oldest town in Wales.'

Listen here.


MENNA ELFYN ON BBC RADIO 4 & RADIO 3
Woman's Hour, BBC Radio 4, Friday 20 March 2020, 10am

Welsh poet Menna Elfyn was a guest on Woman's Hour on 20 March. She was celebrating the spring equinox by reading 'Growth Rings' from her 2012 Bloodaxe collection Murmur and 'Teaching Dylan Thomas's Muse to speak Welsh' from her 2007 retrospective Perfect Blemish. Her most recent collection is Bondo. She spoke about how she can only write her poetry in Welsh, her mother tongue, but read the poems in their English translations. She also contributed to the discussion of how to keep young children entertained during our current period of confinement.
Listen here (Menna was interviewed from 28.30).
The Verb: The Subjunctive Verb, BBC Radio 3, Friday 1 February 2019, 10 pm

Menna Elfyn was one of Ian McMillan's guests on The Verb on 1 February 2019.

'Poet Menna Elfyn explains the importance of the subjunctive to Welsh poetry, which is filled with nostalgia, melancholy and hope. She discusses the contradictions present in the use of the Welsh language today, whilst the literature is thriving, the number of speakers are declining. She reads her poem 'Nebbish', which plays on the dual meaning of the word 'Bach', which means both 'small' and 'dear' in Welsh. Menna's latest collection, 'Bondo', is published by Bloodaxe.'

Menna read two poems on the programme, 'Nebbish' and her poem 'Unravelling' about the 1966 mining disaster at Aberfan. She also read her beautiful love poem 'Love Knot' for the podcast, and the guests discussed it before settling down to eat cake. All these poems are from her 2017 Welsh-English collection Bondo . She started off by reading the original Welsh version of the poems, and then read the English translations.

Menna joins the discussion at 5.58, but her main contribution begins at 33.26. Download the podcast to hear Menna Elfyn read and talk about her beautiful love poem 'Love Knot'.
https://www.bbc.co.uk/programmes/m00028n4

[20 March 2020]