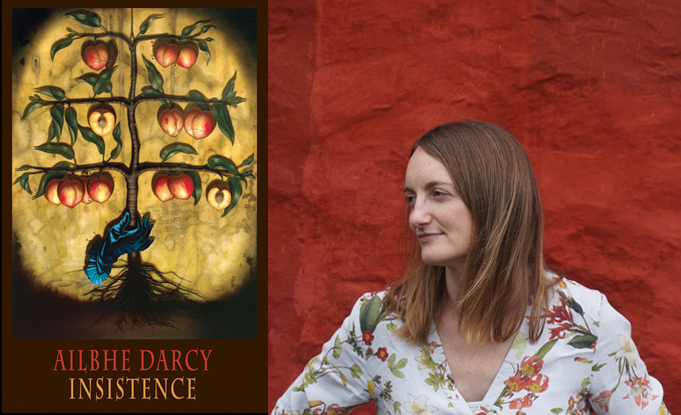 Ailbhe Darcy shortlisted for The 2019 Roland Mathias Poetry Award (Wales Book of the Year Awards)
The shortlist for 2019 Wales Book of the Year has been announced. Cardiff-based Irish poet Ailbhe Darcy has been selected for the English Language Roland Mathias Poetry Award for her second collection Insistence.
The other shortlisted collections are Salacia by Mari Ellis Dunning and Gen by Jonathan Edwards. The winners will be revealed at an Award Ceremony held at Aberystwyth Arts Centre on Thursday 20 June, where a total prize fund of £12,000 will be distributed to the winning writers. Each category winner will receive a prize of £1,000, and the main award winners in each language will receive an additional £3,000.
Last year saw Bloodaxe author Nia Davies shortlisted for this award for her debut collection, All Fours. The award was won by Robert Minhinnick whose collection, Diary of the Last Man went on to win the overall Wales Book of the Year Award.
Insistence is also shortlisted for this year's Pigott Poetry Prize (the winner of which will be announced on 29 May) alongside fellow Bloodaxe poet Leanne Sullivan's collection, A Quarter of an Hour. Both titles were also shortlisted for the Irish Times Poetry Now Award, which was won by Derek Mahon. Insistence was also on the T S Eliot Prize 2018 shortlist.
Written in the American Rust Belt, in an era of climate change and upheaval, Ailbhe Darcy's second collection Insistence takes stock of the parent's responsibility to her child, the poet's responsibility to the reader, and the vulnerability of the person in the face of global crisis. Ailbhe is now based in Cardiff after a number of years in the USA.
For links to interviews with Ailbhe Darcy on RTE Radio 1, see: https://www.bloodaxebooks.com/news?articleid=819
[10 May 2019]