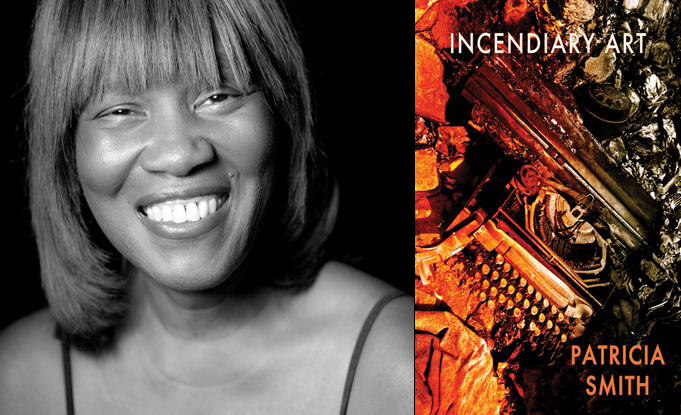 Patricia Smith on Radio & in The Guardian
'Born in Chicago in 1955, Patricia is the author of some ten books. Her latest, Incendiary Art, binds together the young men killed and the grieving mothers from the 1950s to now in a chain of recognition, remembrance and rage.' - Maria Margaronis, introducing Patricia Smith - Gwendolyn's heir on BBC Radio 4, April 2020
The UK edition of Patricia Smith's multi-award-winning Incendiary Art was published by Bloodaxe in April 2019 and launched at the Cúirt International Festival of Literature in Galway.
This powerful, visionary book by a leading African American poet confronts the tyranny against the black male body and the tenacious grief of the mothers of murdered African American men. Dynamic sequences, including a compelling chronicle of the devastating murder of Emmett Till, serve as a backdrop for present-day racial calamities and calls for resistance.
Carol Rumens discussed the poem 'Incendiary Art: Ferguson, 2014' in her Poem of the Week column in The Guardian of 29 June 2020. 'This week's poem is from Incendiary Art, Patricia Smith's collection of searing elegies for black lives destroyed.' Read the column here.
PATRICIA SMITH CONTRIBUTES TO RADIO 4 DOCUMENTARY THE BALLADS OF EMMETT TILL

Archive on 4: The Ballads of Emmett Till, BBC Radio 4, Saturday 13 June 2020, 8 pm (first broadcast 25 August 2018)

BBC Radio 4 has repeated this 2018 documentary about the lynching of Emmett Till in 1955. The programme is presented and produced by the team who made the half-hour documentary about Patricia Smith that aired on Easter Sunday this year. Recordings of Patricia Smith reading a number of poems from her most recent collection Incendiary Art (Triquarterly, USA, 2017; Bloodaxe Books, UK, 2019) were used, and Patricia contributed a comment near the end.

Presenter Maria Margaronis introduced Patricia Smith's first poem by saying: 'Emmett's death has haunted generations of black Americans. It runs like a fault line through poet Patricia Smith's 2017 collection Incendiary Art.'

Patricia Smith read the opening lines of the first poem in Incendiary Art, 'That Chile Emmett in That Casket' (at 4:38). She read the whole of 'How to Bust into a Black Man's House and Take a Boy Out' (at 16:49), an extract from 'Emmett Till: Choose Your Own Adventure' (at 21:40), and another extract from 'That Chile Emmett in That Casket' (at 30:19). Patricia comments near near the end of the programme (from 53:49):

'We seem to be moving at a high rate of speed exactly backwards. It's as unsafe to be African American now as it was for Emmett in Mississippi in 1955.' - Patricia Smith (comment made in August 2018)

'Emmett Till, 14 and black, was lynched in Mississippi on August 28 1955. Maria Margaronis travels through landscape and memory to explore stories around a black life that mattered.'

This feature is available to listen to via BBC Sounds here. Patricia Smith contributes at five points during the programme - details above.

HALF-HOUR BBC RADIO 4 FEATURE ON PATRICIA SMITH

Bronzeville Beat, Part I: Patricia Smith - Gwendolyn's heir, BBC Radio 4, Sunday 12 April 2020, 4.30pm

'Wordwoman, scourge and scourer, irresistible poetic force' Patricia Smith was the subject of a half-hour Radio 4 feature boroadcast on Easter Sunday. This was recorded when she was in the UK last October to launch the UK edition of Incendiary Art at London's Southbank Centre and at Newcastle's NCLA (a film of the latter reading can be seen below). Patricia was in conversation with writer Maria Margaronis.

'Born in Chicago in 1955, Patricia is the author of some ten books. Her latest Incendiary Art, binds together the young men killed and the grieving mothers from the 1950s to now in a chain of recognition, remembrance and rage.' - Maria Margaronis

Patricia read some poems from her most recent collection, Incendiary Art, which was published last April by Bloodaxe in the UK and Europe, including 'Incendiary Art: Chicago, 1968'. Clips of her Poetry International Festival reading at London's Southbank Centre last October were played, as well as studio recordings of her reading her work.

'Born & raised on Chicago's West side, Poet, teacher, and performance artist Patricia Smith came to verse late but is perhaps the true heir to the great Gwendolyn Brooks with her powerful & exact chronicles that make black lives matter. In collections like Incendiary Art & Blood Dazzler, Smith takes on police shootings, Chicago history and the devastating impact of hurricane Katrina to sear poetry into society.'

No longer available to listen to, but details here.
PATRICIA SMITH ON IRISH RADIO - RECORDED AT CUIRT INTERNATIONAL FESTIVAL OF LITERATURE IN 2019 - still available

The Poetry Programme, RTÉ Radio 1, Sunday 2 June 2019, 7.30pm

Patricia Smith launched the UK edition of Incendiary Art at Cúirt International Festival of Literature on 12 April 2019. The event with Patricia and Palestinian poet Rafeef Ziadah was recorded live at the Town Hall Theatre in Galway by The Poetry Programme, and broadcast on RTÉ Radio 1 on 2 June. Extracts from Olivia O'Leary's interview with both poets from half way through the performance was also included.

Patricia Smith read her poem 'March 3rd 2014' from Part III of Incendiary Art. At the end of the programme she also read a stunning new poem, composed during the Festival and developed with a special score by musician-in-residence, Ronan Browne, played by him on the low whistle.

Palestinian poet Rafeef Ziadah was accompanied during her performance by Lebanese-Australian guitarist Phil Monsour.

Patricia Smith features from 9.10. The world premiere of Patricia's new poem, written at Cúirt and accompanied by Ronan Brown, features from 25.15.
Click here to listen via The Poetry Programme's webpages.
Patricia Smith: Live in Newcastle

Patricia Smith gave a brilliant reading from Incendiary Art – followed by an interview with Bloodaxe editor Neil Astley – at NCLA (Newcastle Centre for the Literary Arts) on 18th October 2019.
[09 April 2020]