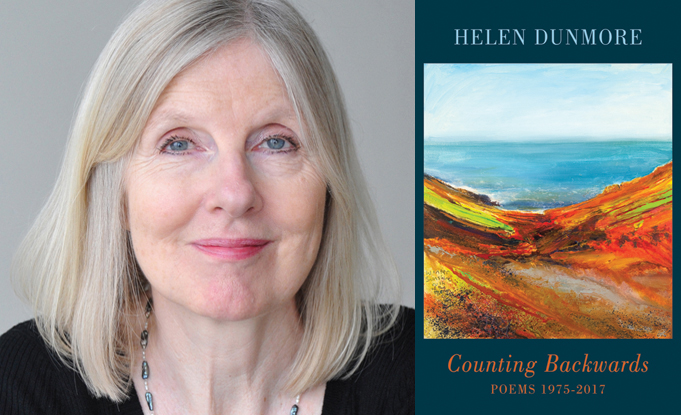 Helen Dunmore's Counting Backwards - reviews & poem features
' Dunmore can draw on poetry's power to distil an entire lifetime into a moment.' – Ben Wilkinson, The Guardian, on Counting Backwards

A collected edition of the late Helen Dunmore's work, Counting Backwards: Poems 1975-2017, was published by Bloodaxe in February 2019. It was launched in London at a special event in celebration of Helen Dunmore. Another event to celebrate Helen's fiction and poetry took place in Bristol in June 2019.
Counting Backwards was Helen Dunmore's original title for Inside the Wave, taken from the first poem in that final collection. This collected works backwards through her ten collections, which were written over 40 years. It brings together all the poems from her earlier selected, Out of the Blue (2001), with her later collections: Glad of These Times (2007), The Malarkey (2012), and Inside the Wave (2017), as well fifteen additional poems from earlier collections. Helen Dunmore was posthumously awarded the Costa Poetry Award for her final collection Inside the Wave, which went on to be named Costa Book of the Year 2017 in January 2018.
POEM FEATURE

Helen Dunmore's poem 'Pianist,103,' from Counting Backwards: Poems 1975-2017 was featured as Poem of the Week in the regional online newspaper The Yorkshire Times on 4 August 2021. The poem was originally published in Helen Dunmore's 2012 collection The Malarkey, and it is 'informed by the life of a woman who survived the Holocaust by the serendipitous fortuity of her playing skills.'

'Her poem bears a purity that is purged entirely of superfluity. Reflection is wrought, instead, in the silence beyond words – the conjuring of a context around the raftered bones of suggestion.' – Steve Whitaker, The Yorkshire Times, Poem of the Week
Read the feature here.

REVIEW COVERAGE

Counting Backwards: Poems 1975-2017 was reviewed in The Guardian of 9 March. It was later selected for the poetry section of The Guardian's 'best books of 2019 so far' feature of 5 June 2019, chosen from books previously reviewed in the paper.
'A retrospective collection of the late poet's best works, covering 10 collections written over four decades, as well as some previously unpublished poems.

What we said: Like polished pebbles worn true with time's passing, the strongest poems confirm a gift for the hauntingly exact yet humane lyric … Dunmore can draw on poetry's power to distil an entire lifetime into a moment.'
Click here to read the full feature (which also links to Ben Wilkinson's review of 9 March).
Literary Review, June 2019

Helen Dunmore's Counting Backwards: Poems 1975-2017 was well reviewed by David Wheatley in the June 2019 issue of Literary Review magazine.
'…Counting Backwards draws on 11 collections published over the course of four decades…this is surely the moment for Dunmore's subtle forms to find the enduring readership they deserve.' - David Wheatley, Literary Review

Full review feature available in full by subscription here.
'Counting Backwards is an extraordinarily wide-ranging and rich body of work.' – David Cooke, The High Window
An excellent in-depth review is in the Summer 2019 issue of The High Window. The full review can be read here.

'Reading her poems, all those she wished to preserve, has been a revelation. In them her voice is consistently clear, and her intelligence probes delicately and with precision into the universal underpinning the ordinariness of the everyday, of our everyday. She can balance the light and dark of the four and a half decades of her writing life in seemingly effortless lines… having these poems together in one volume is life-enhancing.' – D A Prince, London Grip [on Counting Backwards: Poems 1975-2017] Read the full review here.
FEATURE COVERAGE

Bristol 24/7 posted a feature to mark publication day of Counting Backwards: https://www.bristol247.com/culture/books/major-posthumous-helen-dunmore-poetry-collection-published/
Neil Astley paid tribute to Helen Dunmore and wrote about their forty- year editorial relationship in an article on Waterstones' blog. It is illustrated with a photograph of them together at the launch of Helen's debut collection The Apple Fall in Newcastle in 1983. https://www.waterstones.com/blog/helen-dunmore-a-personal-tribute-by-bloodaxe-books-editor-neil-astley

~~~~
A beautiful short film about Inside the Wave featuring Helen's son and daughter, and links to media interviews with them after their mother's final poetry collection won Costa Book of the Year, are posted here.
[05 June 2019]