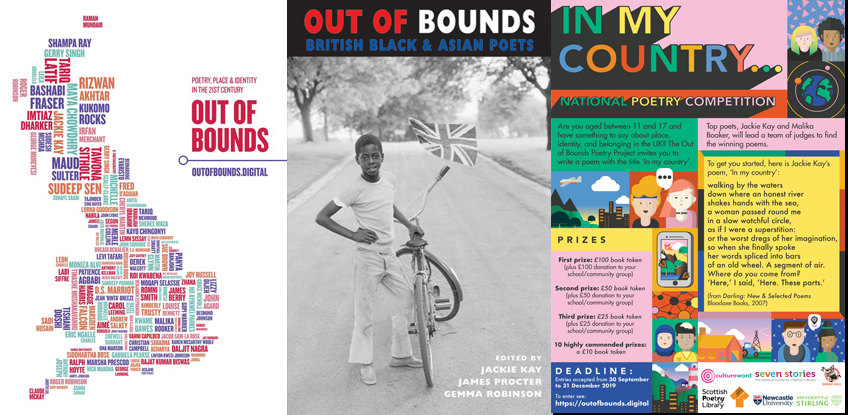 Out of Bounds Digital Poetry Project for Schools
An innovative digital project linking poetry, place and identity in the 21st century has been developed for schools. This continues the work which started with the anthology, Out of Bounds: British Black & Asian Poets (eds James Procter, Gemma Robinson & Jackie Kay), published in 2012, and which charted a map of Britain as viewed by its black and Asian poets.
The Out of Bounds digital project enables students, teachers and librarians to explore the links between poetry, ethnicity and place through a series of specially-commissioned readings and conversations. It digitally reimagines the Bloodaxe anthology Out of Bounds by taking its contents and placing them in combination with new materials that appeal to vision, location, sound and the spoken word.
A young person's poetry competition will be launched in September as part of the Out of Bounds project. Open to all eleven to seventeen-year-olds and themed around Jackie Kay's poem 'In My Country' (from her Bloodaxe retrospective Darling: New & Selected Poems). A team of judges led by Jackie Kay and Malika Booker will select winning entries that reflect the rich tapestries of the UK as seen by its children. Further details, including a link to the online entry form, can be found at: https://outofbounds.digital/#/competition

There is also an activities and resources pack for teachers and librarians. Designed with not only the English curriculum in mind, but also subjects such as History, Geography and Citizenship, the pack makes an invaluable resource for those wishing to further explore themes of poetry, ethnicity and place raised in the Out of Bounds anthology. If you'd like to request a free copy of the pack, please sign up at the website: https://outofbounds.digital/#/resources

In June, Dr Gemma Robinson and Kayo Chingonyi led a twilight CPD event at the British Library, with discussion centring around the increasing importance of the timely issues raised by the project. Practical writing exercises were shared so that teachers and students alike might take up the editors' 'invitation to make a map – an alternative A-Z of poetic Britain.'

Those interested in finding out more about, and getting involved with, the Out of Bounds project are encouraged to sign up to the mailing list at: https://outofbounds.digital/#/contact

[31 July 2019]