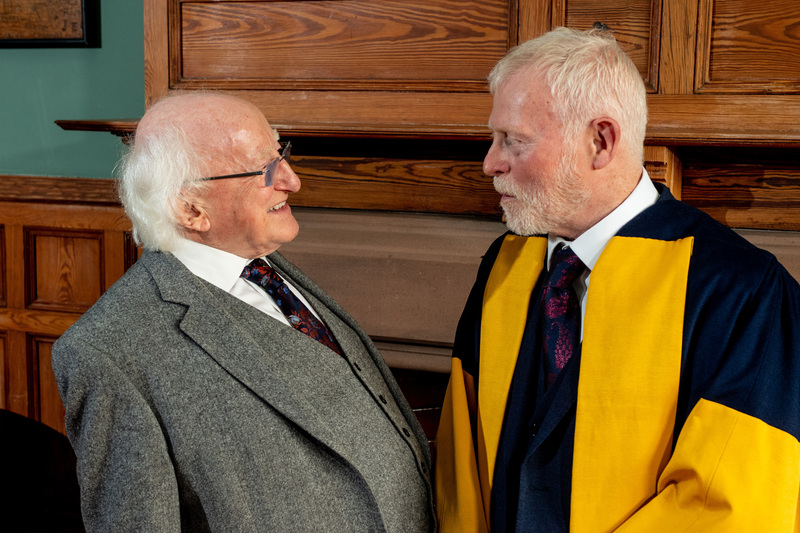 Frank Ormsby named Ireland Professor of Poetry
President of Ireland Michael D. Higgins and Frank Ormsby, The Ireland Professor of Poetry 2019-2022 Photograph © Parkway Photography
President of Ireland Michael D. Higgins announced that Northern Irish poet Frank Ormsby has been awarded the prestigious position of The Ireland Professor of Poetry 2019, commencing 1 November 2019 (until 31 October 2022). Frank Ormsby will be the eighth Irish Professor of Poetry, taking up the position from its current holder, Eiléan Ní Chuilleanáin, who finishes her term at the end of October. The announcement was made at a reception in Queen's University Belfast on Friday 6 September 2019.

President Michael D. Higgins said, "I congratulate Professor Ormsby on being chosen for this well-deserved honour, and wish him well in his new role, a role I know he will assume with intelligence, sensitivity and enthusiasm. I am confident that his unmatched talent will cast its own dynamic and distinctive light across his three-year tenure as Ireland's Professor of Poetry."

The Ireland Chair of Poetry was set up in 1998 following the award of the Nobel Prize in Literature to Seamus Heaney, to honour his achievement and that of other Irish poets.

Frank Ormsby was born in 1947, in Enniskillen, Co. Fermanagh, Northern Ireland, and was educated at Queen's University in Belfast. Until 2010 he was Head of English at the Royal Belfast Academical Institution. His most recent collections are The Darkness of Snow (Bloodaxe Books / Wake Forest University Press, 2017), which was a Poetry Book Society Recommendation in the UK and shortlisted for a National Book Circle Critics Award in the US, and The Rain Barrel (Bloodaxe Books, 24 October 2019). His retrospective Goat's Milk: New & Selected Poems (Bloodaxe Books, 2015), includes work from four previous collections, together with new poems, and was shortlisted for the Christopher Ewart-Biggs Literary Prize. As editor of The Honest Ulsterman magazine for twenty years and editor of a number of influential anthologies, such as Poets from the North of Ireland and A Rage for Order: Poetry of the Northern Ireland Troubles, he was a central figure in the burgeoning of Ulster poetry since the 1960s.

Frank Ormsby said of his appointment:
'The professorship of Irish poetry is unique. It has done more than any other initiative to raise the profile of poetry in Ireland in the last 20 years, both as a recognition for established poets and a golden opportunity for younger emerging poets. The collaboration of three universities and both arts councils is a bold venture and I am honoured and thrilled to be part of it.'

The Ireland Chair of Poetry was established by the Arts Council/ An Chomhairle Ealaíon, the Arts Council of Northern Ireland, Trinity College Dublin, Queen's University Belfast and University College Dublin to celebrate the exceptional contribution of Irish poets to the world of literature. The Chair is tenable for a period of three years (non-renewable) during which time the holder will be attached to each of the three universities in turn and will be required to be in residence at each for approximately one academic term per year. In addition, the holder will make three formal presentations and hold other informal workshops, lectures and readings for the public.

Every 3 years nominations are requested and the new Ireland Professor of Poetry is appointed by the five participating organisations. The current trustees are: Professor Kevin Rafter, Chair (Chair of the Arts Council/ An Chomhairle Ealaíon) John Edmund (Chairman of the Arts Council of Northern Ireland), Sir Donnell Deeny, Professor Fran Brearton (Queen's University Belfast), Professor Nicholas Grene (Trinity College Dublin), Professor Mary Clayton (University College Dublin), Michael Longley, Adrian Hall and Professor Brian Walker.

Professor John Montague was the first Ireland Professor of Poetry from 1998 to 2001 and was followed by Professor Nuala Ni Dhomhnaill in 2001. Professor Paul Durcan was the third Ireland Professor of Poetry, 2004 to 2007. Professor Michael Longley was the fourth Ireland Professor of Poetry, 2007 to 2010. Professor Harry Clifton was the fifth Ireland Professor of Poetry, 2010 to 2013. Professor Paula Meehan was the sixth Ireland Professor of Poetry, 2013 to 2016. Professor Eilean Ní Chuilleanáin was the seventh Ireland Professor of Poetry, 2016 to 2019.
A report is in The Irish Times here.
The Irish Times also reprinted an in-depth interview with Frank Ormsby first published in Winter 2018 issue of Reading Ireland here.
Frank Ormsby was interviewed by The Impartial Reporter, Enniskillen, about his appointment here.
For forthcoming events with Frank Ormsby, see here.
[06 September 2019]