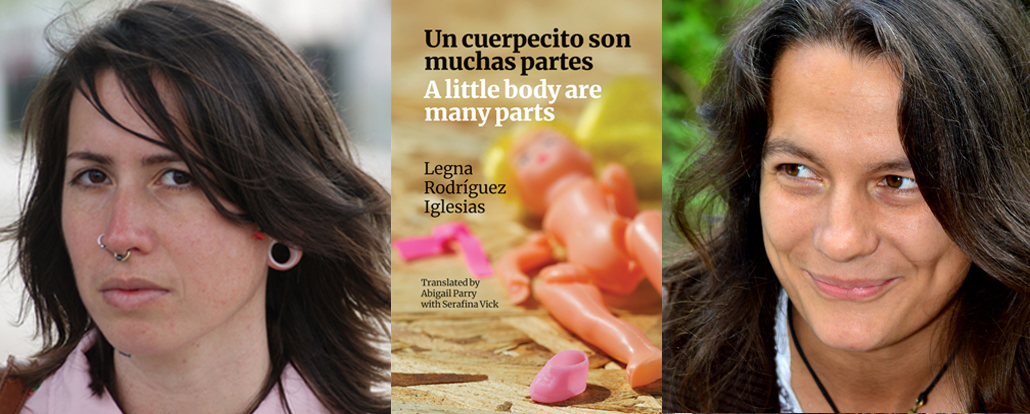 A little body are many parts shortlisted for first Derek Walcott Prize
Un cuerpecito son muchas partes / A little body are many parts has been shortlisted for the inaugural Derek Walcott Prize for Poetry.
Published by Bloodaxe Books and the Poetry Translation Centre in October 2019 as a Spanish-English dual language edition, this selection draws on eight previous collections by the Cuban-born Legna Rodríguez Iglesias and is expertly brought to life in English by Abigail Parry (herself an award-winning poet whose debut collection Jinx was published by Bloodaxe in 2018). Abigail worked in collaboration with bridge-translator and writer Serafina Vick.
The U.S. based annual poetry prize will be awarded by Arrowsmith Press, in partnership with The Derek Walcott Festival in Port-of-Spain, Trinidad, and the Boston Playwrights' Theatre. The prize includes a $1,000 cash award, along with a reading at the Boston Playwrights' Theatre in Boston, the publication of a limited-edition broadside by Arrowsmith Press, and a week-long residency at Derek Walcott's home in either St. Lucia or in Port-of-Spain, Trinidad. In the case of translations, the prize money will be shared by the poet and the translator. The award is open to a full-length book of poems by a living poet who is not a US citizen. The winner will be chosen by acclaimed poet, playwright, novelist, and critic, Glyn Maxwell — a friend and colleague of Derek Walcott, and editor of Walcott's Selected Poems. The announcement will be made in July 2020.
~~~~
Miami-based Legna Rodríguez Iglesias has quickly become one of the most celebrated Cuban poets writing today. Her intense – often confrontational – poetry refuses to conform, subverting expectations and challenging social mores.
'Un cuerpecito son muchas partes / A little body are many parts, by Legna Rodríguez Iglesias and translated by Abigail Parry, is one of my favourite books of the year. Highlights include a chorus of luminous pumpkins, an astonishing long sequence plus commentary called 'Miami Century Fox', and a thoroughly helpful poem about fire safety in the workplace. It's hard to imagine a translator more in sympathy with her subject; the knockabout strangeness and the verbal felicity throughout might be from Parry's own (Forward-nominated) work [Jinx].' – John Clegg, London Review Bookshop (recommending new poetry in translation)
'Legna Rodríguez Iglesias is, I think, one of the most exciting Cuban voices around. She moved to Miami a few years ago, and writes these intense, sometimes confrontational poems that really skewer the clichés of modern life.' – Imtiaz Dharker, introducing Legna on BBC Radio 4's Mother Tongue series
~~~~
Legna was in the UK from 6 to 14 October 2019 to launch her new book at festivals across the North of England, as well as in London. She was accompanied by her translator Abigail Parry, who read the English translations, and by bridge-translator Serafina Vick, who will join in the discussions about the translation process. Click here to read a review of their Manchester event.
Legna recorded some dual language podcasts with the Poetry Translation while she was in the UK: Listen to them here read in Spanish by Legna.
Serafina Vick has written a blog on translating Legna. Read via PTC's website here.
Poetry Translation Centre's film of highlights of Legna's October 2019 UK tour
[15 May 2020]