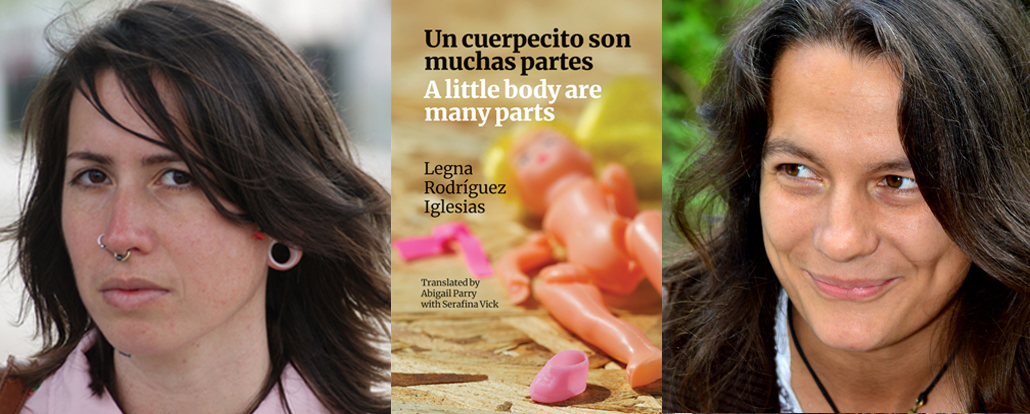 Legna Rodríguez Iglesias Podcast
'Un cuerpecito son muchas partes / A little body are many parts, by Legna Rodríguez Iglesias and translated by Abigail Parry, is one of my favourite books of the year. Highlights include a chorus of luminous pumpkins, an astonishing long sequence plus commentary called 'Miami Century Fox', and a thoroughly helpful poem about fire safety in the workplace. It's hard to imagine a translator more in sympathy with her subject; the knockabout strangeness and the verbal felicity throughout might be from Parry's own (Forward-nominated) work [Jinx].' – John Clegg, London Review Bookshop (recommending new poetry in translation)
'Legna Rodríguez Iglesias is, I think, one of the most exciting Cuban voices around. She moved to Miami a few years ago, and writes these intense, sometimes confrontational poems that really skewer the clichés of modern life.' – Imtiaz Dharker, introducing Legna on BBC Radio 4's Mother Tongue series
Miami-based Legna Rodríguez Iglesias has quickly become one of the most celebrated Cuban poets writing today. Her intense – often confrontational – poetry refuses to conform, subverting expectations and challenging social mores. Un cuerpecito son muchas partes / A little body are many parts is published in October 2019 in a Spanish-English dual language edition from Bloodaxe Books and the Poetry Translation Centre. This selection offers a broad survey of Rodríguez Iglesias's work, drawing on eight previous collections in Spanish.
Legna was in the UK from 6 to 14 October 2019 to launch her new book at festivals across the North of England, as well as in London. She was accompanied by her translator Abigail Parry, who read the English translations, and by bridge-translator Serafina Vick, who will join in the discussions about the translation process. Click here to read a review of their Manchester event.
Legna recorded two dual language podcasts with the Poetry Translation while she was in the UK: Listen to them here read in Spanish by Legna.
The English translation read by Abigail Parry was taken from the Whistledown Productions recording made for the Radio 4 Mother Tongue series. This is no longer available to listen to on the programme, but details are still online - see below.
Poetry Translation Centre's film of highlights of Legna's October 2019 UK tour

Mother Tongue: Double Takes, BBC Radio 4, Sunday 15 September 2019, 4.30pm, repeated Saturday 21 September, 11.30pm

Globetrotting poetry series, presented by Bloodaxe's Imtiaz Dharker, featuring readings by and interviews with poets from around the world, often recorded in their homes.

The third episode features another Bloodaxe poet, Legna Rodríguez Iglesias, along with her translator Abigail Parry. The first British edition of her work, Un cuerpecito son muchas partes / A little body are many parts, will be co-published by Bloodaxe and the Poetry Translation Centre in October.

Legna read extracts from the poems in Spanish, and Abigail read and talked about the English translations. The poems read were 'Bucket, rope, fire extinguisher, etc.', 'My girlfriend leaves for Cancún today' and the 'beautiful poem' (Imtiaz Dharker) 'Fertile Truce'.

'In this episode, Imtiaz hears poets from Poland, Cuba and Taiwan - in their original language and in translation. Starting with the phrase Double Takes, she reflects on how these three poets have the knack of making their readers look, and look again, at the world around them - shifting perspectives with their idiosyncratic takes on details and experiences…. We also hear poems from Legna Rodríguez Iglesias, an up-and-coming Cuban voice, now living in Miami. Her intense and sometimes unnerving work often has an absurdist focus on close-up details. Imtiaz speaks to the poet Abigail Parry who, with Serafina Vick, has translated a new selection of Rodriguez's poems in a collection called A little body are many parts.'

Click here to for programme details (no longer available to listen to).



[24 October 2019]