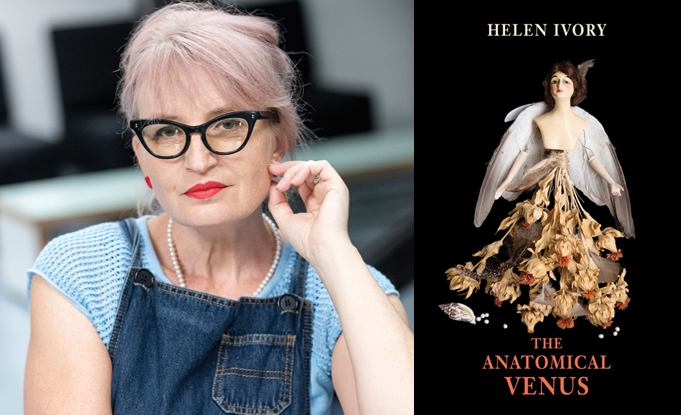 Helen Ivory's The Anatomical Venus wins the East Anglian Writers Book by the Cover Award
Helen Ivory's fifth collection The Anatomical Venus, published by Bloodaxe Books in May 2019, has won the East Anglian Writers Book by the Cover Award, judged by members of the East Anglian Writers. The cover features artwork by Helen Ivory, who is also an artist.
The award was presented to Helen Ivory at the East Anglian Book Awards ceremony on Friday 15 November 2019. The Anatomical Venus was also shortlisted for the poetry category of the EABA 2019.
Full details of all the winning authors and photographs from the ceremony are in the Eastern Daily Press here.
Artwork by Helen Ivory features on the covers of all of her five Bloodaxe collections. The poems and the cover images come from the same imaginative place.
Helen Ivory is also included on the list of the 100 most inspiring women in Norfolk, announced in the Norwich Evening News of 28 September 2019. Click here to read. The women chosen have been invited to a special dinner at Brasteds on 10 October 2019 to celebrate their achievements and the contribution they make to Norfolk life.
The Anatomical Venus examines how women have been portrayed as 'other'; as witches; as hysterics with wandering wombs and as beautiful corpses cast in wax, or on mortuary slabs in TV box sets.
Helen was interviewed by William Bedford for
The High Window
. The full conversation can be read at
thehighwindowpress.com
.
[18 November 2019]