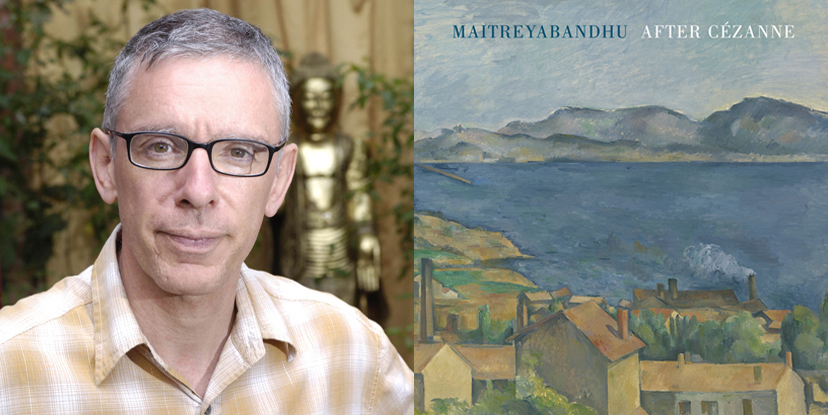 Maitreyabandhu's After Cézanne reviewed in The Guardian
'Seeking out a natural gift for Christmas? Try After Cézanne, a marvellous bringing together of paintings with poems in response both to the works themselves and to their maker, Paul Cézanne. This book offers us good reproductions of the paintings, poems which seem to shadow them, and just enough about the man himself to enable us to feel thoroughly rooted in his life. Part biography, part critical interpretation, part self-revelation, this delightful gathering, written by Maitreyabandhu, a Buddhist monk, is extraordinarily engaging and readable.' – Michael Glover, The Tablet (Poetry Books for Christmas 2019)
'The writing is quiet, subtle, and makes the kind of surprising turns that are the mark of fine verse.' – Fiona Sampson, The Guardian on After Cezanne
Buddhist poet Maitreyabandhu published his third Bloodaxe collection After Cézanne in October 2019.
After Cézanne is a sequence of fifty-six poems exploring the life and work of the post-impressionist painter Paul Cézanne. Reimagining his friendships with Zola and Pissarro, his impact on Matisse and Picasso, as well as his posthumous reputation, Maitreyabandhu celebrates Cézanne's apples and card players in poems at once tender, urgent and amused. The book includes twenty-five colour reproductions and a preface by Christopher Lloyd (Surveyor of the Queen's Pictures, 1988-2005).
Maitreyabandhu writes:
'After Cézanne' is a collection of 56 poems about the life and influence of the Paul Cézanne. Cézanne has been an inspiration to me since I was at Goldsmiths Art College thirty years ago, so the poems come out of hundreds of hours of looking at his paintings, as well as reading his letters, reading biographies and critical studies, not to mention a wonderful trip to his studio. It has taken me five years to write.'
The Guardian, Best recent poetry, Saturday 2 November 2019
Maitreyabandhu's third collection After Cézanne was warmly reviewed in Fiona Sampson's monthly round-up of the best recent poetry in The Guardian of 2 November. She called it a 'profound and beautiful homage'.
'…a verse biography is something new. But Maitreyabandhu's After Cézanne moves from the life to the work and back again to examine the post-impressionist painter's development. Packed with full-colour plates, with an introduction by art historian Christopher Lloyd, it also draws on the poet's own art school training. The writing is quiet, subtle, and makes the kind of surprising turns that are the mark of fine verse.' – Fiona Sampson, The Guardian
Read the full review here.
After Cézanne was given a pre-publication launch at the London Buddhist Centre on 21 September 2019. Maitreyabandhu gave a a reading in combination with a slideshow of Cézanne's paintings. He also read at Fire River Poets in Taunton, Somerset, on 5 September. Click here to read their interview with Maitreyabandhu.
Maitreyabandhu reads 'The Apple's Progress' from After Cézanne.
Maitreyabandhu reads 'Rilke Writes to His Wife from the Salon D'Automne' from After Cézanne:
[11 November 2019]