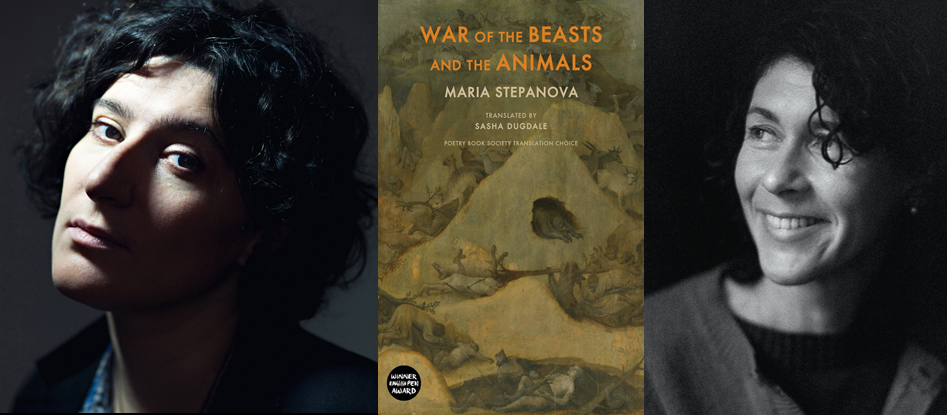 Maria Stepanova Launch Readings
Russian writer Maria Stepanova will be launching her first full English-language collection War of the Beasts and the Animals at StAnza Poetry Festival in March.
Stepanova is one of Russia's most innovative and exciting poets and thinkers, and founding editor of Colta.ru, an online independent site which has been compared to Huffington Post in its status and importance. Her prize-winning documentary novel In Memory of Memory (Fitzcarraldo Editions) is published on 17 February, followed by War of the Beasts and the Animals, a Poetry Book Society Translation Choice, on 25 March. Both are translated by poet and Russian specialist Sasha Dugdale.
A profile of Maria Stepanova ran in The Guardian of 11 February 2021. Read the article here.
LAUNCH READINGS

StAnza: Scotland's International Poetry Festival, Saturday 13 March 2021, 4-5pm

Reading: Maria Stepanova with translator Sasha Dugdale, Aileen Ballantyne

Poetry Centre Stage reading. Taking to the virtual stage first is Aileen Ballantyne, a well-kent face in Scottish poetry, whose writing has won a number of major awards. Her debut collection, Taking Flight, reflects upon flight in all its aspects and offers a moving exploration of grief. Aileen's reading will be accompanied by music by composer Max Gibson.
This is followed by Russian poet Maria Stepanova, reading alongside her translator Sasha Dugdale. Her work – experimental, lively and deeply pleasurable – has won a number of awards in Russia and internationally, and 2021 looks set to cement her reputation in the UK, with a poetry collection and a documentary novel appearing with Bloodaxe Books and Fitzcarraldo respectively.
Free online event.
Click here to view the event live and to find out more.
Bloodaxe Books launch, Tuesday 23 March 2021, 7-8pm

Join Bloodaxe Books for this international reading by Maria Stepanova (Russia) and Pia Tafdrup (Denmark) with their translators Sasha Dugdale and David McDuff celebrating the publication of their new poetry collections.
Hosted by editor Neil Astley, this event will be streamed live through the Bloodaxe Books YouTube channel. Please register to attend on
this Eventbrite link
and you will receive a link to the online event on YouTube Live the day before.
[11 February 2021]