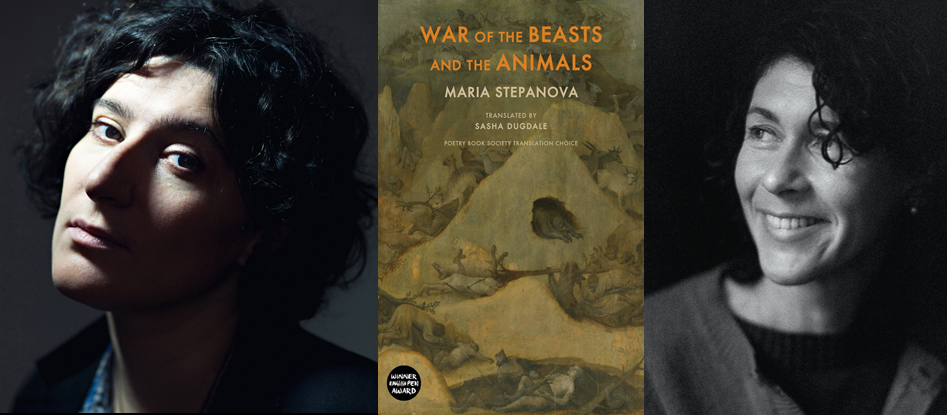 Maria Stepanova Readings
'...Maria Stepanova is an outstanding writer, whose international reputation will only grow with time. The Voice Over and War of the Beasts and the Animals offer an exceptional introduction to her work, the product of intensive collaboration, creative endeavour, and serious scholarship. Both are essential reading for anybody interested in poetry today and in contemporary Russian culture.' - Rose France, Translation and Literature
Russian writer Maria Stepanova launched her first full English-language collection War of the Beasts and the Animals at StAnza International Poetry Festival on 13 March and at a joint online event hosted by Bloodaxe Books on 23 March 2021.
Stepanova is one of Russia's most innovative and exciting poets and thinkers, and founding editor of Colta.ru, an independent cultural website which has been compared to Huffington Post in its status and importance. Her prize-winning meta-memoir In Memory of Memory (Fitzcarraldo Editions) was published on 17 February 2021, followed by War of the Beasts and the Animals, a Poetry Book Society Translation Choice, on 25 March. Both books were translated by poet and Russian specialist Sasha Dugdale, and were both shortlisted for the Warwick Prize for Women in Translation 2021. In Memory of Memory was shortlisted for the 2021 International Booker Prize and longlisted for the Baillie Gifford Prize for Non-Fiction 2021. A third book by Stepanova, The Voice Over: Poems and Essays, edited by Irina Shevelenko, was published by Columbia University Press in the US in its Russian Library series in 2021.
A profile of Maria Stepanova ran in The Guardian of 11 February 2021. Read the interview here.
'Stepanova's poetry collection War of the Beasts and the Animals was written in 2014 and 2015, during Russia's conflict with Ukraine... What emerges is another archive of sorts, a home for language's changing and motley complexion.' – Matthew Janney, The Guardian

War of the Beasts and the Animals was featured as Poetry Book of the Month in The Observer on 11 April 2021. The piece was accompanied by an extract from Stepanova's 2018 long poem 'The Body Returns' from the final section of War of the Beasts and the Animals. It was reviewed alongside Maria Stepanova's meta-memoir In Memory of Memory, which is also translated by Sasha Dugdale.

'Stepanova's poetry is porous. Were it a fabric, it would be complete with rents through which darkness – and truth – might leak…. Stepanova is a powerhouse. Her scornful wit is bracing and, throughout, the reader is on a switchback: you never know what waits around the next bend.' – Kate Kellaway, The Observer (on War of the Beasts and the Animals, her Poetry Book of the Month)

Read the feature here.
A short extract from War of the Beasts and the Animals can be read in Modern Poetry in Translation here.
Links to interviews, poem features, reviews and major pieces on Maria Stepanova's poetry and prose are on Bloodaxe's news pages here.
LAUNCH READING

Bloodaxe Books launch, Tuesday 23 March 2021, Maria Stepanova (with Sasha Dugdale) and Pia Tafdrup

International live streamed launch reading by Maria Stepanova and her translator Sasha Dugdale, along with Danish poet Pia Tafdrup, celebrating the publication of their new poetry collections. Maria joined the event from her home in Moscow, Pia from Copenhagen, and Sasha from Sussex. Hosted by Bloodaxe editor Neil Astley from his home in Northumberland.
Pia read two poems in Danish in each of her sets, with the rest of the poems in David McDuff's English translations. Maria and Sasha took turns to read extracts from the long poem 'War of the Beasts and the Animals' in Russian and English (from 14:40). The readings were followed by a wide-rangng and deeply thoughtful discussion, prompted by some very penetrating questions from the online audience.
[11 February 2021]