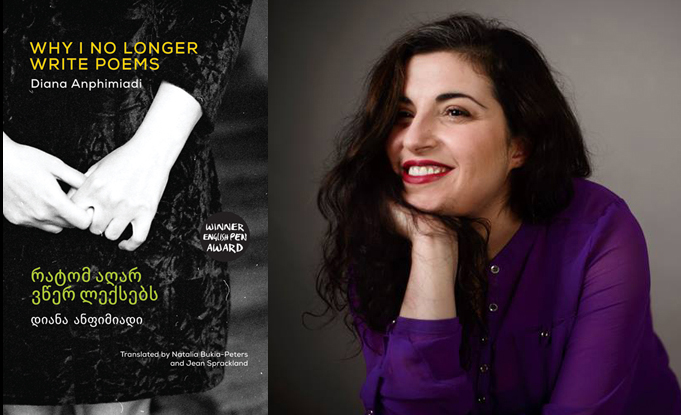 Diana Anphimiadi Readings
...'this is gorgeous, fabulising verse.' - Fiona Sampson, The Guardian, Best recent poetry
Georgian poet Diana Anphimiadi launched the first full-length selection of her poetry in English with a series of readings in March 2022, starting off at StAnza in St Andrews on 12 March. Visa problems meant that her participation had to be online, but her translators Natalia Bukia-Peters and Jean Sprackland appeared in person.
Why I No Longer Write Poems was published on 24 February 2022 by Bloodaxe Books and the Poetry Translation Centre. This Georgian-English selection draws on Diana Anphimiadi's four collections in Georgian. Her award-winning work glides between classical allusions and surreal imagery – it is witty, shocking and surprising, at once ancient and modern.
In her introduction, Natalia Bukia-Peters discusses Diana Anphimiadi's poetry, setting it in its historical and political context. She writes:
'Life and death are the scale at which Anphimiadi's poems often operate. Her work doesn't flinch from the most fundamental human experiences.'
Fiona Sampson reviewed Why I No Longer Write Poems in The Guardian of 5 February 2022. Online here.
'This collection by a leading Georgian poet is part of the Poetry Translation Centre's programme commissioning British poets – here, Jean Sprackland – to work with literary translators. In this case, that's Natalia Bukia-Peters, who also provides a knowledgeable Introduction setting this work in the national context of epic poetry, and of a vocabulary of myth. For this is gorgeous, fabulising verse.... Bloodaxe is especially to be commended for publishing this important work in bilingual edition.' - Fiona Sampson, The Guardian, Best recent poetry
Six poems from Why I No Longer Write Poems are featured on the US gallery for new writing and commentary On The Sea Wall here. The book is distributed in the US is via Consortium Books.
PAST EVENTS
Sunday 3 April, 5pm BST
Trafika Europe Radio: The Middle Ground #36 – Diana Anphimiadi – Georgian poet (50 minutes)
An online radio programme from Trafika Europe Radio, part of an afternoon of literary programmes from 4pm-8pm BST
Host Fiona Sampson speaks with Georgian poet Diana Anphimiadi and her translator into English, Natalia Bukia-Peters, who serves in this conversation as live interpreter. They read and discuss Diana's poems and her approach to poetry, culminating in the latest volume, Why I No Longer Write Poems (Bloodaxe Books), and we learn a bit about Georgian language and related themes.
To listen to the programme, click here.
2018 Tour
Diana and her translators previously toured the UK in 2018. See the video below:
Poems from Why I No Longer Write Poems were also featured on the Poetry Translation Centre podcast. Jean Sprackland reads the English and Diana Anphimiadi reads the poems in Georgian.
https://www.poetrytranslation.org/podcasts/featuring/diana-anphimiadi
INTERVIEW ON TRAFIKA RADIO EUROPE (USA)
Trafika Radio Europe, Sunday 3 April 2022, 12pm EDT (New York) = 5pm BST (London) = 8pm (Tblisi, Georgia)
UK poet, editor, biographer and translator Fiona Sampson interviewed Diana Anphimiadi and one of her translators, Natalia Bukia-Peters, for The Middle Ground series on Trafika Radio Europe. Natalia Bukia-Peters live-interpreted this 47-minute conversation, with Diana speaking in Georgian.
At 22:58 Diana read her poem 'Reaping Song' in Georgian, then Natalia read the English translation; at 32:50 they read the poem 'Reaping Song'; and the interview ended with them reading 'Autism: Beginning to Speak' (from 42:54). All the poems are from Diana Anphimiadi's Why I No Longer Write Poems, translated by Natalia Bukia-Peters and Jean Sprackland.
The interview was livestreamed on 3 April, and is now available as a podcast here. Scroll down to 3 April 2022 to hear the episode with Diana Anphimiadi.
[12 August 2022]