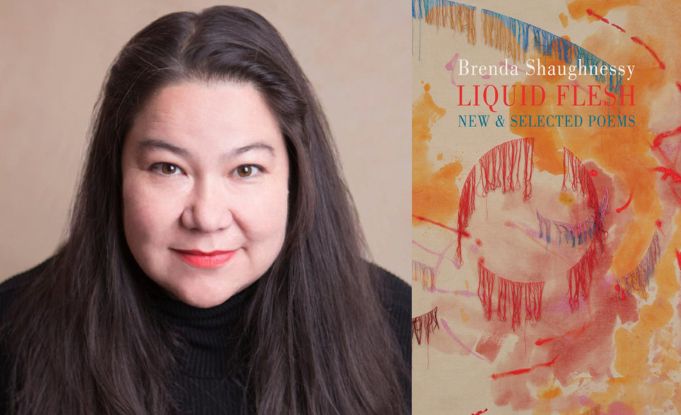 Brenda Shaughnessy Readings
'This collection showcases Okinawan-Irish American poet Brenda Shaughnessy as one of contemporary poetry's most original and important voices.' – Rebecca Tamás, The Guardian (Best recent poetry round-up)
Spanning twenty years and five collections, Brenda Shaughnessy's Liquid Flesh: New & Selected Poems introduces new readers to one of America's most audacious and thrilling poets. Shaughnessy is omnivorous and fearless, even as she stares down her terrors, whether the blaze, fizzle, or explosion of wild love between women, or the unquenchable pain of a son's birth injury. She celebrates, too, revelling in the pleasures and powers of the body and the transcendence of art.
Brenda came to the UK in October 2022 to give three launch readings in London and Newcastle upon Tyne. Videos of her joint Bloodaxe livestreamed launch event and her in-person reading and discussion in Newcastle are below, along with London Review Bookshop's podcast of their launch event for Brenda Shaughnessy.
Brenda Shaughnessy is an Okinawan-Irish American poet who grew up in Southern California. After graduating from University of California, Santa Cruz, she moved to New York City where she received an MFA in Poetry from Columbia University and published her first book, Interior with Sudden Joy (Farrar, Straus & Giroux). Her five full-length collections include The Octopus Museum (Knopf, 2019), a New York Times Notable Book, and Our Andromeda (Copper Canyon, 2012), a finalist for the Griffin International Prize, the PEN/Open Book Award, and the Kingsley Tufts Prize. Her first UK publication, Liquid Flesh: New & Selected Poems, was published by Bloodaxe in 2022. Recipient of a 2018 Literature Award from the American Academy of Arts and Letters and a 2013 Guggenheim Foundation Fellowship, she is Professor of English at Rutgers University-Newark.
Brenda recorded eight poems for the Lyrikline website, which can be heard here.
Liquid Flesh: New & Selected Poems was reviewed in The Guardian's best recent poetry round-up of 10 December 2022. Read Rebecca Tamás's full review here.
LONDON REVIEW BOOKSHOP PODCAST – BRENDA SHAUGHNESSY LONDON LAUNCH EVENT

Brenda Shaughnessy came to London and Newcastle in October 2022 to launch her UK retrospective Liquid Flesh: New & Selected Poems.
London Review Bookshop have made a podcast available of their event on 25 October 2022 hosted by fellow Bloodaxe poet Amy Key (Isn't Forever).
https://www.londonreviewbookshop.co.uk/podcasts-video/podcasts/brenda-shaughnessy-amy-key
IN-PERSON LAUNCH EVENT IN NEWCASTLE, 26 OCTOBER 2022

Brenda Shaughnessy reading and in discussion with Neil Astley at the Percy Building, Newcastle University.
LIVE-STREAMED LAUNCH EVENT

Tuesday 18 October 2022, 7pm, Bloodaxe October online launch reading
Brenda launched Liquid Flesh alongside the authors of our other October publications, Ahren Warner and fellow US poet Chen Chen. All three authors read from their new books and then discussed their work with Bloodaxe editor Neil Astley.
This brilliant online event was streamed live on 18 October 2022 and is now on YouTube. View by clicking on the arrow above. Brenda read second in each set.
[09 December 2022]