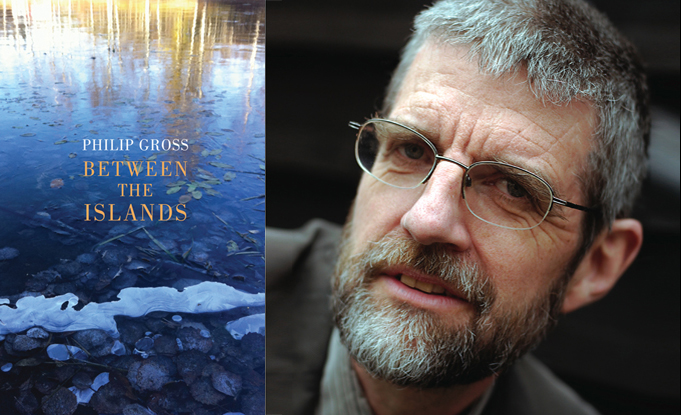 Philip Gross Readings
'Moving from island to island, continent to continent, Between the Islands is concerned with memories, with resonances throughout time, but also with emergent dangers; ecological fears and the rising islands of refuse accumulating in our oceans.' - Poetry Book Society Bulletin, Spring 2020
and his 2015
Love Songs of Carbon
, which won the Roland Mathias Poetry Award (Wales Book of the Year). In this new collection Philip Gross returns to the theme of water and the sea, one he explored in his T S Eliot Prize-winning 2009 collection
The Water Table
.
In place of his planned launch readings in Cardiff and at LYRA - Bristol Poetry Festival, Philip read five poems from Between the Islands on SoundCloud here.
~~~~
PAST READINGS

Friday 7 May 2021, 6pm, The Stay-at-Home Literary Festival - via Zoom

Solace in Sound – Three Bloodaxe Poets Explore the Landscape of Grief

Join a trio of Bloodaxe poets whose recent poetry collections span Scotland, Ireland, England and Estonia. Each shares a powerful sense of their formative landscapes; whether farmland, forest, mountains, estuaries, rivers or beyond. In poems that consider the impact of loss – of friends and friendships, parents, or a communal event of the most traumatic kind – these collections foster sympathy and strength. The poets will read from their own work, and also from each other's, creating a unique conversation about memory and resonance in the landscape.
With Heidi Williamson, Jane Clarke and Philip Gross. They were reading from their recent collections Return by Minor Road, When the Tree Falls and Between the Islands, and read poems by each other to start and end their own readings. The start of the video below has been cut off - Philip was in the middle of reading 'The Fisherman' from Jane's debut collection The River.
~~~~~
Philip Gross reads from Between the Islands
Philip Gross was filmed reading seven poems from his new collection
Between the Islands
, which were broadcast by The Quaker Centre Café over seven days in May 2020. These included 'A colony of nowhere...' from the title sequence - a poem which has great resonance during our current time of quarantine. Sheenagh Pugh refers to this in her blog review below.
All seven videos can be seen on The Quaker Centre Cafe's facebook page
here
.

~~~~
'Gross is fascinated by the lack of clear boundaries between the individual being and the forces of nature and society that surround and constitute it. There are glimpses of an almost mystical communion with nature, reminiscent of Wordsworth and Coleridge, though in Gross such moments are hard won, precarious and tentative... Gross's many-layered poems create complex internal circuits for meditation.' - Edmund Prestwich, Acumen [on Between the Islands]
The full review has been posted on Edmund Prestwich's blog
here
.
'...this is at root a meditative collection, haunted and haunting. It often sounds edgily relevant and contemporary - the Somerset Levels, "chafed by long drainage", waiting "for the sea to return, to be healed". - Sheenagh Pugh [on Between the Islands]
The full review is on Sheenagh Pugh's Livejournal blog here.

****
Philip Gross was a guest on Radio 3's The Verb on 5 July 2019, along with fellow Bloodaxe poet Heather Phillipson. Click here to listen. Heather features at 7.50. Philip is interviewed at 29.54, and reads again at 42.31 and in the podcast extra. He read a poem from his 2017 collection A Bright Acoustic.
An interview with Philip Gross ran in the 13 October 2017 issue of The Friend. He spoke to Jonathan Doering about his work and his Quakerism.
'From sparky children's poetry… to his T S Eliot Award-winning poetry collection The Water Table and the recent collection A Bright Acoustic, there is an open-mindedness and willingness to accept the strange, shocking but sometimes superb gifts of life.' – Jonathan Doering, The Friend
Partially available online (in full by subscription):
Click here to read.

Philip Gross contributed to Wales Arts Review's feature 'Writers' Rooms' in 2016. His piece about the room he writes in, complete with photographs, can be seen here.
[02 March 2020]