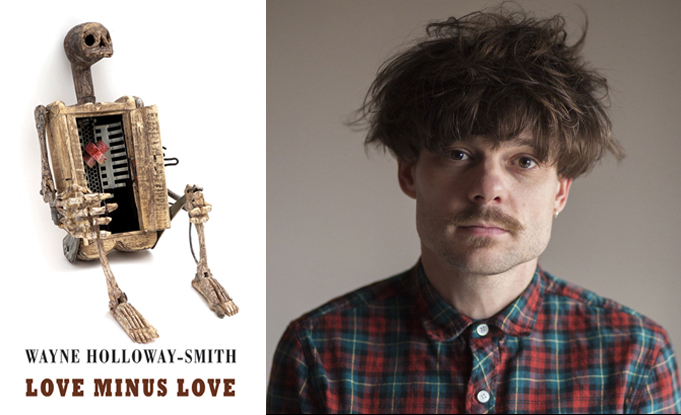 Wayne Holloway-Smith Readings
'Wayne Holloway-Smith is a wonderful poet of the body… Here are poems of the mind, of the body, of masculinity, of somehow joining ourselves together, which is want we want to do in these times. Wayne Holloway-Smith, an extraordinary poet.' – Ian McMillan, introducing Wayne at the T S Eliot Prize Readings, 24 January 2021
Wayne Holloway-Smith's second collection, Love Minus Love, was published in September 2020. It was a Poetry Book Society Wild Card Choice and was shortlisted for the 2020 T S Eliot Prize.
His first full-length collection Alarum (2017) was shortlisted for the Roehampton Poetry Prize 2017 and for the Seamus Heaney Centre for Poetry Prize for First Full Collection, and was longlisted for the Michael Murphy Memorial Prize. It was a Poetry Book Society Wild Card Choice for Winter 2017.
Wayne Holloway-Smith won the National Poetry Competition 2018 for his new poem 'The posh mums are boxing in the square'. The award was made at a ceremony in London on 27 March 2019. Full details, along with links to the winning poem and a radio interview with Wayne, are here.
PAST EVENTS
Radio 3's The Verb featured extracts from the T S Eliot Readings on Friday 29 January 2021. Listen here. Wayne's reading was introduced by Ian McMillan at 20:09.
Audio of the T S Eliot Prize Readings 2020, held on 24 January 2021.
Wayne Holloway-Smith was first to read.
'Wayne Holloway-Smith's Love Minus Love is fiercely playful in its confrontation of truths that are as familiar, and familial, as they are painful: how we are always situated in relation, and how we depend on those dynamics, however toxic, to define ourselves. The work traces the erosion of connection between child and parent, meaning and language, body and self.' – Lavinia Greenlaw, Chair of Judges, T S Eliot Prize 2020
Wayne talks about his work and collection Love Minus Love, published by Bloodaxe Books and shortlisted for the 2020 T. S. Eliot Prize.

Wayne Holloway-Smith reads from Love Minus Love in this video recorded by the T.S. Eliot Prize Foundation.
~~~~
Pascale Petit, Wayne-Holloway Smith and Phoebe Stuckes launched their new poetry collections on Tuesday 8th September 2020 with a live-streamed reading.

Hosted by editor Neil Astley, this first live Bloodaxe event is now available on YouTube - see video below. Wayne was second to read.
~~~~~
Comments on Alarum

'A vital book about working class identity' - Andrew McMillan on Alarum, his Winter Guest Selection for the Winter 2017 PBS Bulletin
'This book is funny, clever, serious, touching, and extraordinarily imaginative.' – Mark Waldron on Wayne Holloway-Smith's Alarum.
'enviably good.. hilarious and witty, it's also terrifically sad, but wears its tragedy so lightly at first it's hard to notice. - John Challis writing about Alarum for The Poetry School
Click here to read the full review

Interviews with Wayne Holloway-Smith
Wayne read at Kendal Poetry Festival in September 2018. Read Kendal's 'Five Minutes with Wayne Holloway-Smith' interview here.
An interview with Wayne is in Honest Ulsterman magazine here.
Click here to read an interview with Wayne Holloway-Smith on Poetry Spotlight.
[04 November 2019]