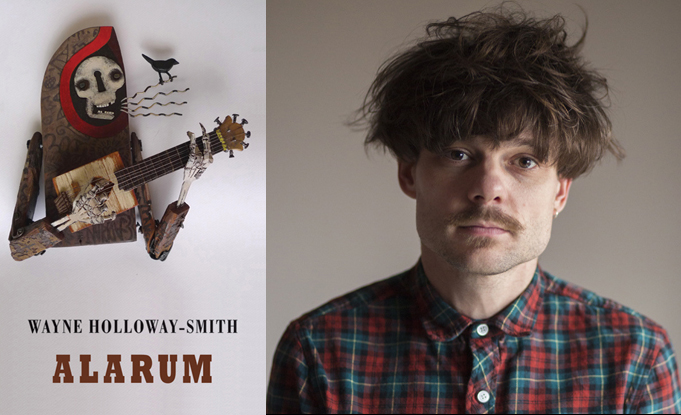 Wayne Holloway-Smith Readings
Wayne Holloway-Smith's first full-length collection Alarum was published by Bloodaxe in March 2017 and launched with a reading at the Newcastle Poetry Festival on 12 May. Alarum was shortlisted for the Roehampton Poetry Prize 2017 and for the Seamus Heaney Centre for Poetry Prize for First Full Collection. It was a Poetry Book Society Wild Card Choice for Winter 2017.
Wayne read at Kendal Poetry Festival in September 2018, and will be reading at Swindon Poetry Festival in October. 'Five Minutes with Wayne Holloway-Smith': read this Kendal Poetry Festival interview here.

The Echo Chamber with Paul Farley, recorded 'as live' at the BBC Contains Strong Language Festival in Hull on Sunday 30 September, 4.30-5.30pm (to be broadcast on Radio 4 Sunday 7 October 2018, 4.30pm)
Sun 30 September 2018, 16:30 – 17:30, Hull College Horncastle Building, 10 Wincolmlee, Hull HU2 8HZ
Wayne Holloway-Smith has been invited to take part in an 'as live' edition of The Echo Chamber that will be recorded in front of an audience at the BBC Contains Strong Language Festival on Sunday 30 September. Wayne will be reading from his first full-length collection Alarum.
'Jacob Polley, Caroline Bird, Wayne Holloway-Smith and Mary Jean Chan join Paul Farley on stage for a special edition of BBC Radio 4's contemporary poetry series The Echo Chamber.'
Click here to book. Free event, but ticketed.
Swindon Poetry Festival 2018

POETS, CANDLES & WINE: POETRY PERFORMACES FROM CLARE SHAW, WAYNE HOLLOWAY SMITH AND KIM MOORE
Friday 5th October; 19:30 - 21:00; TENT PALACE OF THE DELICIOUS AIR. Enjoy a night in our Tent-Palace with three incredible poets, some candles and a wine bar. Poet-in-residence Clare Shaw will read from her latest collection Flood. Clare is joined by Kim Moore and fellow Bloodaxe poet Wayne Holloway-Smith.
Click here to book.

'A vital book about working class identity' - Andrew McMillan on Alarum, his Winter Guest Selection for the Winter 2017 PBS Bulletin
'This book is funny, clever, serious, touching, and extraordinarily imaginative.' – Mark Waldron on Wayne Holloway-Smith's Alarum.
'enviably good.. hilarious and witty, it's also terrifically sad, but wears its tragedy so lightly at first it's hard to notice. - John Challis writing about Alarum for The Poetry School
Click here to read the full review

Interviews with Wayne Holloway-Smith
An interview with Wayne is in Honest Ulsterman magazine here.
Click here to read an interview with Wayne Holloway-Smith on Poetry Spotlight.
[20 September 2018]