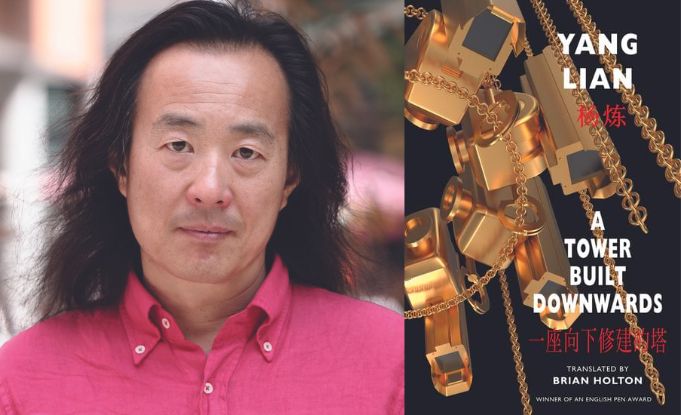 Yang Lian Readings
Before and since his enforced exile from China in 1989, Yang Lian has been one of the most innovative and influential poets Chinese poets. Widely hailed in America and Europe as a highly individual voice in world literature, he has been translated into many languages. A Tower Built Downwards is the latest instalment of his poetry, written between 2019 and 2022. The different sections – short poems, sequences, and two long poems – form a single comprehensive statement of Yang's recent explorations. It is rooted in his living experience of the historical retrogression of Hong Kong, the disaster of Covid-19, the global spiritual crisis, as well as his personal sadness at events such as the deaths of his father and brother.
Translations of Yang Lian's poetry include five collections with Bloodaxe, Where the Sea Stands Still (1999), Concentric Circles (2005), Lee Valley Poems (2009), Narrative Poem (2017) and A Tower Built Downwards (2023). He is co-editor with W.N. Herbert of Jade Ladder: Contemporary Chinese Poetry (Bloodaxe Books, 2012), and was awarded the International Nonino Prize in 2012. Both Where the Sea Stands Still and Narrative Poem are Poetry Book Society Recommended Translations.
'In exile from China since 1989's Tiananmen Square massacre, Yang Lian is a writer of world significance; his admirers include Ai Weiwei, who designed the cover of his latest book. Its title evokes the exile's backwards struggle to construct belonging. It also summarises Yang's profound, distinctive verse, which clothes ideas and feelings with details from the lived world. Brilliantly translated by Brian Holton, this substantial collection revisits the poet's personal China, particularly honouring his late father.' - Fiona Sampson, The Guardian (best recent poetry round-up)
FORTHCOMING EVENTS
Friday 21st July, 7.30pm
Poetry International Opening Night: Festival Summit
Queen Elizabeth Hall, Southbank Centre, London
Yang Lian will read the the opening of the 53rd Poetry International alognside four other leading ecopoets: CAConrad, John Kinsella, Jorie Graham and Olive Senior.
£15 - booking and more information here.
PAST EVENTS
LIVESTREAMED LAUNCH EVENT ON WORLD POETRY DAY, 21 MARCH 2023

On World Poetry Day 2023, Bloodaxe Books hosted this launch reading by David Harsent and Yang Lian celebrating the publication of their new poetry books with John Kittmer and Brian Holton.
John Kittmer introduced David Harsent reading his new versions of Yannis Ritsos from A Broken Man in Flower and then Yang Lian (in Morocco) read in Chinese from his new book A Tower Built Downwards in tandem with Brian Holton reading his English translations, followed by a discussion with the host, Bloodaxe editor Neil Astley.
This multi-lingual Bloodaxe launch event was streamed on YouTube Live and is now available to watch via this YouTube page: https://www.youtube.com/watch?v=zP-Y3THlVAk
[17 May 2023]