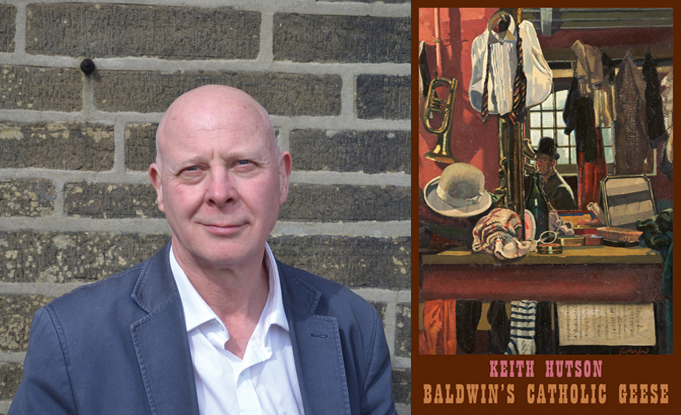 Keith Hutson's launch readings
Keith Hutson's debut collection Baldwin's Catholic Geese will be launched at a series of readings in March. Through vivid portraits, the book looks at the delight and heartbreak of being human through the lens of beloved music hall stars, as well as long-forgotten variety acts of the past. It acts as a comedic chronicle of social history that, in the words of Carol Ann Duffy, illustrate 'something timeless about ambition and the human spirit'.
You can hear Keith read alongside Carol Ann Duffy and Mark Pajak at the Royal Society of Literature's T S Eliot Memorial Reading on 7 February 2017.
Carol Ann Duffy introduces Keith at 31.47. Keith begins his reading at 47.27:
https://rsliterature.org/library-article/annual-t-s-eliot-memorial-reading-with-carol-ann-duffy/
Friday 15 February 2019, 7.30pm

Event: Manchester Poets

Venue: Chorlton Library, Manchester Road, Chorlton, Manchester, M21 9PN
Free entry.

Monday 11 March 2019, 7pm
Royal Exchange Theatre, St Ann's Square, Manchester M2 7DH
Hosted by Poet Laureate Carol Ann Duffy, The Manchester Writing School at Manchester Met will showcase an evening of poetry and music from readers including Keith Hutson reading from his debut poetry collection.
To book tickets, please visit royalexchange.co.uk/whats-on-and-tickets/carol-ann-duffy-friends.
Friday 15 March 2019, 7.30pm
Square Chapel Arts Centre, 10 Square Road, Halifax, West Yorkshire HX1 1QG
Keith will read once again as Laureate's Choice as part of a celebration of poetry with Carol Ann Duffy and friends.
To book tickets, please visit squarechapel.co.uk/whats-on/carol-ann-duffy-and-friends or call the Box Office on (01422) 349 422.
Thursday 11 April 2019, 8pm
The Albert, 36 Victoria Lane, Huddersfield HD1 2QF
Call (0121) 272 5499.
Sunday 11 May 2019
Wirral Poetry Festival - for details, visit the festival website at wirralpoetryfestival.org.uk
Thursday 18 July 2019, 7.30pm
The Vanguard Readings, The Pelican, Camberwell, London
Keith will read alongside fellow Bloodaxe poet Hannah Lowe. For details, visit the Vanguard Readings Facebook page.
Keith Hutson: The Audience (i.m. Les Dawson 1931–1993)
Keith Hutson reads and introduces his poem 'The Audience' about Les Dawson, one of the many comedians he worked with before moving from comedy script writing to poetry.
Keith Hutson: Hylda (for Hylda Baker 1909–1986)
Keith Hutson reads and introduces his poem 'Hylda' about the rise and fall of comedienne Hylda Baker, familiar to television audiences as the mouthy proprietress of Pledge's Pickle Factory on ITV.
Keith Hutson: Accept No Imitations (i.m. J.D. Plummer 1846–1901)
Keith Hutson reads and introduces his poem 'Accept No Imitations' about J.D. Plummer, a resourceful Victorian impresario whose final tragic fate was beyond his control.
Keith Hutson: Glasgow Empire
Keith Hutson reads and introduces his poem 'Glasgow Empire' about the notorious theatre where even the most famous comedians were booed off the stage.
Keith Hutson: Baldwin's Catholic Geese
Keith Hutson reads and introduces a selection of poems from Baldwin's Catholic Geese. Neil Astley filmed Keith Hutson at his home in Halifax, West Yorkshire, in February 2019.
[11 February 2019]