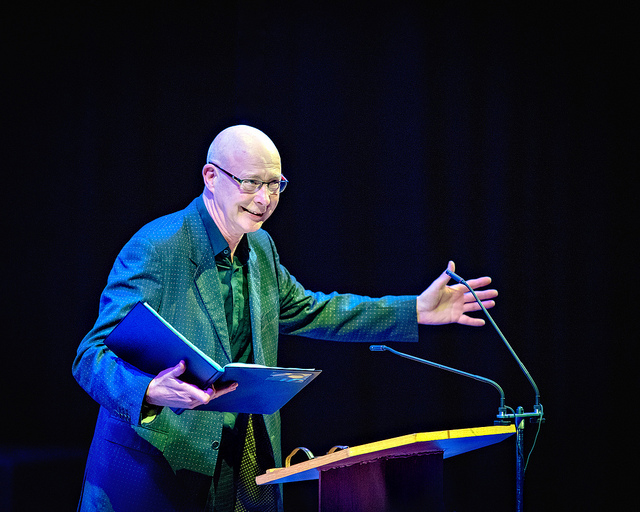 Keith Hutson Readings
Keith Hutson reading at The Square Chapel Arts Centre in Halifax, 15 March 2019. Photograph by Ant Robling.
'At the crossroads of the comic and the tragic, Keith Hutson's poetics bask in irony, but not in introspection… They are a tonic – a fizzing celebrant of unremembered comedy and Music Hall lives... The improbably-titled Baldwin's Catholic Geese is an absolute original, an unalloyed gem.' – Steve Whitaker, Poetry Wales (Poetry Books of the Year 2019)
Keith Hutson's first full-length collection Baldwin's Catholic Geese was published by Bloodaxe in February 2019, and launched with readings at the Royal Exchange Theatre in Manchester and at Halifax's Square Chapel Arts Centre in March (both hosted by the then Poet Laureate Carol Ann Duffy). They read together again at the Ledbury Poetry Festival, BBC Contains Strong Language Festival in Hull, Birmingham Literature Festival, and at Chester Storyhouse in November, with another reading to follow at Cheltenham Poetry Festival in April 2020.
Through vivid portraits, the book looks at the delight and heartbreak of being human through the lens of beloved music hall stars, as well as long-forgotten variety acts of the past. It acts as a comedic chronicle of social history that, in the words of Carol Ann Duffy, illustrate 'something timeless about ambition and the human spirit'.
Keith Hutson was reading and talking about Baldwin's Catholic Geese on Radio 3's The Verb: To the Circus on Friday 29 November 2019. Listen here.
Baldwin's Catholic Geese has been chosen for New Writing North's Read Regional 2020 campaign. Keith is one of ten Northern writers who will be giving readings at libraries and literary festivals across the North of England from 11 March-13 June 2020. Details at: https://www.bloodaxebooks.com/events?articleid=1011
READINGS WITH KEITH HUTSON IN 2020

Thursday 27 February 2020, 7.15pm, NCLA, Culture Lab, Newcastle University

Peter Bennet and Keith Hutson

A poetry reading introduced by Neil Astley

Two very different northern poets published by Bloodaxe come together for a lively evening of storytelling poetry and engaging repartee.

Peter Bennet, described by the Poetry Book Society as a writer of 'bold imaginative strokes, subversive connections and dark wit,' reinvents the world with linguistic resourcefulness and panache in his seventh collection, Mischief (2018).

Comedy-writer-turned-poet Keith Hutson's debut collection, Baldwin's Catholic Geese (2019), explores the delight and heartbreak of being human through the lost world of Music Hall and Variety entertainment.

Neil Astley is the founder and editor of Bloodaxe Books, now in its 41st year, and is an Honorary Fellow of the Royal Society of Literature.
Free event, but booking required.
Click here to book.
Thursday 23rd April 2020, Cheltenham Poetry Festival, 7.30-9.30pm

Francis Close Hall Chapel, Cheltenham, GL50 4AZ
An Evening with Carol Ann Duffy and Friends
The former Poet Laureate, and one of the UKs best-loved writers, Carol Ann Duffy, presents an evening of performance and poetry, with readings of old and new work from herself and selected poets. Reading with her will be Keith Hutson, Mark Pajak and Ella Duffy.
For more information & bookings: https://cheltenhampoetryfestival.com/festival-news-2/an-evening-with-carol-ann-duffy-and-friends/

'... a tonic – a fizzing celebrant of often unremembered lives... There's more than artistry to Keith Hutson's peerless volume.' - Steve Whitaker in The Yorkshire Times. Read the review here.
'I cannot recommend this book too highly. If you have not lived long enough to have experienced vaudeville/music hall theatre, or to have heard your grandparents rave about it, you can read it all here. The artistry of Keith Hutson, nuanced, never forced, brings it back to life again. Be sure to look sharp though; beguiled by the characters, you may lose sight of the craft, the genius blend of pathos and humour threaded through every poem. Read it.' - Wendy Klein, London Grip [on Baldwin's Catholic Geese] Read the full review here.
Carol Rumens discussed Keith Hutson's poem 'The Opener' from Baldwin's Catholic Geese in her 'Poem of the Week' column on The Guardian website. 'The collection delivers the comedy and oddity its title promises, but amounts to very much more than a novelty act. It's a commemoration.' Read the column here.
A podcast interview with Keith Hutson on Two Minutes Stories can be heard here. Keith read 'The Audience' from Baldwin's Catholic Geese and spoke about his poetry and his life in comedy (from 28.50).


Keith Hutson: The Audience (i.m. Les Dawson 1931–1993)
Keith Hutson reads and introduces his poem 'The Audience' about Les Dawson, one of the many comedians he worked with before moving from comedy script writing to poetry.
Keith Hutson: Hylda (for Hylda Baker 1909–1986)
Keith Hutson reads and introduces his poem 'Hylda' about the rise and fall of comedienne Hylda Baker, familiar to television audiences as the mouthy proprietress of Pledge's Pickle Factory on ITV.
Keith Hutson: Accept No Imitations (i.m. J.D. Plummer 1846–1901)
Keith Hutson reads and introduces his poem 'Accept No Imitations' about J.D. Plummer, a resourceful Victorian impresario whose final tragic fate was beyond his control.
Keith Hutson: Glasgow Empire
Keith Hutson reads and introduces his poem 'Glasgow Empire' about the notorious theatre where even the most famous comedians were booed off the stage.
Keith Hutson: Baldwin's Catholic Geese
Keith Hutson reads and introduces a selection of poems from Baldwin's Catholic Geese. Neil Astley filmed Keith Hutson at his home in Halifax, West Yorkshire, in February 2019.
[12 August 2019]