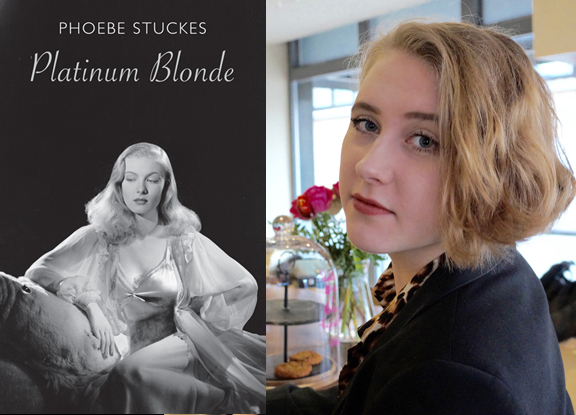 Phoebe Stuckes & Neil Astley on Radio 4


The Poetry Editor, BBC Radio 4, Monday 2 December 2019, 4pm, repeated Tuesday 10 December, 11am


'What does talent spotting look like with poets?'
Neil Astley, founding editor of Bloodaxe Books, speaks about how he came to publish four-time winner of the Foyle Young Poets Award Phoebe Stuckes, whose debut Platinum Blonde is forthcoming from Bloodaxe in July 2020. They discuss her work and the editorial process.
Both Neil and Phoebe were interviewed for this Radio 4 feature on role of the Poetry Editor. Later in the programme Neil talked about editing another first collection.

Poet Laureate Simon Armitage, whose debut collection Zoom! was published by Bloodaxe in 1989, also spoke about being edited by Neil Astley. The correct version of his 'oblvious of/to' story can be seen on the film of Simon reading from Zoom! posted on the title page (forward to 19:24).
Matthew Hollis, Poetry Editor at Faber (and a Bloodaxe poet) was also interviewed for this fascinating BBC Radio 4 feature, which also drew on Faber's archive. Matthew's second collection is forthcoming from Bloodaxe in spring 2021.

Presented by poet Hannah Sullivan:
'She talks to leading poetry editors today, Neil Astley of Bloodaxe; Parisa Ebrahimi of Chatto & Windus and Matthew Hollis, who now sits at Eliot's desk at Faber. They discover and nurture new voices, but also have to sustain their lists. Might there be figures so distinguished they are beyond editing?...Sullivan speaks to several leading poets - Simon Armitage, Paul Muldoon, Julia Copus, Sarah Howe and Kayo Chingonyi - about being edited, and hears from people at the beginning of their careers such as Phoebe Stuckes.'

Click here to listen. Neil & Phoebe feature at 6:06, and Neil speaks about editing another first collection at 11:32.
Phoebe Stuckes was one of three young poets interviewed about poetry and politics for i-D of 10 March 2020 - read the article here.
[03 December 2019]