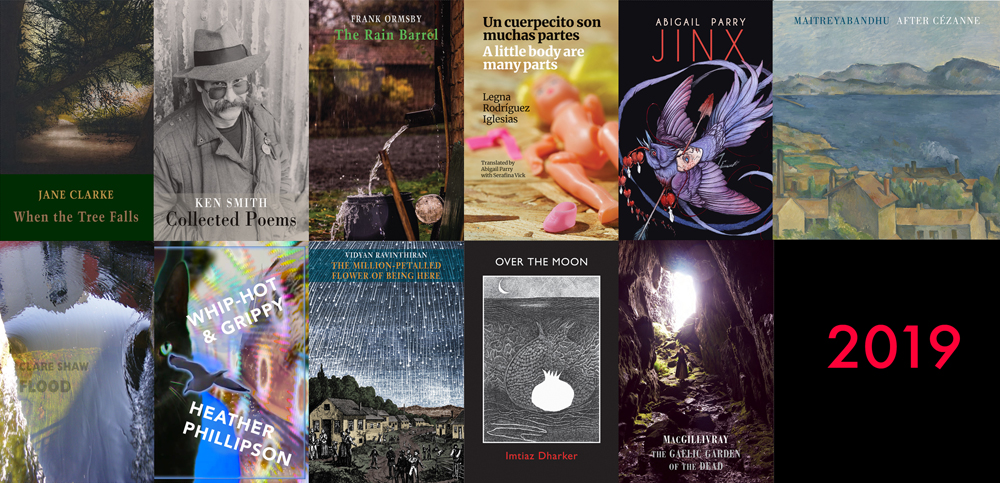 Bloodaxe Books of the Year 2019

The Million-petalled Flower of Being Here by Vidyan Ravinthiran, shortlisted for the Forward Prize for Best Collection 2019 & the T S Eliot Prize 2019
'Every poem in Ravinthiran's second collection is a sonnet addressed to his wife, but here is no lack of variety in topic or tone. From interracial love to Sri Lanka's civil war, mental health to Brexit, the range itself speaks of the ideal spouse: the person with whom we can talk about absolutely anything.' – Maria Crawford, Financial Times (Best Poetry Books of the Year 2019)
'The sonnet can miniaturise whole worlds in 14 lines. Two virtuoso sequences that half-rhymed England with elsewhere this year were Mimi Khalvati's Afterwardness (Carcanet £9.99) and Vidyan Ravinthiran's The Million-petalled Flower of Being Here (Bloodaxe £9.95).' – Jeremy Noel-Tod, The Sunday Times (Best Poetry of 2019)
The Million-petalled Flower of Being Here, Niall Campbell's Noctuary and Mark Waldron's Sweet, Like Rinky-Dink were all included in The Poetry School's Poetry Books of the Year feature: their pick of 52 books were illustrated with cover photos but no quotes.

When the Tree Falls by Jane Clarke

'The Irish poet Jane Clarke has followed a great debut collection with an even better second book. When the Tree Falls talks about her farming father in his last years. It delivers a clean, hard-earned simplicity and a lovely sense of line.' – Anne Enright, The Irish Times (Books of the Year 2019)
'When the Tree Falls confirms Jane Clarke's position as one of the most rewarding poets in these islands: she knows how to cut a line, how to shape words to the right instrument and then to make that thing sing.' – Tony Curtis, Poetry Wales (Poetry Books of the Year 2019)
Jane Clarke's When the Tree Falls is included in Books Ireland magazine's Christmas Gift Guide in 'The fireside poet' section.
'Jane Clarke is a really extraordinary poet. This is only her second collection, but this is a really timeless voice. She's a poet who blends the contemporary with a great sense of the ancient and the rural. Her first collection The River was a fantastic piece of work. This new collection When the Tree Falls is focussed very much around the death of her father, but it's an incredibly celebratory poetry collection that really looks at the nuts and bolts of the actual life on a farm in Roscommon...she finds such beauty in it, with such simplicity of language. There's no sentimentality, no ornamentation; every word is incredibly honed and carries a really deep emotional weight.' - Jessica Traynor, speaking on RTE Radio 1's Arena (Poetry books of 2019)
Jessica's wonderful review of When the Tree Falls was the first item on Arena's Irish poetry books of 2019 feature on 20 December. She gave a beautiful reading of 'When winter comes'. She also recommended new collections by Miriam Gamble and former Ireland Professor of Poetry Harry Clifton, while Colm Keegan recommended Frank Ormsby, the current Ireland Chair of Poetry. Four out of their eight recommendations are published by Bloodaxe: two by Irish poets, two from Northern Irish poets.
Click here to listen (1st item: 'A great year for poetry'. Jane Clarke reviewed at 6.54, Harry Clifton 12,09, Miriam Gamble 15.57 & Frank Ormsby at 20.07)
The Rain Barrel by Frank Ormsby

'Frank Ormsby's latest collection, The Rain Barrel, is one of his finest and follows on from a hugely creative few years – a volume of new and selected poems, Goat's Milk (2015) and the complexly challenging The Darkness of Snow (2017) – both from Bloodaxe. Ormsby has just been named Ireland Professor of Poetry (2019-22), succeeding Eilean Ni Chuilleanain.' – Gerald Dawe, The Lonely Crowd (Books of the Year 2019)
'One of the happiest events of the year was the elevation of Fermanagh poet Frank Ormsby to the post of Ireland Professor of Poetry. His latest book, The Rain Barrel, has been hailed as containing some of his best work.' Damian Smyth, Belfast Telegraph (Best Books by Northern Irish Writers 2019)
The Director of West Cork Literary Festival Eimear O'Herhily recommended Frank Ormsby's The Rain Barrel on The Arts House, Cork's 96FM (The Definitive Christmas Book List). She dicussed new poetry collections from 4:15. Click here to listen.
'The real surprise with Ormsby is that it's full of subtle provocation. He does really unflinching work.. there are several poems about the disappeared, and he cannot leave them to be forgotten - I really admire him for that.' - Colm Keegan, speaking on RTE Radio 1's Arena (Poetry books of 2019) on The Rain Barrel
What Planet by Miriam Gamble
'A.. virtuosic young poet... What I really think is exciting about Miriam's work is that she's fantastic on form.. and there's a playfulness here, there's a sense of the surreal, the heightened, but there's also a sense of anxiety about modern life and living... really arresting stuff.' - Jessica Traynor, speaking on RTE Radio 1's Arena (Poetry books of 2019), recommending What Planet
Herod's Dispensations by Harry Clifton
'What I love about Harry's work is that he's an outsider... Much like Joyce, he's one of these people who writes about Ireland with the great insight that only a sense of self-exile can bring. With this new collection, Herod's Dispensations, he's talking about a creative re-birth brought on by a trip to China, but he's also talking about the ageing process and about coming back to Dublin to settle.' - Jessica Traynor, RTE Radio 1's Arena (Irish Poetry books of 2019)
Whip-hot & Grippy by Heather Phillipson

'If you want a first collection that could spark a movement, try Witch by Rebecca Tamás (Penned in the Margins)… Along with Fran Lock's image-packed Contains Mild Peril (Outspoken) and Heather Phillipson's whip-smart and glitchy Whip-hot & Grippy (Bloodaxe), it's at the centre of a school I tentatively labelled the New Witchcraft in these pages; they're all deliciously OTT, and have urgent things to say.' – Tristram Fane-Saunders, The Telegraph (Christmas Poetry Books 2019)
'It's been a brilliant year for poetry: in particular, I've loved Nisha Ramayya's States of the Body, Produced by Love (Ignota), Heather Phillipson's Whip-hot and Grippy (Bloodaxe), Rachael Allen's Kingdomland (Faber), and Tom Betteridge's Dressings (Materials).' Helen Charman, The White Review (Books of the Year 2019)
After Cezanne by Maitreyabandhu, with 25 colour reproductions

'Seeking out a natural gift for Christmas? Try After Cézanne, a marvellous bringing together of paintings with poems in response both to the works themselves and to their maker, Paul Cézanne. This book offers us good reproductions of the paintings, poems which seem to shadow them, and just enough about the man himself to enable us to feel thoroughly rooted in his life. Part biography, part critical interpretation, part self-revelation, this delightful gathering, written by Maitreyabandhu, a Buddhist monk, is extraordinarily engaging and readable.' – Michael Glover, The Tablet (Poetry Books for Christmas 2019)
I May Be Stupid But I'm Not That Stupid by Selima Hill

'And finally from the UK, three outstanding collections from three mature poets writing at their very best: Selima Hill's wild, funny heart-breaking I May Be Stupid But I'm Not That Stupid (Bloodaxe); Tim Cumming's devastatingly acute Knuckle (Pitt Street Poetry, and the precisely terrifying Girlhood from Julia Copus (Faber).' - Martina Evans, The Irish Times (Best New Poetry of 2019)

Selima Hill's new collection I May Be Stupid But I'm Not That Stupid is included in the London Review Bookshop's list of poetry books for Christmas. Click here to view.
Jinx by Abigail Parry (2018), shortlisted for the Forward Prize for Best First Collection 2018 & the Seamus Heaney Centre First Collection Poetry Prize 2019

'Abigail Parry, in her first collection, Jinx, performs twists and turns on playground games, ghost lore, cantrips and myths; the poems strike deep on matters of love and pleasure, sex and risk, as well as dazzle with their antic wit and control.' – Marina Warner, New Statesman (Books of the Year 2019)
Collected Poems by Ken Smith ( 2018)

'Ken Smith's Collected Poems ought to put his remarkable body of work squarely before a younger audience. His widely travelled imagination, his invention and dramatic lyricism continue to shed light on the evil times he went some way to prophesy.' - Sean O'Brien, Times Literary Supplement (Books of the Year 2019)
Over the Moon by Imtiaz Dharker (2014), winner of the Queen's Gold Medal for Poetry 2014, shortlisted for the Ted Hughes Award for New Work in Poetry 2014

Flood by Clare Shaw (2018)

'Aching truth spoke through Clare Shaw's Flood, while Imtiaz Dharker's beautifully illustrated Over the Moon (Bloodaxe) left a lasting impression…' – Jane Burn, Morning Star (Best of 2019: Poetry)
Baldwin's Catholic Geese by Keith Hutson
'At the crossroads of the comic and the tragic, Keith Hutson's poetics bask in irony, but not in introspection… They are a tonic – a fizzing celebrant of unremembered comedy and Music Hall lives. … The improbably-titled Baldwin's Catholic Geese is an absolute original, an unalloyed gem.' – Steve Whitaker, Poetry Wales (Poetry Books of the Year 2019)

When I Grow Up I Want to Be a List of Further Possibilities by Chen Chen

'If I have to pick poetry favourites, which is always hardest, they have to include: Chen Chen When I grow up I want to be a list of further possibilities' – Polly Atkin, The Lonely Crowd (Books of the Year 2019)
The Gaelic Garden of the Dead by MacGillivray
'MacGillivray's collection is the equivalent of an ambitious concept album… and the musical comparison isn't out of place here too, because the poetry itself sings, and sings memorably. From sonnets pieced together by the scraps of poems regurgitated by an executed Mary Queen of Scots to a sequence of poems that profoundly engages (in English) with Gaelic poetry and its mythology of trees and its elegiac and panegyric modes. This is the sort of 'big' poetry that demands the reader to surrender to the unique aesthetic of the poet.' - Richie McCaffery, The Bottle Imp (Best Scottish Books of 2019)


A little body are many parts by Legna Rodríguez Iglesias, translated by Abigail Parry & Serafina Vick

'Un cuerpecito son muchas partes / A little body are many parts, by Legna Rodríguez Iglesias and translated by Abigail Parry, is one of my favourite books of the year. Highlights include a chorus of luminous pumpkins, an astonishing long sequence plus commentary called 'Miami Century Fox', and a thoroughly helpful poem about fire safety in the workplace. It's hard to imagine a translator more in sympathy with her subject; the knockabout strangeness and the verbal felicity throughout might be from Parry's own (Forward-nominated) work [Jinx].' – John Clegg, London Review Bookshop (recommending new poetry in translation)


The Girl Aquarium by Jen Campbell, Semifinalist for the Goodreads Choice Awards 2019 (Best Poetry category), Shortlisted for the poetry category of the Books Are My Bag Readers Awards

'It's all about girls and bodies and nature and beauty and fairy tales. There's darkness and there's love and friendship. I loved the themes running through it and how they were able to connect the different poems together to weave this story… I really loved this.' – Sanne, Booksandquills (My 10 Favourite Books of 2019 video), on The Girl Aquarium
Mama Amazonica by Pascale Petit (2017), shortlisted for the Roehampton Poetry Prize 2018, winner of the RSL Ondaatje Prize 2018
'Pascale Petit's dark collection, Mama Amazonica, reaches into my heart to squeeze and squeeze. These are epic, achingly beautiful poems of love, abuse and self-betrayal that are, ultimately, a celebration of the glorious tenacity of life in multitudinous shape-shifting form. That these multifaceted poems simultaneously expose, in microscopic detail, the horrors of the dysfunctional family, while unmasking our patriarchal culture's violation of Mother Earth, is nothing short of genius, and is what lifts Mama Amazonica into a poetic stratosphere of its own.' - Sophie McKeand, Wales Arts Review (Best Welsh Books of the Decade)
USA BOOKS OF THE YEAR FEATURES


Negative Space by Luljeta Lleshanaku, translated by Ani Gjika (2018), Griffin Poetry Prize 2019 International Shortlist
'I loved Luljeta Lleshanaku's Negative Space (tr. Ani Gjika, New Directions/Bloodaxe Books). I'm fascinated by Lleshanaku's balance of surreal imagery and explicit social criticism. Her explorations of intuition and emotional life seem both timeless and iconoclastic, wisdom custom made for the twenty-first century.' - Gregory Pardlo, Words without Borders (Best Translated Books in 2019)

The Shadow of Sirius by W S Merwin (2009 Copper Canyon Press, USA / Bloodaxe Books, UK & Ireland), winner of a Pulitzer Prize 2009
This 2009 collection by former US Poet Laureate, W S Merwin, was included in Barack Obama's 'Favorite Books of 2019' list. He'd recommended the collection earlier in 2019 when he was paying tribute to Merwin,who died in March.
'One of the great poets of our time, W. S. Merwin, passed away recently. A brilliant writer and conservationist, Merwin spent the final period of his life on a former pineapple plantation in Hawaii, working to restore the surrounding rainforest. During a visit to the White House in 2010, while he was serving as U.S. poet laureate, we connected over the place we both called home and our shared responsibility to protect the planet. This collection offers a good sampling of his work. I've drawn inspiration from Merwin's writing because it teaches us about ourselves, our world, and how we as humans connect to nature. Most of us don't spend a lot of time on poetry but Merwin's death reminded me of how a good poem can inspire and instruct.' - Former President of the United States Barack Obama paying tribute to Merwin, and recommending The Shadow of Sirius (one of his 'favorite books of 2019')
[05 December 2019]