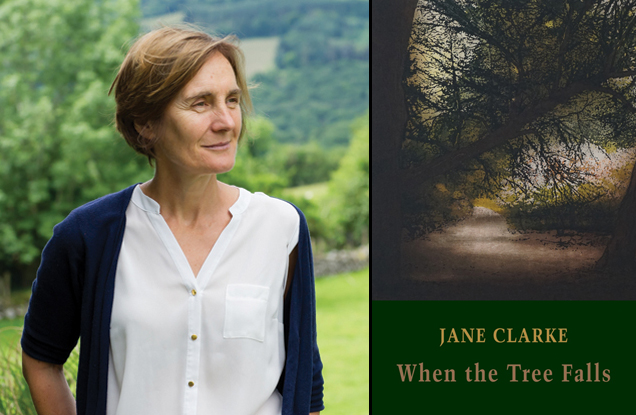 Jane Clarke Shortlisted for Two Irish Poetry Prizes
Jane Clarke's second full-length collection
When the Tree Falls
has been shortlisted for both the
Irish Times
Poetry Now Award and the Farmgate Café National Poetry Award 2020. Jane is the only poet on the shortlist for both prizes, and had already been engaged to give readings at the festivals at which the prizes will be announced.
The winner of the Farmgate Café National Poetry Award will be announced at the opening of the Cork International Poetry Festival on Tuesday 24 March 2020 at 6.30pm (this event is free, but ticketed). This award of €2,000 is for the best original collection of poems written by a poet living in Ireland, published in English, in the previous calendar year. The judges for this second year are Ailbhe Darcy, Thomas Dillon Redshaw and Billy Ramsell. Jane will be reading at the festival on 26 March.
The
Irish Times
Poetry Now Award shortlist was published in
The Irish Times
of 8 February. The winner of the €2,000 prize will be announced at an event at 10.30 on Saturday 28 March 2020 at the
Mountains to Sea dlr Book Festival
, where Jane has already been invited to give a reading at noon.
This year's judges are poet Colette Bryce, editor of Poetry Ireland Review; Scottish poet and novelist Jackie Kay, who has been Scotland's national poet laureate since 2016 and is chancellor of the University of Salford; and anthologist, broadcaster and author of poetry text books for students, Niall MacMonagle.
Details of the five-strong shortlist are in
The Irish Times
here
.
Details of the five-book shortlist for the Farmgate Café National Poetry Award are on Munster Literature Centre's website
here
.
The winner of the inaugural Farmgate Café Award last year was Bloodaxe's Leanne O'Sullivan for her fourth collection
A Quarter of an Hour
. A film of Leanne's acceptance speech is on our news page
here
.
****
Jane Clarke's work was used as part of the Galway 2020 European Capital of Culture launch celebrations on 5 February 2020. Lines from her poem 'The Suck' from her acclaimed debut collection
The River
feature on a public sculpture created for the week-long Fire Tour that launched Galway 2020. Full story and photo on our news pages
here
.
Forthcoming readings by Jane Clarke are on her events page
here
.
[18 February 2020]