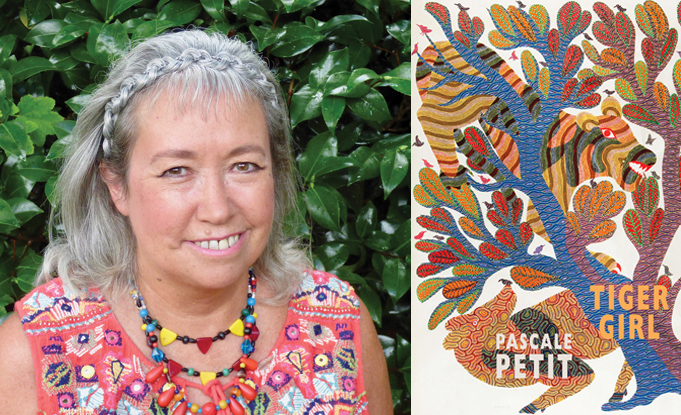 Pascale Petit wins Keats-Shelley Poetry Prize 2020
Pascale Petit has won the Keats-Shelley Poetry Prize for her poem 'Indian Paradise Flycatcher'. The announcement was made online on 27 April 2020.
This poem is included in Pascale Petit's eighth collection Tiger Girl, which will be published by Bloodaxe Books on 3 September, and which was shortlisted for the 2020 Forward Prize for Best Collection. Her seventh collection Mama Amazonica won the RSL Ondaatje Prize 2018, the first poetry title to win that award, and the inaugural Laurel Prize 2020.
Judge Will Kemp said of the winning poem:
'This poem has an elegant form and distinctive imagery which convey and celebrate a bird native to Central Asia in a contemporary ode that really doesn't put a foot wrong from start to finish. And the poem asks us to think about this bird in relation to time, as observations become part of a subtle comment on the fragility and resilience of the natural world against a backdrop of the impacts of climate change.' - Judge Will Kemp on 'Indian Paradise Flycatcher', winner of the 2020 Keats-Shelley Poetry Prize
Established in 1998, by the Keats-Shelley Memorial Association the Keats-Shelley Writing Prize encourages people of all ages to respond to the Romantic Poets, by composing their own original poem or essay. The poets are asked to respond to the Prize theme. This year's theme was Songbird, marking the composition 200 years ago of Percy Bysshe Shelley's 'To a Skylark' and the publication in book form of John Keats's 'Ode to a Nightingale'. Pascale Petit was chosen as the winner of the Poetry First Prize with her poem, 'Indian Paradise Flycatcher'.
Pascale said of the win:
"It's a deep honour to win the Keats-Shelley poetry prize on the theme of songbirds and climate crisis, in the bi-centenary year of the publication of Keats' 'Ode to a Nightingale', my favourite poem of all time. Keats' nightingale turned me onto poetry as a teenager and saved my life, and I will always be grateful to him.

I've been aware of this prize since its first year, and when I saw the theme of songbirds, thought I should try. I entered two poems, added 'Indian Paradise Flycatcher' almost as an afterthought, as it doesn't focus on song but appearance. I am so grateful to the judges for seeing what I hoped was in the lines and for also noticing that the shape of the stanzas mimics its zigzag bob through the air. This poem will be published by Bloodaxe in my next collection Tiger Girl in September, and it's a great boost to see one of my birds (among the tigers!) have a spotlight. Congratulations to all the winners and shortlisted writers and thank you to all at the Keats-Shelley Memorial Association."
About the poem, Pascale said:
"I saw several Indian Paradise Flycatchers in Bandhavgarh National Park, the tiger jungles of Central India, exactly this time last year, in pre-Covid times. I tried to capture what the white male morph is like – what it was like to try to observe him, a scrap of melting snow in the heatwave, with his tail streamers and his jerky flight, too fast moving to capture on camera, then vanished. The temperatures soared, parks flooded during monsoon, drowning many endangered species. Then the world's forests caught fire. He seemed like a small white melting flag, as if the natural world was declaring peace – or surrender."

A film of the online award announcement of 27 April, along with an audio recording of Judge Will Kemp reading Pascale's poem, are here:

***
[04 May 2020]