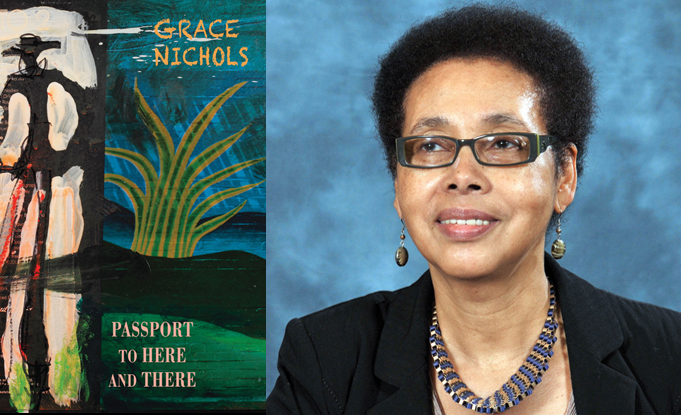 Grace Nichols interviews, reviews and poem features
'These warmly nostalgic but undeceived works are, by her own reckoning, attempts to "preserve experiences, people and places in an effort to save them from time's erasure".' – Ben Wilkinson, The Guardian
In Passport to Here and There Grace Nichols traces a journey that moves from the coastal memories of a Guyana childhood to life in Britain and her adoptive Sussex landscape. This is her ninth collection of adult poems and her fourth book with Bloodaxe, and makes a significant contribution both to Caribbean and to British poetry. It is a Poetry Book Society Special Commendation.
Bookanista has marked publication day, 25 June 2020, by featuring the preface and final poem from Passport to Here and There on their website. Read here.
Grace Nichols was one of six 'leading Black British' poets interviewed for The Observer of 28 June 2020. Read via The Guardian website here. Cover story for The New Review section.
'Grace Nichols' beautiful new collection Passport to Here and There is a kind of autobiography in verse.' - Andy Croft, Morning Star. The full review can be seen here.
REVIEW IN THE GUARDIAN

Grace Nichols' new collection Passport to Here and There was reviewed in the best recent poetry round-up in The Guardian of 6 June 2020.
'Another collection that sifts lived experience for personal truths is Grace Nichols's Passport to Here and There. Nichols is known for her social commentary, a key voice in the literary interchange between the Caribbean and the UK. This new book contains poems that capture a conflicted view of an adopted England… These warmly nostalgic but undeceived works are, by her own reckoning, attempts to "preserve experiences, people and places in an effort to save them from time's erasure".' – Ben Wilkinson, The Guardian
Read the full review on The Guardian's website here.



POEM ON BBC RADIO CUMBRIA

Caroline Nicholson, BBC Radio Cumbria, Thursday 4 June 2020, 10am

Grace Nichols' read a beautiful new poem on the poetry slot on the Caroline Nicholson show on 4 June. Her poem 'Harbour' was written on 13 May in response to the pandemic, and is featured on the WRITE where we are NOW website here.

Available until 4 July 2020. Grace Nichols reads her poem from 41:58:
https://www.bbc.co.uk/programmes/p08dnjw5
BOOKS TO READ IN 2020
Books to make you fall in love with poetry

i-D, Books to read in 2020, online 14 January 2020

Grace Nichols' forthcoming collection Passport to Here and There was included in the 'Books to make you fall in love with poetry' section of i-D's 'Every new book you need to read in 2020' feature. The section was illustrated with an Instagram post of Grace's poem 'Wherever I Hang' from her 2010 retrospective I Have Crossed n Ocean: Selected Poems. Grace Nichols' most recent title at that time was her 2017 collection The Insomnia Poems.
'Unquestionably one of our most important living poets, Grace Nichols returns with her ninth collection of poems about a childhood in Guyana and move to Britain. With wit and warmth, Nichols delves into the what is lost and gained by being between places.' - Katie Goh, i-D (Books to read in 2020), on Passport to Here and There
Read via i-D's website here.

[06 June 2020]