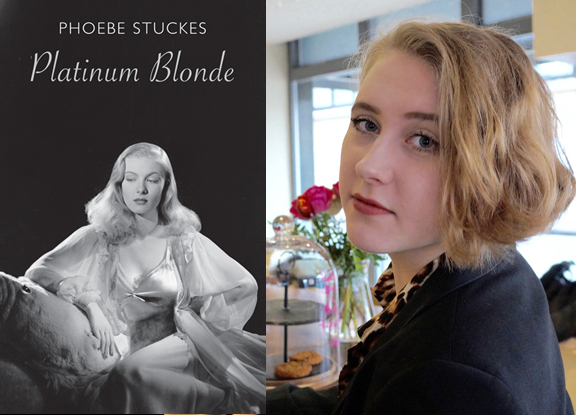 Phoebe Stuckes interviews & podcasts for Platinum Blonde
'The poems in Platinum Blonde are vulnerable, performative, and ardently female. Stuckes deftly balances violence and wit, self-consciousness and panache. She can turn a sentence on a dime.' – Kim Addonizio
Four-time winner of the Foyles Young Poets Award Phoebe Stuckes's debut collection Platinum Blonde was published by Bloodaxe on 3 September 2020. Underneath the glitz and glamour, the poems in Phoebe Stuckes' first full-length collection are about self-belief, self-image, vulnerability and insecurity, loneliness, heartbreak, trauma and survival.
In June Phoebe's poem 'Thus I became a heart-eater' from the collection won the Geoffrey Dearmer Prize 2019. Judge Fiona Benson commented: 'I love the poem's rebellion, its honesty, its self-disgust, its despair and its resilience.'
A film of Phoebe reading the winning poem is on the Poetry Society's website here. A Poetry Society interview with Phoebe Stuckes is here.
~~~~
RADIO 4 INTERVIEW WITH PHOEBE STUCKES

Front Row, BBC Radio 4, Thursday 17 September 2020, 7.15pm

Phoebe Stuckes was interviewed live in the studio on Front Row on Thursday 17 September (re-scheduled from last Thursday). She was speaking to Kirsty Lang about her first full-length poetry collection. She read her poems 'Advice to Girls' and 'Fox' from Platinum Blonde.

'Poet Phoebe Stuckes discusses her first collection, Platinum Blonde, which gives us a glimpse of the life of a lively young woman today. She is only 24, but Phoebe Stuckes is a seasoned poet and performer, winner of the Foyle Young Poets Award - four times - she has also been Barbican Young Poet and the Ledbury Poetry Festival's young poet-in-residence.'

'Platinum Blonde is out now, and I can thoroughly recommend it.' – Kirsty Lang, Front Row

Phoebe Stuckes appeared at 07:50.
Listen here.
PODCAST WITH PHOEBE STUCKES

Alternative Stories and Fake Realities podcast, 4 September 2020

Five poems from Phoebe Stuckes' debut collection Platinum Blonde were featured on the Alternative Stories podcast on 4 September, intercut with an interview with Phoebe, who introduced the poems. Presenter Hollye Sangster described her as 'one of the most exciting British poets to emerge in the last couple of years.'

The poems featured were 'Bleach', 'Wet', 'Paris', 'Confessional' and her Geoffrey Dearmer Prize-winning poem 'Thus I became a heart-eater'.
Listen here: https://www.buzzsprout.com/411730

PRESS INTERVIEW WITH PHOEBE STUCKES

Phoebe Stuckes was one of three young poets interviewed about poetry and politics for i-D of 10 March 2020 - read the article here.
BBC RADIO 4 INTERVIEW

Phoebe was also interviewed together with her Bloodaxe editor Neil Astley for BBC Radio 4's The Poetry Editor on 2 December 2019.
Neil Astley, founding editor of Bloodaxe Books, speaks about how he came to publish four-time winner of the Foyle Young Poets Award Phoebe Stuckes, whose debut Platinum Blonde is forthcoming from Bloodaxe in September 2020. They discuss her work and the editorial process. Both Neil and Phoebe were interviewed for this Radio 4 feature on role of the Poetry Editor.

Click here to listen. Neil & Phoebe feature at 6:06.
~~~~
Phoebe Stuckes: Platinum Blonde launch reading
Phoebe Stuckes launched her debut collection Platinum Blonde in a Bloodaxe online launch reading shared with Wayne Holloway-Smith and Pascale Petit on 8 September 2020. This video is an excerpt from that event which went out on YouTube Live.
A film of Phoebe Stuckes reading 'Bleach', the first poem in her debut collection Platinum Blonde, has been posted on Corrupted Poetry's website.
[03 September 2020]