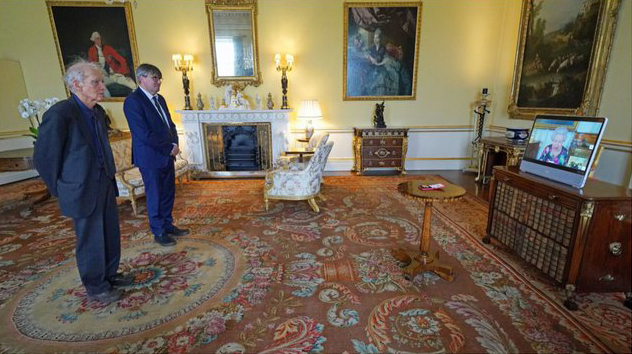 David Constantine presented with The Queen's Gold Medal for Poetry 2020
David Constantine was presented with The Queen's Gold Medal for Poetry for 2020 at a ceremony at Buckingham Palace on 28 October 2021, with the Queen meeting him virtually (or "mechanically" as she put it). The announcement of the award was made on 16 December 2020, but the ceremony was delayed due to the pandemic. It was held at Buckingham Palace, with the Queen presenting the award from Windsor Castle via video link.
David Constantine is the 51st recipient of this prestigious award instituted by King George V in 1933 at the suggestion of the then Poet Laureate John Masefield. The award is made for excellence in poetry.
The Poetry Medal Committee recommended David Constantine as 2020's recipient on the basis of his eleven books of poetry, in particular his 2004 Collected Poems, which spans three decades of his work. The Committee is chaired by UK Poet Laureate Simon Armitage, who himself received The Queen's Gold Medal for Poetry for 2018.
David Constantine joins five other Bloodaxe poets who have been honoured with The Queen's Gold Medal for Poetry: Gillian Allnutt (2016), Imtiaz Dharker (2014), John Agard (2012), Fleur Adcock (2006) and the late R S Thomas (1964).
On hearing of the award, David Constantine said:
'These past few days I have been thinking of the many people, living and dead, who have accompanied me in the writing of my poems. It has made me all the more grateful for this generous award.'
Simon Armitage commented:
'Above all, David Constantine is a "humane" poet – a word often used in connection with his work, as if in noticing and detailing the ways of the world he is doing so on behalf of all that is best in us. For over forty years he has shaped a body of work that stands in comparison with that of any of his contemporaries, not just at home but internationally, navigating and negotiating that space between everyday events and their metaphysical or spiritual "otherness".'
David Constantine was one of the first poets to be published by Bloodaxe, making his debut in 1980 with A Brightness to Cast Shadows, just two years after the press was founded. His Collected Poems (2004) was followed by three later collections: Nine Fathom Deep (2009), Elder (2014), and his eleventh collection, Belongings, in October 2020. His critical works include A Living Language: Newcastle/Bloodaxe Poetry Lectures (2004) and his monograph Poetry (2013) in Oxford University Press's series The Literary Agenda.
He has also published five translations with Bloodaxe, two of these winning European translation awards, including his Selected Poetry of Friedrich Hölderlin (2018). Other poets he has translated include Philippe Jaccottet, Henri Michaux and Hans Magnus Enzensberger (all from Bloodaxe), along with Goethe (Penguin) and Brecht (Norton).
He has published six collections of short stories with Comma Press, and won the Frank O'Connor International Short Story Award in 2013 for his collection Tea at the Midland, the first English writer to win this prestigious international fiction award. His story 'In Another Country' was adapted into 45 Years, a major film starring Tom Courtney and Charlotte Rampling.
Born in 1944 in Salford, Lancashire, he read Modern Languages at Wadham College, Oxford, and lectured in German at Durham from 1969 to 1981 and at Oxford from 1981 to 2000. He was co-editor of Modern Poetry in Translation from 2004 to 2013. He lives in Oxford and on Scilly.
For more information on David Constantine's books, see https://www.bloodaxebooks.com/ecs/category/david-constantine
Announcement on Buckingham Palace's website here.
Feature in The Guardian here. Alison Flood spoke to both David Constantine and to his poetry publisher of 40 years, Neil Astley of Bloodaxe Books.
David Constantine reads from his Collected Poems (2004)

David Constantine reads seven poems from his Collected Poems: 'New Year Behind the Asylum', 'Eldon Hole', 'The Wasps','Something for the Ghosts', 'Legger', 'Common and Particular' and 'Watching for Dolphins'. Neil Astley filmed him at his home in Oxford in October 2007.
David Constantine reads from Belongings (2020)

David Constantine reads four poems from Belongings: 'The Horseshoe', 'Girl with Cello on the Metro', 'Lake' and 'Eye Test'. Neil Astley filmed Constantine reading selections of his poems from his books at his home in Oxford in June 2018. There are separate videos for poems from each of his collections.
David Constantine reads from Elder (2014)

David Constantine reads five poems from Elder: 'Old Town', 'Elder', 'How will they view us, the receiving angels?', 'The Rec' and 'Our Lady of the Blackthorn and the Snow'.
David Constantine reads from Nine Fathom Deep (2009)

David Constantine reads three poems from Nine Fathom Deep: 'Pity', 'Nine Fathom Deep' and 'Seaweeds'.
David Constantine on Friedrich Hölderlin
David Constantine introduces Friedrich Hölderlin and his poetry, discussing how translating Greek poetry (at first Pindar) helped Hölderlin evolve his own way of writing in German. Like Beethoven, Hölderlin was inspired by the French Revolution before it went wrong, and Constantine discusses the relevance also of Hölderlin to the times we live in, most particularly when there has been renewed interest in his work, such as during both world wars and during the period of social revolt in Germany in the 1960s. Constantine reads two translations from his Selected Poetry by Friedrich Hölderlin: 'Once there were gods…' ('Götter wandelten einst…'), written in the spring of 1799 (but not published until 1909), and 'The sun goes down' ('Geh unter, schöne Sonne…'), written some time before May 1800 but not published until 1846, three years after his death.

[29 October 2021]