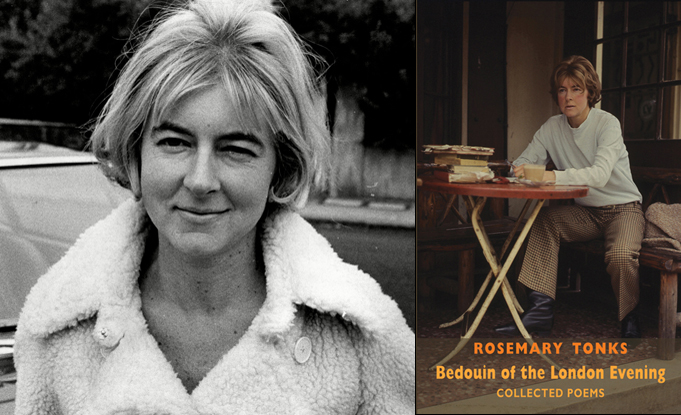 Rosemary Tonks discussed on Backlisted podcast
The "disappearance" of the poet Rosemary Tonks in the 1970s was one of the literary world's most tantalising mysteries – the subject of a BBC feature in 2009 called The Poet Who Vanished. After publishing two extraordinary poetry collections – and six satirical novels – she turned her back on the literary world after a series of personal tragedies and medical crises which made her question the value of literature and embark on a restless, self-torturing spiritual quest. This involved totally renouncing poetry, and suppressing her own books.
All her published poetry was made available for the first time in over 40 years in Bedouin of the London Evening: Collected Poems, published by Bloodaxe Books in October 2014. This edition also includes a small selection of her prose.
In the introduction to Bedouin of the London Evening (up-dated with new information in the second edition) Neil Astley recounts the extraordinary story of Rosemary Tonks's 'disappearance', and of how he came to discover where she was living. After her death in 2014, her family gave Bloodaxe permission to republish her poetry.
Backlisted Podcast, Episode 129, online 18 January 2021

Andy Miller and John Mitchinson discussed Rosemary Tonks's 1968 novel The Bloater in this episode of Backlisted podcast. They and their two guests discussed her poetry as well at various points in this hour-long podcast. They spoke about Rosemary Tonks's mysterious 'disappearance' from public life, and about how she destroyed much of her work. A full account of this is given in Neil Astley's introduction to Bedouin of the London Evening.
'For this discussion of Rosemary Tonks fascinating third novel, The Bloater - first published by the Bodley Head in 1968 - Andy and John are joined by two enthusiastic fans of Tonks's writing: the author and critic Jennifer Hodgson (who appeared on episode 61 to discuss Berg by Ann Quin) and the comedian, Stewart Lee. The Bloater is long out of print, unfortunately, but the discussion also covers Tonks's remarkable poetry, her friendship with Delia Derbyshire of the BBC Radiophonic Workshop, her eccentric career in fiction, radio and theatre, and her gradual retreat from the world.'

Rosemary Tonks was discussed from 7:20 and then again from 23:40. An archive recording of Rosemary Tonks reading 'Badly Chosen Lover' featured at 56:15. Archive interview clips were also played.
Listen here.

When introducing Rosemary Tonks, presenter Andy Miller referred to episode 45 of the Backlisted Podcast of 24 July 2017, in which he had recommended Bedouin of the London Evening.

Backlisted Podcast, online Monday 24 July 2017

One of the books recommended on the Backlisted Podcast of 24 July 2017 was Bedouin of the London Evening by Rosemary Tonks. Andy Miller talked about the book, and read the poems 'Dressing-gown Olympian' and the 'spectacularly good' 'Story of a Hotel Room' from it. Andy recounted the story of Rosemary Tonks' disappearance, and of how Bloodaxe's editor Neil Astley discovered her whereabouts and persuaded her family to allow the republication of her work after her death.

'I cannot recommend this collection highly enough. Half the poems here made my hair curl, and the other half I didn't understand – always the best combination!' – Andy Miller, Backlisted

Bedouin of the London Evening is discussed from 12.40:
Listen on SoundCloud here.

~~~~~
FEATURE REVIEWS

London Review of Books, Thursday 2 July 2015

A full page feature review of Bedouin of the London Evening ran in the LRB of 2 July under the title 'On Rosemary Tonks'.

'Her reappearance in this important and well-documented book, which includes two penetrating reviews, a short story and an interview, is the best sort of rediscovery: one that disrupts our sense of poetic continuity even as it restores it.' – Patrick McGuinness, London Review of Books

Click here to read. One free article available to view.


The Observer, Poetry Book of the Month, Sunday 26 October 2014

Bedouin of the London Evening: Collected Poems by Rosemary Tonks was the Observer's Poetry Book of the Month 26 October 2014. This half-page feature ran under the title 'Snatched from the flames'. Kate Kellaway's piece was illustrated with the photograph by Jane Brown that is used on the book cover, taken in 1956 for the Observer Magazine. Rosemary Tonks' poem 'Done for!' accompanied the review both in the paper and online. The piece covers 'the extraordinary, disturbing and melancholy tale' of her disappearance. The review ends with a note that archive recordings of Rosemary Tonks are available on the Bloodaxe website.

'Forty years after her disappearance, this fascinating collection of her work returns her to us… this writing has unmistakable flair. It is bohemian, ardent, sensual and of its time.' – Kate Kellaway, The Observer
Click here to read.


[20 January 2021]