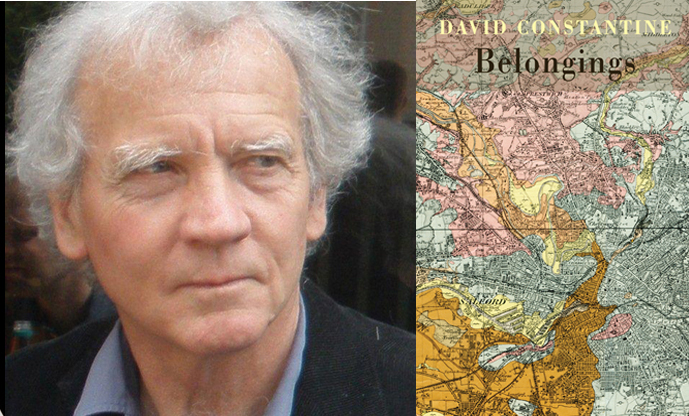 David Constantine Belongings; reviews, interviews & poem features
'Above all, David Constantine is a "humane" poet – a word often used in connection with his work, as if in noticing and detailing the ways of the world he is doing so on behalf of all that is best in us. For over forty years he has shaped a body of work that stands in comparison with that of any of his contemporaries, not just at home but internationally, navigating and negotiating that space between everyday events and their metaphysical or spiritual "otherness".' - Poet Laureate Simon Armitage, on behalf of the Queen's Gold Medal for Poetry Committee
David Constantine
was one of the first poets to be published by Bloodaxe, making his debut in 1980 with
A Brightness to Cast Shadows
, just two years after the press was founded. His
Collected Poems
(2004) was followed by three later collections:
Nine Fathom Deep
(2009),
Elder
(2014), and his eleventh collection,
Belongings
, in October 2020. Two months' later he was announced as winner of the Queen's Gold Medal for Poetry 2020. He will be presented with the award in 2021.
The Poetry Medal Committee recommended David Constantine as this year's recipient on the basis of his eleven books of poetry, in particular his
Collected Poems
, published in 2004, which spans three decades of his work. The Committee is chaired by UK Poet Laureate Simon Armitage, who himself received the Queen's Gold Medal for Poetry for 2018. Full story
here
.
Feature in
The Guardian
here
. Alison Flood spoke to both David Constantine and to his poetry publisher of 40 years, Neil Astley of Bloodaxe Books.
~~~~
Oxford Brookes Poetry Centre, Poem of the Week, online 19 February 2021
Oxford Brookes University Poetry Centre featured David Constantine's poem 'Maps' from his eleventh collection
Belongings
as their weekly poem on 19 February 2021.
Bookanista, online Monday 26 October 2020

Two poems from David Constantine's eleventh collection Belongings were featured on Bookanista on 26 October 2020 to mark publication.

The poems are 'Ballad of the barge from hell' and 'Ballad of the slave ship in the eye of heaven'. They make for a striking, accessible and pointed pairing. The credit mentioned that they were written for the BBC Radio 3 play The Good Ship Esperanza.
Read the illustrated feature
here
.
~~~~

'There is a spirit that suffuses this collection, and it is perhaps best seen in 'I will hold you in the light', which is about relationships with loved ones, about the things that really matter... A map of David Constantine's poetry reveals many different features, including his work as a translator, but also certain characteristics; a clarity of expression, a reverence for nature, and an overarching humanity.' - Greg Freeman, Write Out Loud [on Belongings]
Read the full review
here
.
~~~~
RADIO 3 PUBLICITY FOR DAVID CONSTANTINE

The Essay: Let Me Take You There, Thursday 21 May 2020, 10.45 pm
David Constantine was commissioned to write a prose piece for Radio 3's
The Essay
's strand 'Let Me Take You There'. This fifteen-minute essay was broadcast in May 2020, and is still available on
The Essay
's webpages. David Constantine narrates his piece about a childhood holiday and its surroundings, and discusses the idea of 'belonging'. His eleventh collection
Belongings
would have been published in the spring, but was rescheduled to October due to the pandemic.

'In these exceptional times, Radio 3 has specially commissioned major writers to share their special place, and each night of the week, one of them offers to take us there and share it with us.Episode 9. The award-winning poet, translator and short-story writer, David Constantine, travels back to his childhood:
"The beginning was a stream that ran past the front door of an end-terrace house we rented for our summer holidays. A narrow alley bordered this water as far as our step and there became a footpath and went on through a kissing gate. We were there for a week or a fortnight one summer after another, but only three or four in all, around the year of the coronation. Just across the stream was an ancient church, St Mary's, with a sailing ship on its tower as a weathervane. The water ran quick and crystal clear. It sparkled in the sunshine of a child's summer holidays. My younger brother and I sailed a small boat on it. One of us let her go, the other caught her some yards further down."
[19 February 2021]