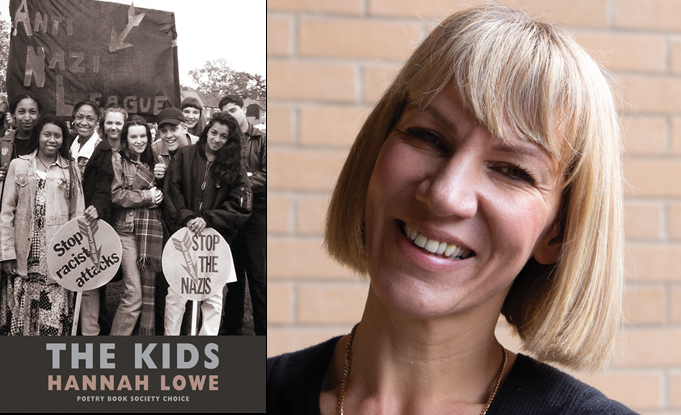 Hannah Lowe BBC Radio interviews & reviews for The Kids
'Lowe makes the sonnet exciting for our age through its urgent, its compassionate, its wonderfully humorous address of the personal and the social.' – Daljit Nagra
Hannah Lowe's third collection The Kids was published by Bloodaxe on 16 September 2021. It is the Poetry Book Society's Choice for Autumn 2021.
The book draws on Hannah Lowe's experience of teaching for a decade in an inner-city London sixth form. At the heart of this book of compassionate and energetic sonnets are 'The Kids', her students, the teenagers she nurtured. But the poems go further, meeting her own child self as she comes of age in the riotous 80s and 90s, later bearing witness to her small son learning to negotiate contemporary London.
The poems in the first section of the book are informed by Hannah Lowe's experiences as a teacher in the 2000s, but the scenarios are largely fictitious, as are the names of the students.
Her previous two collections are Chick (2014), winner of the 2015 Michael Murphy Prize, and Chan (2016).
Details of Bloodaxe's joint live-streamed launch and in-person and online events with Hannah Lowe can be seen on our events pages here.

FORTHCOMING INTERVIEW ON BBC RADIO 3

Free Thinking: Belonging, BBC Radio 3, Thursday 16 September 2021, 10pm

Hannah Lowe will be a guest on BBC Radio 3's Free Thinking on 16 September (publication day). She'll be talking about her third collection The Kids, and will be in conversation with Akram Khan, Tash Aw, Walter Sickert and Laura Knight.

"I have no relation or friend" - words spoken by Frankenstein's monster in Mary Shelley's 1818 novel. That story, alongside Georg Büchner's expressionist classic Woyzeck, has inspired the new production for English National Ballet put together by Akram Khan. He joins poet Hannah Lowe, who's been reflecting on her experiences of teaching London teenagers; Tash Aw, who reflects on his Chinese and Malaysian heritage, and his status as insider and outsider in memoir Strangers on a Pier; and New Generation Thinker Eleanor Lybeck, who's been looking at the images of music hall performance and circus life in the paintings of Walter Sickert (1860 - 1942) and Laura Knight (1877-1970) for a conversation exploring different ideas about belonging. Shahidha Bari hosts.'

The programme will remain available on BBC Sounds after broadcast. Listen live or after broadcast here.

REVIEW COVERAGE

The Guardian, Best recent poetry, Saturday 4 September 2021

Hannah Lowe's book of sonnets The Kids was well reviewed by Mary Jean Chan in her Guardian round-up of the best recent poetry on 4 September 2021.

'Hannah Lowe's previous two collections, Chick and Chan, focused on her relationship with her Jamaican-Chinese father, alongside coming-of-age recollections. The Kids marks a departure: an introspective book of modern sonnets, it offers a glimpse into her experiences of teaching in an inner-city London sixth form. The collection includes homages to her own teachers, and concludes with a sequence lovingly written for her young son… This is a playful yet moving collection that will make the reader frown and laugh, sometimes both at once.' – Mary Jean Chan, The Guardian
Read in full here.


RADIO 4 APPEARANCES BY VIDYAN RAVINTHIRAN & HANNAH LOWE

On Form: The Sonnet, BBC Radio 4, Sunday 23 May 2021, 4.30pm

Vidyan Ravinthiran and Hannah Lowe contribute to this episode of Andrew McMillan's series on poetic form. Both poets were interviewed, and then read their own poems. Vidyan read 'Aubade' from his second collection The Million-petalled Flower of Being Here, a book of love sonnets to his wife. Hannah Lowe read 'The Register' and 'Sonnet for the A Level English Literature and Language Poetry Syllabus' from her forthcoming third collection The Kids (out 16 September 2021 from Bloodaxe, and a Poetry Book Society Choice).

'In this series, free verse poet Andrew McMillan meets a diverse group of contemporary British poets who are re-framing traditional techniques to write about the modern world, exploring why form is fashionable again. In today's programme, poet and academic Aviva Dautch goes back in time to unpick the history of the classic but flexible sonnet, with poems read by Juliet Stevenson. She traces the sonnet's European origins and the poetic revolution that happened once it reached the UK and became a mainstay of English poetry in a modern multicultural Britain. This year sees the publication of three books of sonnets with new takes, ranging from playful to dark, on the traditional form. We'll meet Jacqueline Saphra, author of 100 Lockdown Sonnets, as well as sonneteers Vidyan Ravinthiran and Hannah Lowe, hearing poems that travel from Limehouse canals to inner-city classrooms.'

Vidyan joined from 16:15 and Hannah at 21:30. A clip from Vidyan's interview ran in the intro.
LIsten here.
[26 May 2021]