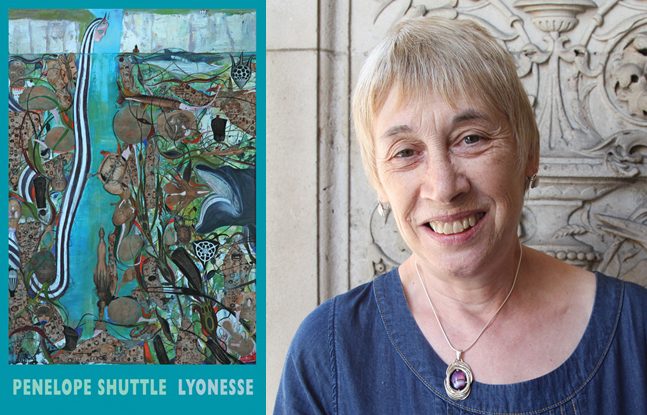 Penelope Shuttle interviews & reviews for Lyonesse
'... a singular, arresting and moving book' - Kate Kellaway on Lyonesse, Poetry Book of the Month, The Observer

Penelope Shuttle's thirteenth collection Lyonesse was published by Bloodaxe Books on 24 June 2021. Penelope will be launching the book with an in person event at Ledbury Poetry Festival on 9 July (also live streamed). Her joint live-streamed Bloodaxe launch event took place on 22 June. A film of the Bloodaxe launch and details of the Ledbury event are here.
The submerged land of Lyonesse was once part of Cornwall, according to myth and the oral tradition, standing for a lost paradise in Arthurian legend, but now an emblem of human frailty in the face of climate change. And there was indeed a Bronze Age inundation event which swept the entire west of Cornwall under the sea, with only the Isles of Scilly and St Michael's Mount left as remnants above sea-level. Lyonesse was also Thomas Hardy's name for Cornwall where Penelope Shuttle has lived all her adult life, always fascinated by the stories and symbolic presence of Lyonesse. The first part of her new book Lyonesse is an extended sequence inspired by this submerged land. This is followed by a separate collection New Lamps for Old.
Penelope Shuttle's previous collection Will You Walk a Little Faster? explores cities (London, Bristol) on foot and via inward exploration, drawing on architecture, history and personal memory. This was her first new book-length collection since her Bloodaxe retrospective, Unsent: New & Selected Poems (2012).
~~~~

LYONESSE POETRY BOOK OF THE MONTH IN THE OBSERVER

The Observer, Poetry Book of the Month, Sunday 4 July 2021
Penelope Shuttle's Lyonesse was featured as Kate Kellaway's Poetry Book of the Month in The Observer of 4 July. The piece was accompanied by the poem 'new lamps for old', the title poem of the second half of this double collection.
'At 74, she has produced a singular, arresting and moving book in which her talent, far from seeming familiar or faded, is underpinned by the accumulated wisdom of decades. The book contains two collections in one, hinged by a theme of loss. Lyonesse is Cornwall's mythical kingdom – its Paradise Lost… It is this kingdom that has fired – watered – Shuttle's imagination and produced an extraordinary flow of work… Shuttle's Lyonesse is fresh, clear and convincing. It gives grief geography, an address. I believe in its direct dispatches from a submerged front line.' – Kate Kellaway, The Observer, Poetry Book of the Month for July 2021

'Combining two collections in one, the veteran poet immerses us in a mythical kingdom in this extraordinary flow of work'
Read the review in full here.


The Guardian, Best Recent Poetry, in print Saturday 7 August 2021
Penelope Shuttle's Lyonesse was reviewed in Rishi Dastidar's round up of the best recent poetry in The Guardian of 7 August.
'Penelope Shuttle's wonderful 13th collection is two books in one. The first half of Lyonesse maps a mythical, submerged stretch of land between Cornwall and the Isles of Scilly, where lions and ballgowns jostle for attention with sunken gods and pre-Raphaelite artist and muse Lizzie Siddal. Shuttle uses this terrain to explore loss, both personal and environmental. The second half, "New Lamps for Old", focuses more directly on life after bereavement and its shifting sensations… Throughout Shuttle's language has a vivid, smile-raising immediacy: "venture towards the happiness wherever daylight invites us".' – Rishi Dastidar, The Guardian, Best Recent Poetry
Read online here.
Buzz Magazine, August 2021

Lyonesse was featured in the second of Mab Jones' round ups of new independently-published poetry in the Welsh magazine Buzz.

'The first section of the book, in a breathtaking showcase of skill and imagination, animates the mythical land of Lyonesse, which in legend once sat at the southwestern tip of Cornwall. Symbolism, the surreal, spiritual motifs, and more, shift and swirl together, as fluid and full of changeability as the "shape-shift silvers" of wave and sea that we delve beneath to encounter this once-was place. In the second part of the book… Shuttle paints a picture of life without a beloved, bringing details to the fore in order to tell – and touch – the reader. Fluid, thoughtful, and full of imagination, this is quite simply a must-read.' – Mab Jones, Buzz
Read online here.
An excellent review of Lyonesse was posted on the international poetry website Write Out Loud on 28 August 2021.

'Penelope Shuttle gives us a collection packed with Cornish myth and magic, overlaid with environmental warning, and a deeper sense of yearning for what has gone.' – Greg Freeman, Write Out Loud
Read in full here.

An in-depth review features on The Friday Poem of 17 September 2021.
'... Shuttle turns the lost land of Lyonesse into our collective sub-conscious, a place which holds grief for many kinds of loss, and an emblem of human frailty in the face of climate change... Much of the writing in this fine collection is beautifully turned and deeply moving' - Hilary Menos, The Friday Poem
Read in full here.
INTERVIEWS WITH PENELOPE SHUTTLE

The Poetry Place, West Wilts Radio, Sunday 29 August 2021, 3pm

Penelope Shuttle was a guest poet on West Wilts Radio's The Poetry Place on 29 August 2021.

In this fifteen-minute pre-recorded piece, Penelope read exclusively from the first half of her double collection Lyonesse. She read and introduced: 'The Gownshops' (the poem that sparked the collection), 'Palm Sunday', 'Fortuna', 'O Shake That Girl with the Blue Dress On', 'Legends', 'Jackie Onassis orders new dancing shoes', 'Sermon of the Crayfish Christ, or The Latitudes', 'Interviewing Neptune' and 'Goodbye'.

Host Dawn Gorman introduces Lyonesse at 2:06. Penelope Shuttle features from 28:54.
Listen here.


Penelope Shuttle was a guest on the Irish podcast Books for Breakfast, hosted by poets Peter Sirr and Enda Wyley, on 10 June 2021. She was talking to Peter about her 13th collection Lyonesse, and read four poems from the book.

'She's an adventurous and wide-ranging poet, praised for her spare style – the poems are very close to song' – Peter Sirr, introducing Penelope Shuttle on Books for Breakfast

Penelope Shuttle also took on the toaster challenge, and chose to speak about Collected Early Poems: 1940-1960 by Denise Levertov. Bloodaxe publishes Denise Levertov's New Selected Poems. 'Levertov's fidelity to the imagination has been, and remains, priceless treasure to me.' – Penelope Shuttle, on Denise Levertov

Penelope is introduced at 23:00. Listen to the interview here.
An in-depth interview with Penelope Shuttle about Lyonesse is online at Wombwell Rainbow Book Reviews here. Penelope was speaking to Paul Brookes.
~~~~~
Penelope Shuttle took part in a special event on 10 June 2021 celebrating Bloodaxe Books, hosted by Poetry Breakfast (a Zoom bookclub event hosted by Anna Dreda of Wenlock Books) – together with fellow Bloodaxe poets A B Jackson, Susan Wicks and Queen's Gold Medal for Poetry winners David Constantine, Fleur Adcock and Imtiaz Dharker. Bloodaxe Books was Poetry Breakfast's first guest publisher.

A blog featuring all six poets and the three poems they read from their new and recent collections is here.
[16 June 2021]