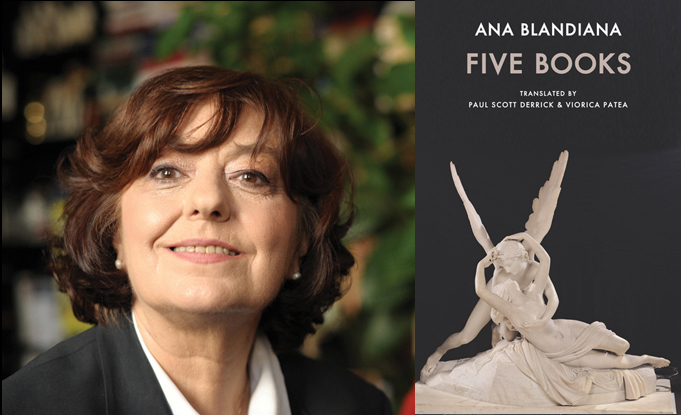 Ana Blandiana's Five Books in The Guardian
'The Romanian Ana Blandiana is one of Europe's greatest living poets, and she's well served by this substantial volume containing five previously untranslated collections. Ranging across her writing life, they create a layered portrait of a complex yet consistent poetic identity.' - Fiona Sampson, The Guardian, on Five Books
Romanian poet, essayist, and political figure Ana Blandiana's new title Five Books was published by Bloodaxe on 11 November. It is translated by Paul Scott Derrick and Viorica Patea, who have translated two previous selections of Ana Blandiana's poetry into English. All three joined together virtually for Bloodaxe's livestreamed launch on 9 November 2021. A video of this wonderfully wide-ranging dual language reading and discussion is below. This new translation combines five of her collections, three of protest poems from the 1980s followed by her two collections of love poetry.
Ana Blandiana was presented with The Griffin Trust for Excellence in Poetry Lifetime Recognition Award at the 2018 Griffin Poetry Prize Shortlist Readings in Toronto, Canada. She was the twelfth recipient of this prestigious honour (the sixth to be published by Bloodaxe).
Ana Blandiana's previous Bloodaxe titles, both translated by Paul Scott Derrick and Viorica Patea, are The Sun of Hereafter & Ebb of the Senses (2017), and My Native Land A4, (2014), winner of the European Poet of Freedom Prize for 2016.
Born in 1942 in Timişoara, Romania, Ana Blandiana is an almost legendary figure who holds a position in Romanian culture comparable to that of Anna Akhmatova and Vaclav Havel in Russian and Czech literature. She has published 14 books of poetry, two of short stories, nine books of essays and one novel. Her work has been translated into 24 languages published in 58 books of poetry and prose to date.
REVIEW COVERAGE FOR FIVE BOOKS

Ana Blandiana's Five Books, published 11 November 2021 by Bloodaxe, was given an early review in The Guardian of 2 October. Read in full here.
'The Romanian Ana Blandiana is one of Europe's greatest living poets, and she's well served by this substantial volume containing five previously untranslated collections. Ranging across her writing life, they create a layered portrait of a complex yet consistent poetic identity.' - Fiona Sampson, The Guardian, on Five Books
An in-depth review of Five Books can be read online at European Literature Network here.

'Blandiana is, without doubt, one of the most important poets in Europe. So far, she has published sixteen volumes of poetry and several other books. Five Books is her fourth volume in English, and, as the title suggests, consists of five collections… I admire the decision to put together sets of poems that are so different in character: the political ones, which – by their very nature – are more public, louder, outspoken, sitting right next to the meditative, very private, intimate even, love poetry. This creates a refreshing, contrasted image of the poet within one book.' – Anna Blasiak, European Literature Network
The poem 'Interior' from Five Books was selected by Anna Blasiak for the Poetry Travels feature on the European Literature Network - read the poem here.
~~~~~
Live-streamed launch event with Ana Blandiana and her translators, 9 November 2021

Bloodaxe hosted an international launch reading by Ana Blandiana with her translators Paul Scott Derrick and Viorica Patea celebrating the publication of Five Books. The event was livestreamed on 9 November 2021, and is now on YouTube.

Ana Blandiana was reading poems from Five Books in Romanian, with Paul Scott Derrick and Viorica Patea reading their English translations and discussing the book with the host, Bloodaxe editor Neil Astley. Ana Blandiana joined live from Bucharest, Paul Scott Derrick from Valencia and Viorica Patea from Salamanca. Viorica also acted as interpreter for Ana Blandiana during their discussions. They talked about Ana's political and protest writing as well as her love poetry. A compelling event which delved deep into the wide range of poetry contained in Five Books.
~~~~~
An essay on Ana Blandiana was featured on Wild Court on 22 February 2021. Read here. In her piece, Andreea Iulia Scridon focused on The Sun of Hereafter * Ebb of the Senses.
Read an in-depth review of Ana Blandiana's The Sun of Hereafter * Ebb of the Senses in Glasgow Review of Books here.

Click here to listen to Ana Blandiana's contribution to Radio 3's Sunday Feature on Brancusi's sculpture A Column for Infinity. Forward to 39.36 to hear Ana. This was first broadcast on 12 Nov 2017 (repeated 13 Aug 2019).
[02 October 2021]