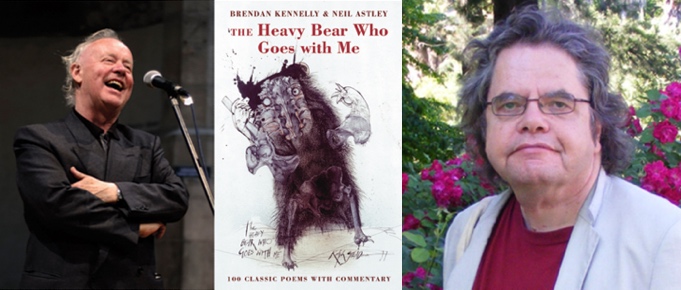 Brendan Kennelly & Neil Astley's Heavy Bear featured in the Sunday Independent
'In a very real sense this anthology, the feel and soul of it, has everything of Kennelly's warmth, bigness of heart and generosity of spirit.' – Thomas McCarthy, Dublin Review of Books
The Heavy Bear Who Goes with Me: 100 Classic Poems with Commentary, an anthology co-edited by Brendan Kennelly and Neil Astley, was published by Bloodaxe Books on 17 April 2022 to mark what would have been Brendan Kennelly's 86th birthday. This long-awaited anthology was 25 years in the making.
Brendan Kennelly was one of Ireland's best-loved poets, as well as being a renowned teacher and communicator. He knew many of the poems chosen for this anthology by heart. His friend and publisher of nearly 40 years, Neil Astley of Bloodaxe Books, worked with Brendan on all his books from 1987 onwards, and is the editor of the Staying Alive series of world poetry anthologies.
The anthology covers five centuries of poetry, with each poem accompanied by commentaries by Brendan Kennelly and introductions by Neil Astley. The writers included are 100 key poets from the 16th to the 20th century. They include some of the major figures in Irish poetry. Brendan Kennelly knew the later Irish poets personally, some as friends: Austin Clarke, Patrick Kavanagh, Seamus Heaney, Michael Longley, Derek Mahon, Eavan Boland. There are also other poets he knew from times in his life spent outside Ireland, such as W.H. Auden, Geoffrey Hill and Ken Smith.
Neil Astley took part in a launch event for the anthology at Listowel Writers' Week on Saturday 4 June 2022, part of a festival-wide celebration of the late Brendan Kennelly. Poets John McAuliffe and Thomas McCarthy joined Neil to read from the anthology and to read their favourite poems by Brendan Kennelly.
The poem 'Love after Love' by the late Derek Walcott was the US poetry website Poetry Daily's featured poem on 3 November 2022. It was credited to their featured book, The Heavy Bear Who Goes with Me. The anthology is distributed in the US via Consortium Book Sales & Distribution. Read the poem feature here.

IRISH FEATURE REVIEWS FOR THE HEAVY BEAR WHO GOES WITH ME

Sunday Independent, Sunday 17 April 2022

A full page feature review of the anthology The Heavy Bear Who Goes with Me ran in the Sunday Independent on publication day - a piece which also marked what would have been Brendan Kennelly's 86th birthday. Reviewer Paul Perry remarks that '… a Bloodaxe anthology is a different beast altogether. As a revolutionary publisher out of the North of England, they have made some of the most lasting poetry anthologies of recent years, transforming poetry into a best-selling phenomenon.'

'The title The Heavy Bear Who Goes with Me comes from a Delmore Schwartz poem… The editors use the title as a way for Brendan Kennelly to "talk about the poems he loves". In a warm and affectionate preface, Astley writes that he and Kennelly "wanted this anthology to embody our conviction that poetry is a force for change"… And if, as Kennelly notes in the introduction, poetry is "a kind of pitiless education", he writes less pitilessly about these chosen poems and more with a mischievous kind of generosity.' – Paul Perry, Sunday Independent

Available online in full by subscription via the Irish Independent's website here.

Dublin Review of Books, online 1 May 2022

A brilliant in-depth review of The Heavy Bear Who Goes with Me ran in the May issue of Dublin Review of Books. The anthology was reviewed by the Irish poet Thomas McCarthy.

'In a very real sense this anthology, the feel and soul of it, has everything of Kennelly's warmth, bigness of heart and generosity of spirit... An exemplary anthology has been created here, a teaching instrument, but also a Rescue Remedy for every wilting soul in the world of poetry.' – Thomas McCarthy, Dublin Review of Books
Read in full on DRB's website here.


The Irish Times, Saturday 14 May 2022

The Heavy Bear Who Goes with Me was well reviewed in The Irish Times by Martina Evans as part of her May round-up of new poetry.

'The Heavy Bear Who Goes with Me – 100 classic poems chosen by Neil Astley and Brendan Kennelly – is all about the conversation…The conversation between Kennelly and Astley, which began in 1996, spawned a special collaboration, showcasing Kennelly's signature passionate stance.' – Martina Evans, The Irish Times

Available in full online by subscription via The Irish Times' website here.


[11 May 2022]