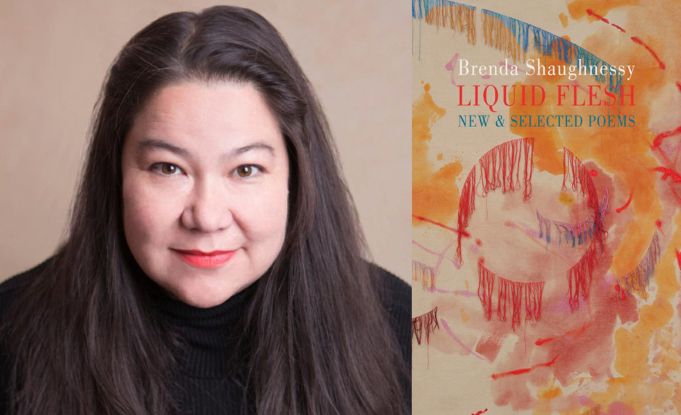 Brenda Shaughnessy's retrospective reviewed in Guardian & Irish Times
'This collection showcases Okinawan-Irish American poet Brenda Shaughnessy as one of contemporary poetry's most original and important voices.' – Rebecca Tamás, The Guardian (Best recent poetry round-up)
Brenda Shaughnessy's Liquid Flesh: New & Selected Poems introduces new readers to one of America's most audacious and thrilling poets with a selection made especially for Bloodaxe Books. Spanning twenty years, this retrospective includes poems from Shaughnessy's five hugely varied collections, as well as a section of new work. Her candid and fearless poems embrace many different styles and themes, making a body of work quite unlike anything else in contemporary poetry.
Brenda Shaughnessy is an Okinawan-Irish American poet who grew up in Southern California. Her five full-length collections include The Octopus Museum (Knopf, 2019), a New York Times Notable Book, and Our Andromeda (Copper Canyon, 2012), a finalist for the Griffin International Prize, the PEN/Open Book Award, and the Kingsley Tufts Prize. Her first UK publication, Liquid Flesh: New & Selected Poems, was published by Bloodaxe in October 2022. She is Professor of English at Rutgers University-Newark.
Brenda came to the UK in October 2022 to give three launch readings in London and Newcastle upon Tyne. Scroll down to see videos of her in person Newcastle event and her joint Bloodaxe livestreamed launch event.
'Brenda Shaughnessy's Liquid Flesh - a dazzling career retrospective - spans twenty-two years, five collections, and a selection of new works... Shaughnessy maintains a slick and relentless wit, her works bursting with colour, life and contradiction.' - Kate Simpson, The Poetry Review
IRISH REVIEW COVERAGE

The Irish Times, Saturday 4 February 2023

Martina Evans gave Brenda Shaughnessy's retrospective Liquid Flesh: New & Selected Poems an excellent review at the top of her Irish Times poetry round-up of 4 February. Brenda Shaughnessy is an Okinawan-Irish American poet who grew up in Southern California. The Irish is on her father's side – both his parents were Irish American.

'Liquid Flesh: New & Selected Poems is a terrific and substantial introduction to Shaughnessy's world – sensual, subversive, forever dancing around a series of hyper-aware ludic questions…' – Martina Evans, The Irish Times
Available online by subscription here.

REVIEW & FEATURE COVERAGE IN THE GUARDIAN
The Guardian, Best recent poetry round-up, Saturday 10 December 2022

Brenda Shuaghnessy's retrospective Liquid Flesh: New & Selected Poems was well reviewed by Rebecca Tamás in her December poetry round-up in The Guardian's Saturday magazine.

'This collection showcases Okinawan-Irish American poet Brenda Shaughnessy as one of contemporary poetry's most original and important voices… This rich, vivid book is a worthy testament to a poet who knows how to render the endlessly varied encounters of bodily life.' - Rebecca Tamás, The Guardian (Best recent poetry)

Read Rebecca Tamás's full review here.

The Guardian, online 26 December 2022

Brenda Shaughnessy's collection The Octopus Museum was mentioned in a Guardian article about poetry and the sea on 26 December. It linked to the US edition, but poems from the collection are now included in Brenda's UK retrospective Liquid Flesh: New & Selected Poems.

'… poetry isn't science; not bound simply to report on the state of things, poetry is free to imagine what could be. Brenda Shaughnessy's The Octopus Museum presents a future Earth ruled by cephalopods, creatures whose intelligence is proof that, as the philosopher Peter Godfrey-Smith puts it, "the mind evolved in the sea".' – David Farrier, The Guardian
Read the article in full on The Guardian's website here.
~~~~~
ONLINE & JOURNAL REVIEW COVERAGE

Brenda Shaughnessy's UK retrospective Liquid Flesh: New & Selected Poems was given a good joint review in the online quarterly review of poetry The High Window on 7 March 2023.
'There has always been an element of the surreal in Brenda Shaughnessy's poetry; a sense of the surreal that has run from the early poems in this Selected through to the post-apocalyptic world that forms the heart of her 2019 collection The Octopus Museum... Shaughnessy is adept at capturing the surreal tumbling together of sensualities.' – Ian People, The High Window
Read Ian Pople's review in full here.
An in-depth review was featured in Issue 30 of ARTEMISpoetry, May 2023.
'The wit, the puns, the oblique presentation of many of these poems, make it hard to pin down the poet hiding behind sophisticated artistry and lively persiflage... It's as if the good old US 'confessional' poet, in the style of (say) Anne Sexton and Sharon Olds, is in transition, and both styles of expression are needed to express her fertile intelligence and shifting ideas.' - Dilys Wood, ARTEMISpoetry, on Liquid Flesh
In print only.
~~~~
LONDON REVIEW BOOKSHOP PODCAST – BRENDA SHAUGHNESSY

Brenda Shaughnessy came to London and Newcastle in October 2022 to launch her UK retrospective Liquid Flesh: New & Selected Poems. London Review Bookshop have made a podcast available of their event on 25 October 2022 hosted by fellow Bloodaxe poet Amy Key (Isn't Forever).
https://www.londonreviewbookshop.co.uk/podcasts-video/podcasts/brenda-shaughnessy-amy-key

IN-PERSON LAUNCH EVENT AT NCLA, 26 OCTOBER 2022

Brenda Shaughnessy reading and in discussion with Neil Astley at the Percy Building, Newcastle University.
LIVE-STREAMED LAUNCH EVENT

Tuesday 18 October 2022, 7pm, Bloodaxe October online launch reading
Brenda launched Liquid Flesh alongside the authors of our other October publications, Ahren Warner and fellow US poet Chen Chen. All three read from their new books and then discussed their work with Bloodaxe editor Neil Astley.
This brilliant online event was streamed live on 18 October 2022 and is now on YouTube. View by clicking on the arrow above. Brenda read second in each set.
~~~~~
Brenda recorded eight poems for the Lyrikline website, which can be heard here.
[09 February 2023]