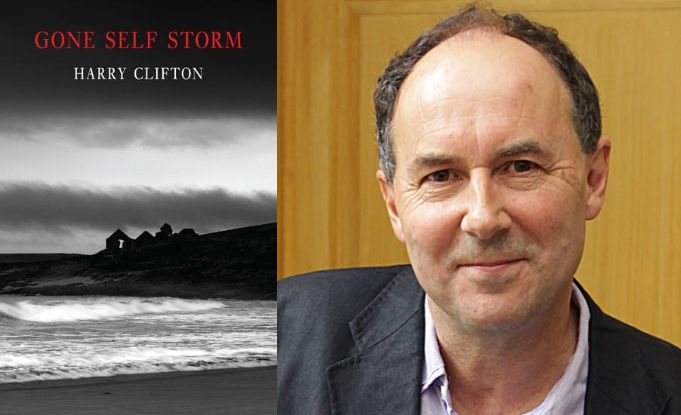 Harry Clifton's Gone Self Storm features & interviews
'Clifton merges memory and legend indelibly... Clifton's play between imagination and memory is vertiginous and dark.' - Martina Evans, The Irish Times, on Gone Self Storm
Former Ireland Professor of Poetry Harry Clifton's new collection Gone Self Storm was published by Bloodaxe in March 2023. Harry launched the book in person at Hodges Figgis in Dublin on 5 April, and online with Bloodaxe Books on 25 April.
Harry Clifton has published twelve books of poetry, the most recent of which are The Winter Sleep of Captain Lemass (2012), The Holding Centre: Selected Poems 1974-2004 (2014), Portobello Sonnets (2017), Herod's Dispensations (2019) and Gone Self Storm (2023), all published by Bloodaxe Books in Britain and Ireland, and by Wake Forest University Press in the USA. He served as the fifth Ireland Professor of Poetry in 2010–2013, and is a member of Aosdána.
REVIEW COVERAGE

The Irish Times, Best recent poetry, Saturday 27 May 2023
Harry Clifton's new collection Gone Self Storm was very well reviewed by Martina Evans in The Irish Times on 27 May.
'Clifton merges memory and legend indelibly. Windblown, restless poems summon the spirit of Amergin... Clifton's play between imagination and memory is vertiginous and dark.' - Martina Evans, The Irish Times
In print. Online by subscription via The Irish Times website here.

ONLINE REVIEW COVERAGE

The High Window, Summer 2023 issue
An in-depth review of Harry Clifton's new collection Gone Self Storm has gone online in the summer 2023 issue of The High Window.
'Urbane and erudite, even in the plainest language he's a master of the arresting phrase whose ironies set the mind going in multiple directions.' – Edmund Prestwich, The High Window
https://thehighwindowpress.com/category/reviews/

ONLINE INTERVIEW WITH HARRY CLIFTON

Island's Edge, April 2023
An interview with Harry Clifton went online in the April edition of Island's Edge. He was sharing his thoughts about his work and craft, ending with a discussion about his new collection Gone Self Storm.

'Your collection, Gone Self Storm, has just been published by Bloodaxe Books. In it, life-spanning, elegiac poems rest alongside sprightly investigations of places half-real and half-imagined… A number of long-standing themes and trajectories in your work to date (concerning time's passage, and the strange blend of permanence and ungraspability that defines the lives and places we pass through) seem to culminate in this collection.' - Ciarán O'Rourke
https://www.islandsedgepoetry.net/poets-a-j/harry-clifton/

IRISH RADIO INTERVIEW WITH HARRY CLIFTON

Arena, RTE Radio 1, Wednesday 12 April 2023, 7-8pm
Harry Clifton was interviewed on RTE Radio 1's week-nightly arts show Arena on 12 April. He was speaking to Kay Sheehy about his new collection Gone Self Storm. He read and introduced his poems 'A Ship Came from Valparaiso' and 'Rapa Nui' from the first part of the book, which explores his South American ancestry. This interview expands on Harry Clifton's article about his South American grandmother Laura Allende in The Irish Times of 4 April (see below for a link to this piece).
Listen via Arena's webpage. A separate podcast of Harry Clifton's interview is available here.
IRISH PRESS FEATURES WITH HARRY CLIFTON

Harry Clifton's article in The Irish Times of 4 April 2023 about his South American grandmother is available online here. The piece fills in background to the poems in his new collection Gone Self Storm. He spoke more about this aspect of the book in his RTE Arena interview above.
'My Life in Books' feature in Ireland's Sunday Independent of 19 March 2023 is here. Available in full by subscription.
POEM FEATURES FOR GONE SELF STORM

Harry Clifton's poem 'The Sweep' from Gone Self Storm is featured on the Books Ireland website here.
His poem 'The Earliest Breakfast in Northern Ireland' from Gone Self Storm was featured in The Irish Times of 1 April 2023. In print only.
LIVESTREAMED LAUNCH EVENT ON 25 APRIL 2023

Tuesday 25 April 2023, 7pm

Bloodaxe Books international poetry online reading
Harry Clifton was reading alongside Maura Dooley and Matthew Hollis as all three poets launched their new Bloodaxe collections. All three poets then spoke about their books with each other and with Bloodaxe editor Neil Astley. A fascinating and generous discussion. Harry read first in each set.
Click the arrow below to watch.
For forthcoming in-person events with Harry Clifton, see: https://www.bloodaxebooks.com/events?articleid=691

[05 April 2023]