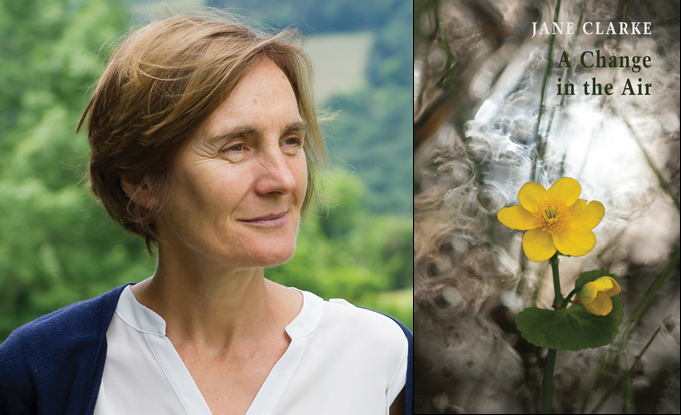 Jane Clarke on RTÉ Radio 1 & in The Irish Times
'A Change in the Air, Jane Clarke's third collection, is a quiet, stoical meditation on fragility and mortality. Humanity takes its place within the rhythms of a natural world built on acceptance, community, and renewal. The title promises the best kind of revolution: freshness and wholesomeness – and the poems which follow deliver on this … In Jane Clarke's hands, clarity, purity and strength speak for themselves. Her words are weighed and used sparingly. They take your breath away.' – John Field, T S Eliot Prize Reviewer
Irish poet Jane Clarke's third full collection A Change in the Air was published by Bloodaxe in May 2023. It was longlisted for the 2023 Laurel Prize for nature writing and ecopoetry and shortlisted for the Forward Prize for Best Collection. It is on the shortlist for the T S Eliot Prize 2023. Across six sequences these intimate poems of unembellished imagery accrue power and resonance in what is essentially a book of love poems to our beautiful, fragile world.
Jane Clarke was on tour in the USA in late September 2023. Her books are distributed in the USA via Consortium Book Sales.
~~~~~
'Beautiful, lush language, really condensed - a trademark of your work - rural, pastoral themes which are beautiful. It's wonderful poetry to read. It twists and hits hard in a tight little space. I just loved it.' - Timothy Green, introducing Jane Clarke and her poetry
Jane features from 09:35. Available as a separate chapter on the YouTube page.
In print only.
In print only.
~~~~~
~~~~~~
JANE CLARKE READS NEW POEMS ON SUNDAY MISCELLANY
Sunday Miscellany, RTE Radio 1, Sunday 12 September 2021, 9.10-10am

Jane Clarke read her new poem 'The Lookout' on Sunday Miscellany on 12 September. This is the third of three new poems by Jane Clarke featured on the programme. 'The Lookout' is included in Jane's third collection A Change in the Air.

Available as a podcast, illustrated with a portrait of Jane Clarke. Listen here.
Still available:

Jane read her new love poem '22nd of June' on Sunday Miscellany on 27 June 2021. Listen here. This poem is now called 'June' and is the final poem in her third collection A Change in the Air,

Jane Clarke read her poem about Nora Barnacle on Sunday Miscellany's Bloomsday special on 13 June 2021.'Night Boat, North Wall Quay' was a commission for the Bloomsday Festival in 2020. Listen here.
RTE ONE TV INTERVIEW WITH JANE CLARKE ON NATIONWIDE

Nationwide: Wicklow Mountains, RTE One TV, Friday 23 October 2020, 7pm

An interview with poet Jane Clarke opened RTE One's Nationwide on 23 October 2020. This edition of the programme is devoted to things to see and do around the Wicklow Mountains, including the Miners' Way long distance path. Former miner Robbie Carter told his story of the explosion in the last working mine at Glendasan, and Jane Clarke read her poem that he inspired – 'Foxrock Mine'. They were both filmed on location at the disused mine.

'Foxrock Mine' was one of a sequence of new poems the Jane Clarke wrote especially for the BBC Radio 4 programme she presented in May 2020, The Miners' Way, in which she walked the 19km path and interviewed people connected with the mine along the way: former miner Robbie Carter, as well as local historian Carmel O'Toole and sheep farmer Pat Dunne - also interviewed on Nationwide. The 'Pit Ponies of Glendasan' sequence is published in Jane's third collection A Change in the Air,

Watch here. First item.
For more on Jane's sequence of poems about the disused mines of Co Wicklow, and the Radio 4 programme she presented, see: https://www.bloodaxebooks.com/news?articleid=1025
[26 April 2023]