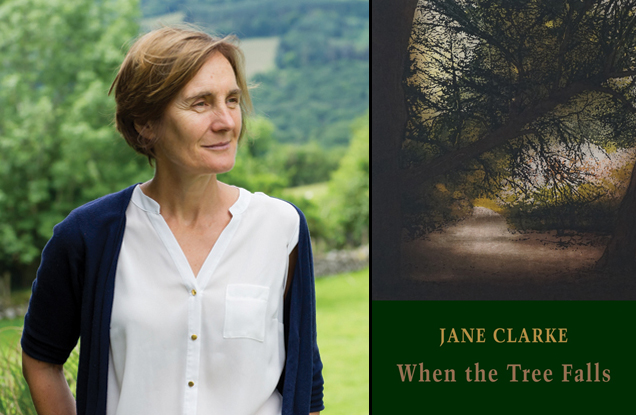 Jane Clarke Readings and Events
'The Irish poet Jane Clarke has followed a great debut collection with an even better second book. When the Tree Falls talks about her farming father in his last years. It delivers a clean, hard-earned simplicity and a lovely sense of line.' – Anne Enright, The Irish Times (Books of the Year 2019)
Jane Clarke
's second collection
When the Tree Falls,
published by Bloodaxe in September 2019, was shortlisted for the Pigott Poetry Prize 2020, the
Irish Times
Poetry Now Award and the Farmgate Cafe National Poetry Award 2020, as well as being longlisted for the RSL Ondaatje Prize 2020. Jane Clarke's lyrically eloquent poems bear witness to the rhythms of birth and death, celebration and mourning, endurance and regrowth. An elegiac sequence, inspired by the loss of her father, moves gracefully through this second collection. Jane Clarke grew up on a farm in Co. Roscommon, but now lives in Glenmalure, Co. Wicklow. Her debut collection
The River
was published by Bloodaxe in June 2015 to great acclaim. Her third full collection,
A Change in the Air
, will be published by Bloodaxe in May 2023.
An interview with poet Jane Clarke opened RTE One television'
s Nationwide
on 23 October 2020. This edition of the programme was devoted to things to see and do around the Wicklow Mountains, including the Miners' Way long distance path. Former miner Robbie Carter told his story of the explosion in the last working mine at Glendasan, and Jane Clarke read her poem that he inspired – 'Foxrock Mine'. They were both filmed on location at the disused mine. 'Foxrock Mine' was one of a sequence of new poems the Jane Clarke wrote especially for the BBC Radio 4 programme she presented in May 2020,
The Miners' Way
, in which she walked the 19km path and interviewed people connected with the mine along the way: former miner Robbie Carter, as well as local historian Carmel O'Toole and sheep farmer Pat Dunne - also interviewed on
Nationwide
. Watch
here
. First item
.
Full details of reviews, features and interviews for Jane Clarke's
When the Tree Falls
are on our news page
here
.
Ahead of her reading at the Burren Winterage Weekend on 29 October 2022, Jane Clarke was interviewed on a special edition of RTE Radio 1's CountryWide broadcast live from the Burren. She read her new poem 'Laying the Hedge', and spoke to presenter Damien O'Reilly about how the landscapes of Co Roscommon, where she grew up on a farm, and Co Wicklow, where she lives now, have influenced her work.
Jane's interview is available as a separate podcast here.
FORTHCOMING EVENTS
Thursday 22 April, 6pm
Cork World Book Festival 2023

Jane will read with poets Eva Griffen & Paul Maddern at the 'Queering the Green' event. Booking details to follow.
Tuesday 25 April, 7pm
Pride Poets
Street 66, Dublin
Jane will read at Pride Poets in Dublin. More details to follow.
Thursday 25 May, 6pm
Dublin launch of A Change in the Air
Hodges Figgis, 56-58 Dawson St, Dublin 2, D02 XE81, Ireland
Jane Clarke's third full collection, A Change in the Air, will be published by Bloodaxe in May 2023. More details to follow soon.
Friday 26 May, 7pm
Wicklow launch of A Change in the Air
Bridge Street Books, Wicklow
Jane will be reading from A Change in the Air at Bridge Street Books. More details to follow soon.
Thursday 15 June, 7pm
Launch event for A Change in the Air and Five Fifty-Five
West Greenwich Library, 146 Greenwich High Rd, London SE10 8NN
Jane Clarke and Maura Dooley will be launching their new collections at a reading hosted by In-Words. Maura Dooley's new collection Five Fifty-Five is published by Bloodaxe in April.
More details to follow soon.
DISCUSSION RECORDED AT DUBLIN BOOK FESTIVAL

Culture File Weekly, RTÉ Lyric FM, Saturday 3 December 2022, 6.30pm
Poet
Jane Clarke
joined photographer Tina Claffey, naturalist & writer Richard Nairn, and naturalist & writer Paddy Woodworth for a discussion about their favourite nature books as part of the Naturalist's Bookshelf series. Jane recommended Nan Shepherd's
The Living Mountain
and Michael Longley's new collection
The Slain Birds
. A photograph of a marsh marigold by Tina Claffey features on the front cover of Jane's forthcoming third collection
A Change in the Air
. This happy coincidence was mentioned by the host in his introduction.
This event was recorded live at the Dublin Book Festival in the National Botanic Gardens, and was broadcast on RTÉ Lyric FM on 3 December. Listen
here
.
PAST READINGS

POETRY AND MUSIC FROM JANE CLARKE, CORMAC BREATNACH & AEMON SWEENEY

Jane Clarke, Cormac Breatnach, Eamon Sweeney presented by Alchemy Music, premiered 31 July 2021

An intimate short live set recorded in Ashford in Summer 2021 - a mixture of poetry and music. Jane Clarke read two new poems from her sequence about the mining heritage of Co Wicklow, and two new poems responding to the pandemic, 'First earlies' and 'Flowers from the hills'. She also read poems from her second collection
When the Tree Falls
and her debut
The River,
and ended with 'When this is all over' from her illustrated booklet
All the Way Home
(Smith|Doorstop, 2019).

Poet – Jane Clarke
Cormac Breatnach (Susato Whistle)
Eamon Sweeney (Early & Classical Guitars)
FILM FEATURING JANE CLARKE

Dublin Book Festival, streamed on Tuesday 6 July 2021
Departures Volume I: Co. Wicklow
Jane Clarke was filmed for the first of three films made for Dublin Book Festival. Jane was interviewed about
Departures
on RTE Radio 1's
Arena
on 29 June, and read her poem 'The Suck' from her debut collection
The River
. Listen
here
(from 22:44).
Filmed in Brooklodge in the Wicklow Mountains, host Manchán Magan was joined by nature and travel writer Michael Fewer and poet
Jane Clarke
. Their conversation explored their connections with the landacape - in Jane's case that of Co Roscommon where she grew up, and Co Wicklow where she has lived for the past 25 years - and how they bring landscape and the natural world into their writing. Jane began by saying that she thought that coming to live in the stunning landscape of Co Wicklow was part of the reason why she started to write poetry. Jane was filmed in the mountains reading her new poems 'Mullacor' and 'Christmas Morning' - two poems from her sequence inspired by the mining heritage of Wicklow.
The conversation was interwoven with scenes of the Co Wicklow landscape, and with music from Anna Mieke, who gave a spellbinding performance of two songs from her debut album Idle Mind, inspired by her connection to her surroundings.
Jane Clarke also features in the Departures trailer:
PAST READINGS AND LATE LAUNCH EVENT WITH BLOODAXE BOOKS
Sunday 27 June 2021, 6:00 PM – 7:00 PM BST

Poesie: The Daily Poetry App presents a virtual discussion with Irish poet Jane Clarke

Jane Clarke was Poesie's guest poet on 27 June 2021. She read some of the poems that are featured on the Poesie app: 'Daily Bread', 'The Suck' and 'Dropping Slow' from her debut collection
The River
and 'Cypress' from
When the Tree Falls
. In the Q&A with
Poesie
host Benjamin Bregman, Jane spoke about how she came to start writing poetry in her forties, and about process, inspirations, music, and her values as a poet. She talked about how her tutor Gillian Clarke and the Bloodaxe anthology
Staying Alive
helped her along the way. Several poems by Jane feature in the fourth anthology in Neil Astley's
Staying Alive
series,
Staying Human
(pictured below).
More poems from both of Jane Clarke's Bloodaxe collections are featured on the Poesie app.
Field Work Book Club, 6 May 2021, with guest Jane Clarke
Jane Clarke was the guest for the May edition of the Field Work Book Club on 6 May. She was the first poet to be invited to discuss her work at the bookclub. Jane was reading poems from her second collection When the Tree Falls and speaking about her upbringing on a farm in Co Roscommon. A very wide-ranging and thoughtful discusson with farmers from around the UK.
Friday 7 May 2021, 6pm, The Stay-at-Home Literary Festival - via Zoom

Solace in Sound – Three Bloodaxe Poets Explore the Landscape of Grief

Join a trio of Bloodaxe poets whose recent poetry collections span Scotland, Ireland, England and Estonia. Each shares a powerful sense of their formative landscapes; whether farmland, forest, mountains, estuaries, rivers or beyond. In poems that consider the impact of loss – of friends and friendships, parents, or a communal event of the most traumatic kind – these collections foster sympathy and strength. The poets will read from their own work, and also from each other's, creating a unique conversation about memory and resonance in the landscape.
With Heidi Williamson, Jane Clarke and Philip Gross. They were reading from their recent collections Return by Minor Road, When the Tree Falls and Between the Islands, and read poems by each other to start and end their own readings. The start of the video below has been cut off - Philip was in the middle of reading 'The Fisherman' from Jane's debut collection The River.
International live streamed launch event, Tuesday 15th December 2020 at 7pm GMT
Jane Clarke, Jane Hirshfield & Arundhathi Subramaniam

Bloodaxe Books Editor Neil Astley hosted this international live streamed reading by
Jane Clarke
,
Jane Hirshfield
and
Arundhathi Subramaniam
, celebrating the publication of their new or recent poetry collections. They joined the event from their homes in Co Wicklow, California and Bombay. They each gave two sets of readings, followed by a discussion that revealed many connections between these three outstanding poets.
This extraordinary reading and discussion is now on YouTube. Jane Clarke read first, and then again after the other two poets had read from their collecctions.
Saturday 28th November 2020, 6.00pm – 7.30pm, Ó Bhéal Winter Warmer Festival of Poetry

Jane Clarke | Ranjit Hoskote | Mary Jean Chan
The festival featured 36 poets from fifteen countries. Fellow Bloodaxe poet Imtiaz Dharker read later that evening.
Jane Clarke read from both her Bloodaxe collections, and also read her new poems 'Her First', 'Flowers from the Hills' and 'Little Tern Colony, Kilcoole'.
Jane Clarke Reading at the Burren Winterage Weekend, 21 October 2020

A Burren Winterage Weekend 2020 keynote talk by James Rebanks, author of two bestselling and critically acclaimed books, The Shepherd's Life (2015) and English Pastoral (2020). In this talk, he gives an overview of his farm, his farming practices, and how they have changed over time. James also talks about his grassland and soil management, and his obsession with soil and regenerative grazing practices, as well as the habitat restoration work they have undertaken. James is a traditional upland sheep and cattle farmer in Matterdale in the Land District, breeding Belted Galloways and Herdwick sheep and he champions nature-friendly farming practices.
This is followed by a talk with poet Jane Clarke who grew up on a farm in Co. Roscommon. Jane talks about how this way of life inspired her writing and reads poems from her two highly acclaimed collections, The River and When the Tree Falls (Bloodaxe Books 2015 & 2019).
James Rebanks and Jane Clarke met in London when their first books were both shortlisted for the RSL Ondaatje Prize for writing that celebrates the spirit of a place.

~~~~
Jane reads her Miners' Way sequence of poems in this podcast developed by Wicklow Arts Office. The seven poems were written in response to the lives of miners in Co. Wicklow from the 1800s up to the 1950s. This 16 minute reading was recorded on location in Glendalough, Co. Wicklow. You can download the reading & the accompanying map to your mobile device and listen to the poems as you walk this section of The Miners' Way alongside Glendalough Upper Lake to The Miner's Village. The poems were written especially for the BBC Radio 4 feature The Miners' Way presented by Jane Clarke. They are not yet published in book form.
Listen to the podcast
here
.
~~~~
INSIDE WRITING FESTIVAL

Jane gave a reading from her home as part of the
Inside Writing
digital poetry festival organised by the Newcastle Centre for the Literary Arts in lieu of the annual Newcastle Poetry Festival. Her readings were shared online during the week of 15-19 June 2020. She read and introduced three poems from
When the Tree Falls
: 'He stood at the top of the stairs', 'I've got you' and 'The trouble'.
She went on to read two new poems, 'April wake' and 'First earlies'. The poems were written on 19 and 21 April 2020, and are included on Manchester Writing School's WRITE where we are NOW website, which gathers together poems written in response to the coronavirus pandemic. You can read the poems
here
and
here
.
BLOOMSDAY 2020
Jane Clarke was commissioned to write a poem for Bloomsday, 16 June 2020.
Her poem 'Night Boat, North Wall Quay' can be read
here
. A film of her reading the poem is below.
JANE CLARKE READING FROM HER HOME

Jane Clarke gave a virtual reading for episode 4 of the new LIVE Network series on Friday 29 May 2020.
Black Tea and Birdsong with Jane Clarke
(sponsored by Roscommon Arts Centre). Jane reads five poems from her collection
When the Tree Falls
accompanied by birdsong from her garden. She was interviewed by Dani Gill.
~~~~~~
TOUR OF US & UK, AUTUMN 2019

Jane was on tour in the US 23 October- 2 November 2019. She gave a number of readings plus a workshop in Washington DC, organised by Solas Nua, including a public interview with Ron Charles (Washington Post) in the "Life of a Poet" Forum. She ended her tour by reading at Poetryfest at the Irish Arts Centre in New York. See video below of her NYU reading.
While she was in Washington, Jane was interviewed by Grace Cavalieri for The Library of Congress's
The Poem & the Poet
series. This half-hour interview is available
here
.
Jane Clarke visited the UK 16-20 November to read at the Woodstock Poetry Festival near Oxford and at Goldsmiths Writers' Centre in London.
Washington DC launch for Jane Clarke's When the Tree Falls
Jane Clarke's reading at NYU Washington, DC in October 2019, part of her US tour organised by Solas Nua. Jane read poems from her latest book,
When the Tree Falls
, and took questions from the audience. She also read four poems from
All the Way Home
, her illustrated booklet of poems in response to a First World War family archive held in the Mary Evans Picture Library, London (Smith|Doorstop, April 2019). She began and ended her reading with poems from her debut collection
The River
.
Wonderful introduction by Paddy Meskell, who set out the five things that make Jane's poems something special to him, starting with her use of language:
'The language is as spare and bare as a winter's field'.
Jane Clarke reads from When the Tree Falls

Jane Clarke reads and introduces twelve poems from When the Tree Falls: 'Copper Soles', 'you pull yourself up', 'Those days', 'The Polling Station', 'The Hurley-maker', 'The trouble', 'Hers', 'Map', 'I've got you', 'Cypress', 'Aftergrass' and 'Kelly's Garden'. Neil Astley filmed her reading selections from her two Bloodaxe collections at her home in Glenmalure in April 2019.


[30 April 2020]