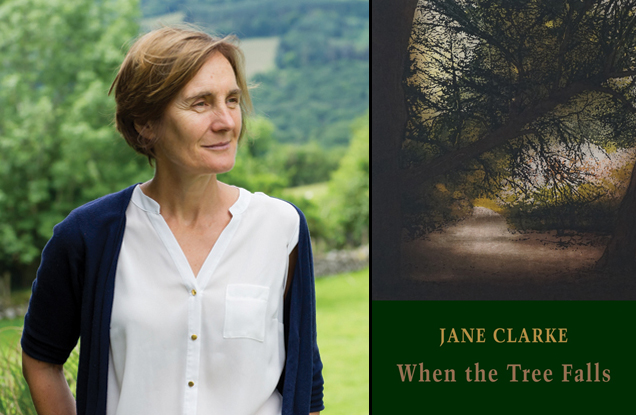 Jane Clarke Readings
'The poems are plain-spoken and restrained: they resist easy consolation. Their austerity serves to intensify the unmediated emotion they almost don't want to capture.' - Carol Rumens, Poem of the Week, The Guardian, on When the Tree Falls
Jane Clarke's debut collection
The River
was published by Bloodaxe in June 2015 to great acclaim. Her second collection
When the Tree Falls
was published by Bloodaxe in September 2019 and launched at Hodges Figgis in Dublin and at Bridge Street Books in Wicklow. Jane Clarke's lyrically eloquent poems bear witness to the rhythms of birth and death, celebration and mourning, endurance and regrowth. An elegiac sequence, inspired by the loss of her father, moves gracefully through this second collection.
Jane will be on tour in the US in October 2019. She'll be in the UK in November to read at the Woodstock Poetry Festival near Oxford and at Goldsmiths Writers' Centre in London. Jane Clarke grew up on a farm in Co. Roscommon, but now lives in Glenmalure, Co. Wicklow.
Jane Clarke read and introduced her poem 'He stood at the top of the stairs' from
When the Tree Falls
on the
Words Lightly Spoken
podcast
here
.
An interview with Jane Clare features in the inaugural issue of
The Poet Magazine
, Autumn 2019. Click
here
to read.
Jane's poem 'When winter comes' was discussed by Carol Rumens in her
Guardian
Poem of the Week column
here
.
USA TOUR: 23 October- 2 November 2019

Washington DC:
Solas Nua is hosting Jane's reading tour in the Washington DC region from 23-31 October.
Wednesday 23 October, 6pm, Four Seasons Books, Shepherdstown, West Virginia
Saturday 26 October, 2-5pm,
Writing from Stillness
: Jane will give a writing workshop in the Quaker House, Washington DC.
Click here
for details and booking.
Sunday 27 October at 10am, St. John's Church, Catholic University
Monday 28 October, 6.30-8.30pm, NYU (1307 L St. N.W. Washington, DC) (Jane Clarke 'In Conversation' -
click here
to book).
Wednesday 30 October, 3pm, Catholic University of America, Public Reading in McGivney Hall 106.
Wednesday 30 October, 6.30-8.30pm, the Irish Embassy, reception and reading (by invitation)
Thursday 31 October, 2pm, Georgetown University.
Thursday 31 October, 6.30pm, Solas Nua.
Jane will also have a radio interview with Grace Cavalieri, "The Poem & the Poet" on Monday 28 October and a public interview with Ron Charles (Washington Post) in the "Life of a Poet" Forum on Tuesday 29 October at 7pm.
More details are on Solas Nua's website
here
.
Saturday 2 November, 3.30pm Poetryfest, Irish Arts Centre, New York
Jane will take part in the 2019 PoetryFest at the Irish Arts Centre, New York. She will read alongside Michael Dickman. Other performers include Martina Evans, Stephen Sexton, Paul Muldoon, Kevin Young and Julie Morrissey.
UK

Woodstock Poetry Festival, Saturday 16 November 2019, 8.30 pm

The Woodstock Bookshop, 23 Oxford Street, Woodstock, Oxon OX20 1TH
Jane Clarke will be over from Ireland to read from her newly-published second collection When the Tree Falls at the Woodstock Poetry Festival. She'll be reading alongside Julia Copus.
Tickets £10
Click here to book.
Wednesday 20 November 2019, 5pm, Goldsmiths Writers' Centre, RHB 137, University of London, London

Poetry and autobiography: Jane Clarke and Anne-Marie Fyfe
Thursday 21 November 2019, 7.30pm, Rathfarnham Castle

Jane will read at a special concert to mark the centenary year of the Irish Republic. With music from Sonamus and others.

Saturday 23 November 2019, Irish Group Analysis Society
Carmelite Community Centre, Aungier St. Dublin 2
Jane will speak about poetry and psychoanalysis with a reading from When the Tree Falls and All the Way Home, followed by a group discussion of this theme.
Friday 29 November, 7pm, Poetry by the Weir, Osta Café, Sligo, Ireland

Jane will read from When the Tree Falls, which includes elegies to her friend Shirley McClure. Shirley's Sligo friends will read from Origami Doll, New and Collected Shirley McClure (Arlen House, 2019), edited by Jane Clarke.
Sunday 8th December, 3pm, Books Upstairs, 17 D'Olier Street, Dublin

Books Upstairs Sunday Session

Jane will read with Maureen Boyle and fellow Bloodaxe poet
Katie Donovan
on 8th December in the Books Upstairs.
READINGS FORTHCOMING IN 2020

Thursday 16 January 2020, 7pm, dlr Lexicon, Dun Laoghaire
Jane will read with Julie Morrissey and Grace Wilentz.
Thursday 20 February 2020, 6.30pm, Wexford Library, Co. Wexford
Jane will read from When the Tree Falls in Wexford Library.
Friday 21 February 2020, 2pm, Killagoley Training and Activation Centre Enniscorthy, Co. Wexford

Jane will give a reading from When the Tree Falls.
Jane Clarke reads from When the Tree Falls

Jane Clarke reads and introduces twelve poems from When the Tree Falls: 'Copper Soles', 'you pull yourself up', 'Those days', 'The Polling Station', 'The Hurley-maker', 'The trouble', 'Hers', 'Map', 'I've got you', 'Cypress', 'Aftergrass' and 'Kelly's Garden'. Neil Astley filmed her reading selections from her two Bloodaxe collections at her home in Glenmalure in April 2019.


[20 August 2019]