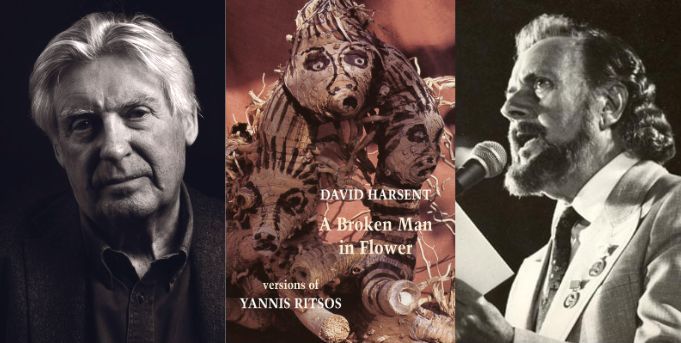 David Harsent's A Broken Man in Flower: reviews & poem features
'His versions are unyielding in their consistency, and the poet-translator has succeeded in finding an apt literary voice for a well-curated collection of poems.' - Suzana Vuljevic, Words Without Borders
David Harsent's A Broken Man in Flower: Versions of Yannis Ritsos was published by Bloodaxe in March 2023.
Yannis Ritsos (1909–90) is generally considered to be – along with Cavafy, Seferis and Elytis – one of the most significant Greek poets of the last century. During the post-World War Two civil war – because he sided with the left – Ritsos was arrested and sent to prison camps. Then, in 1967, when the Papadopoulos military junta took control of the country, he was again arrested, again his books were banned, again he spent time in prison camps, before being confined to house arrest on the island of Samos. The violence and tyranny of dictatorship is often fractured by the surreal. In the poems collected here, written by Ritsos while in prison and under house arrest, that fracture in perception is a wound.
A Broken Man in Flower has an introduction by John Kittmer – former British Ambassador to Greece, who took part in Bloodaxe's livestreamed launch event in March 2023. David Harsent's thirteen collections – published latterly by Faber – have won a number of awards, including the Forward Prize, the T.S. Eliot Prize and the Griffin International Prize.
A Broken Man in Flower: Versions of Yannis Ritsos is one of John Clegg's poetry recommendations for Spring 2023 in the London Review Bookshop newsletter of 14 May. Read here.
REVIEW COVERAGE
The Times Literary Supplement, Friday 15 September 2023

A feature review of two books of the work of the late Yannis Ritsos ran in the TLS of 15 September, illustrated with a colour photo of a statue of Yannis Ritsos outside his house in Monemvasia, Greece. David Harsent's A Broken Man in Flower: Versions of Yannis Ritsos was well reviewed alongside another translation, preceded by general introduction about the work of Yannis Ritsos.

'Harsent's A Broken Man in Flower presents poems from multiple series written during Ritsos's years of arrest under the Greek military dictatorship of 1967-74, in a prison camp on the island of Leros (June 1967-October 1968) and under house arrest on Samos (October 1968-November 1970). Ritsos was prolific, and there is a good selection here of poems about the terror of oppression and the misuse of power.' – Evan Jones, Times Literary Supplement

In print. Online in full by subscription.
https://www.the-tls.co.uk/articles/a-broken-man-in-flower-david-harsent-monochords-yannis-ritsos-with-chiara-ambrosia-book-review-evan-jones/

Morning Star, 28 June 2023

A feature review of David Harsent's A Broken Man in Flower: Versions of Yannis Ritsos ran in the Morning Star of 28 June, illustrated in print and online with a photograph of the late Yannis Ritsos's former house in Monemvasia, Greece.
'Harsent certainly captures something vital and lasting about the work … the poems are not simply transcribed, but employ a poetic sensitivity using the materials and scaffolding of another language and idiom. But finally the work stands as a beautifully harsh indictment of militarism in Greece, and a testament to the human spirit, to artistic endeavour and the capacity for communism to instil hope and perspective when the jackboot of fascism has descended on the necks of the people.' - Chris Davis, Morning Star
Read in full here: https://morningstaronline.co.uk/article/c/listen-his-silences
ONLINE REVIEW COVERAGE

Words Without Borders, online 21 April 2023

An in-depth review of David Harsent's A Broken Man in Flower: Versions of Yannis Ritsos has gone online at Words Without Borders, the US-based website showcasing contemporary world literature in English translation.

'I recommend reading A Broken Man in Flower not only for its mesmerizing formalist strength and ingenuity, but for its profound importance as a document of courage and resistance against a brutally repressive regime, a testament to the quiet yet formidable might contained in the poet's verse. In the shrunken world of the individual under both confinement and the microscope of surveillance, we watch as time cinematically slows down, and man becomes his own sole companion.' - Suzana Vuljevic, Words Without Borders

Read the review in full on the Words Without Borders website here.



ONLINE POEM FEATURE

One Hand Clapping, online 27 October 2022

Six poems from David Harsent's A Broken Man in Flower: Versions of Yannis Ritsos were featured in the online magazine One Hand Clapping ahead of the book's publication by Bloodaxe in March 2023.

The poems were introduced by David Harsent, who writes about working on these versions of Yannis Ritsos's house arrest poems during the 2020 lockdowns.
https://www.1handclapping.online/post/david-harsent-six-poems

LIVESTREAMED LAUNCH EVENT ON WORLD POETRY DAY, 21 MARCH 2023

On World Poetry Day 2023, Bloodaxe Books hosted this launch reading by David Harsent and Yang Lian celebrating the publication of their new poetry books with John Kittmer and Brian Holton.
John Kittmer introduced David Harsent reading his new versions of Yannis Ritsos from A Broken Man in Flower and then Yang Lian (in Morocco) read in Chinese from his new book A Tower Built Downwards in tandem with Brian Holton reading his English translations, followed by a discussion with the host, Bloodaxe editor Neil Astley.
This multi-lingual Bloodaxe launch event was streamed on YouTube Live and is now available to watch via this YouTube page: https://www.youtube.com/watch?v=zP-Y3THlVAk
Read a sample:
The sample content is taken from the front and back of the book. To read poems from the back of the book, click 'Next Preview Page' when you reach the end of the material from the front, or click the grid icon at the bottom of the Exact Editions reading window and scroll to the bottom of the grid.
[27 April 2023]