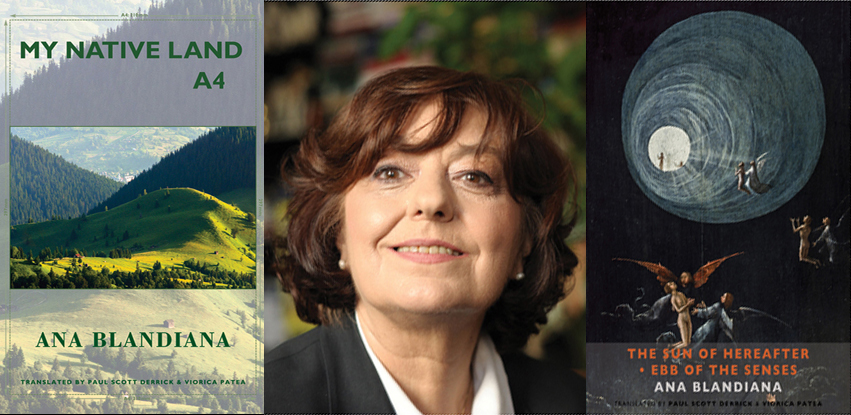 Ana Blandiana receives The Griffin Trust Lifetime Recognition Award
Romanian poet, essayist, and political figure Ana Blandiana was presented with The Griffin Trust for Excellence in Poetry Lifetime Recognition Award at the 2018 Griffin Poetry Prize Shortlist Readings on June 6, 2018 in Toronto, Canada. She is the twelfth recipient of this prestigious honour (the sixth to be published by Bloodaxe). The presentation was followed by a reading at the Griffin Poetry Prize Awards Evening on June 7, 2018.
Ana Blandiana's collection, The Sun of Hereafter & Ebb of the Senses (2017) translated by Paul Scott Derrick and Viorica Patea, is published by Bloodaxe on 16 November 2017. Her previous book My Native Land A4, (Bloodaxe 2014), also translated by Paul Scott Derrick and Viorica Patea, was awarded the European Poet of Freedom Prize for 2016.
The trustees first presented the honour to pay tribute to the work and achievements of international artists working in poetry. Past recipients have included fellow Bloodaxe poets Tomas Tranströmer (Sweden) 2007; Ko Un (South Korea) 2008; Hans Magnus Enzensberger (Germany) 2009; Yves Bonnefoy (France) 2011 and Adelia Prado (Brazil) 2014.
Ana Blandiana, born in 1942 in Timisoara, is one of the most highly acclaimed contemporary Romanian poets. She has published fourteen books of poetry, two of short stories, seven books of essays and one novel. Her work has been translated into twenty-six languages and collected in forty-seven books of poetry and prose to date.
Read an in-depth review of Ana Blandiana's The Sun of Hereafter * Ebb of the Senses in Glasgow Review of Books here.

'This is a collection that deals with change and its repercussions; the affects that can't be seen coming and the way that large scale change can utterly de-centralise a person.' – Matt MacDonald, Glasgow Review of Books [on The Sun of Hereafter]

Click here to listen to Ana Blandiana's contribution to Radio 3's Sunday Feature on Brancusi's sculpture A Column for Infinity. Forward to 39.36 to hear Ana.
[07 June 2018]