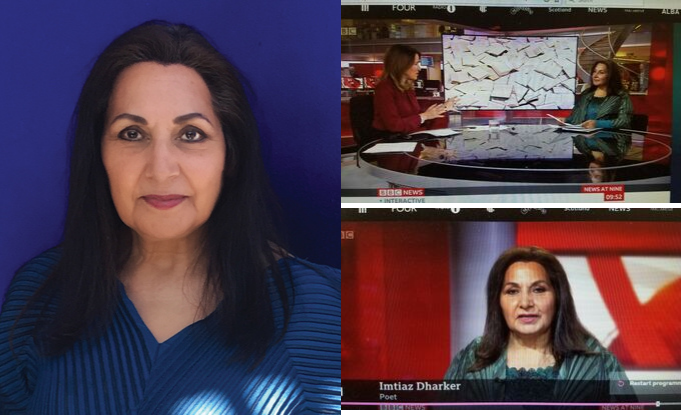 Imtiaz Dharker on TV & Radio
'Her clear-eyed attention brings each subject dazzlingly into focus. She makes it look easy, this clarity and economy, but it is her deft phrasing, wit and grace that create this immediacy'. - Carol Ann Duffy
Imtiaz Dharker was awarded the Queen's Gold Medal for Poetry for her fifth collection Over the Moon. Her sixth, Luck is the Hook, was published by Bloodaxe on 29 March 2018. In these poems, chance plays a part in finding or losing people and places that are loved: a change in the weather, a trick of language, a bomb that misses its mark, six pomegranate seeds eaten by mistake; all these events cast long shadows and raise questions about who is recording them, about believing, not believing, wanting to believe.
RADIO 3 INTERVIEWS WITH IMTIAZ DHARKER & CLARE POLLARD

The Verb, BBC Radio 3, Friday 4 October 2019, 10pm

Bloodaxe poets Imtiaz Dharker and Clare Pollard were guests on Radio 3's The Verb on 4 October, recorded at the BBC Strong Language Festival in Hull. Clare was at the festival as editor of Modern Poetry in Translation, and Imtiaz was there to see a dance performance of one of her poems.

'Imtiaz explores the way her experience as a film-maker influenced her poem 'The Right Word' (from The terrorist at my table) and reads a brand new poem 'Ode to O'. Her latest collection is Luck is the Hook (Bloodaxe).'

Clare contributed to an item on translation, and then gave a preview of her forthcoming pamphlet The Lives of the Female Poets (Bad Betty Press) which uses her knowledge of poetic lives from around the world to create an alphabet of reasons why many women writers are not better known. She read some poems from the letter G.

Available to download as a podcast, and via BBC Sounds until 3 November 2019. Clare reads from her new pamphlet at 24.02 & Imtiaz from 29.00:
https://www.bbc.co.uk/programmes/m0008yps


IMTIAZ DHARKER TV APPEARANCE FOR NATIONAL POETRY DAY

BBC News at Nine, BBC Two & BBC News Channel, Thursday 3 October 2019, 9-10am

Bloodaxe poet Imtiaz Dharker was invited to speak about poetry for an item on National Poetry Day on BBC News at Nine.

Imtiaz began by reading her poem 'Carving' from her 2006 collection The terrorist at my table. Presenter Annita McVeigh mentioned that a recording of Imtiaz reading that poem is being played over the tannoy at Covent Garden Underground Station for the whole of National Poetry Day (as are poems by Mona Arshi and fellow Bloodaxe poets John Hegley and Maura Dooley).

The programme is not available on iPlayer, but Imtiaz was interviewed at at 9.52. Stills from the broadcast pictured above.
https://www.bbc.co.uk/programmes/m0008zgg

IMTIAZ DHARKER PRESENTS RADIO 4'S MOTHER TONGUE SERIES

Mother Tongue, BBC Radio 4, Sunday 1 September 2019, 4.30pm, repeated Saturday 7 September, 11.30pm (the first in a four-part series)

Bloodaxe poet Imtiaz Dharker is presenting the second series of Radio 4's Mother Tongue, the poetry series exploring exciting voices from around the world. The first of the four-part series aired on Sunday 1 September. It began with Imtiaz reading from her poem 'They'll say, 'She must be from another country'' from her 2001 collection I Speak for the Devil. She commented on how it resonates with the political situation in Britain today even though she wrote the poem 20 years ago in India.

Besides Imtiaz Dharker, other Bloodaxe poets featured in the series: Cuban poet Legna Rodriguez Iglesias and her translator Abigail Parry were on the episode on 15th September (reading from their forthcoming collection A little body are many parts (published 24 October); then Iranian poet Azita Ghahreman and her translator Maura Dooley are in the episode on 22nd September, reading from Negative of a Group Photograph (Bloodaxe 2018).

This atmospheric series featued readings by and interviews with poets from around the world, often recorded in their homes. Each programme will be available for 30 days after the repeated edition. Listen via BBC Sounds here. The first two episodes are offline now, but Legna's episode is available until 22 October, and Azita's until 28 October 2019.


NEW POEM BY IMTIAZ DHARKER COMMISIONED BY RADIO 3 FOR THEIR 2019 CAROL COMPETITION

Breakfast, BBC Radio 3, Monday 2 September 2019, 6.30-9am

Imtiaz Dharker was specially commissioned for the BBC Radio 3 Breakfast's Carol Competition 2019. Amateur composers around the country have been challenged to set the text of this poem to music. Presenter Petroc Trelawny launched the competition on the 2 September edition of Breakfast. He introduced the poem, which was then read by Imtiaz Dharker.

The competition was launched on Breakfast on 2 September 2019, and the closing date for entries is 23:59 on 5 November 2019. The six shortlisted musical settings of Imtiaz Dharker's poem will be played on Breakfast, performed by the BBC Singers, and the winner will be chosen by Radio 3 listeners in December.

A clip from Breakfast of Imtiaz reading her new poem 'Go to the Child' remains available online here.

Full details of the competition, along with the text of the poem, are here.


IMTIAZ DHARKER PRESENTS BBC WORLD SERVICE'S THE DOCUMENTARY
The Documentary: Sweeping the World, BBC World Service, Tuesday 5 February 2019
Imtiaz Dharker presented a half-hour documentary feature for the BBC World Service, a reflective evocation of the broom, in words, sound and music. She wrote a new poem for this, and it was intercut into the programme. A BBC Radio 4 Pick of the Week choice (as have been many of Imtiaz Dharker's previous radio features and interviews).
Archived on The Documentary's webpages:
https://www.bbc.co.uk/programmes/w3csy5bl
INTERVIEWS & GUEST APPEARANCES
The Poetry Programme, RTÉ Radio 1, Sunday 23 September 2018, 7.30pm
Half-hour interview with Imtiaz Dharker recorded in Armagh when she was there for the John Hewitt Summer School in July 2018.

Imtiaz spoke very movingly to Olivia O'Leary about her upbringing in Glasgow and the effect that her elopement had her parents – subjects she addresses in poems in her new collection Luck is the Hook . They also disucssed religion, her drawings (Imtiaz illustrates all her collections) and her late husband Simon Powell, founder of GCSE Poetry Live!. Imtiaz continues to tour with Poetry Live!, along with the Poet Laureate Carol Ann Duffy, Gillian Clarke, Simon Armitage, John Agard, Grace Nichols and others, bringing live poetry to 25,000 young people across the UK each year.

Imtiaz read two poems from her first Bloodaxe title, Postcards from god, 'Prayer' and an extract from 'Purdah II', and 'The right word' from her 2006 collection The terrorist at my table. She began and ended the interview with poems from her new collection Luck is the Hook – 'Chaudhri Sher Mobarik looks at the loch', 'Stitch', 'Lapis Lazuli' and the beautiful love poem 'To have all this'.

'Imtiaz Dharker enthralled audiences with her readings at this year's John Hewitt International Summer School in Armagh… Among her many awards is the Queen's Gold Medal for Poetry. Imtiaz joins Olivia to talk about her life and poetry, and she reads some early poems and some from her latest collection, Luck is the Hook, published by Bloodaxe in 2018.'

Click here to listen.


IMTIAZ DHARKER ON RADIO 4'S FRONT ROW

Front Row, Inspire Season, BBC Radio 4, 7.15pm, Friday 10 August 2018

Imtiaz Dharker contributed to Front Row's Inspire season on 10 August. She was recorded on one of her favourite walks in central London.

'As part of our Inspire season, poet Imtiaz Dharker explains why walking through the city streets in the early hours gives her inspiration.'

Final item, from 22.33. Click here to listen.

Imtiaz Dharker also spoke to Front Row about Luck is the Hook on 19 April. Click here to listen. Last item & podcast.
If you'd like to hear more about Imtiaz's walks through London, and how this helps her writing process, her half-hour BBC World Service interview In the Studio: Imtiaz Dharker from May 2017 is still available to listen to. Click here to listen
The Cultural Front Line, BBC World Service, Saturday 23 June 2018

Imtiaz Dharker contributed to the BBC World Service's The Cultural Front Line on 23 June. She was speaking about the 1987 film Wings of Desire directed by Wim Wenders. This was a film that changed her approach to art and had a big influence on her poetry and her drawings. The item was tagged to her new collection Luck is the Hook.

'the award-winning poet and artist Imtiaz Dharker on the film that showed her that art can be a rich tapestry.'

Click here to listen. Final item, from 22.00.


Saturday Live, Inheritance Tracks, BBC Radio 4, Saturday 19 May 2018, 9-10.30am
Imtiaz Dharker's Inheritance Tracks were broadcast on Radio 4' Saturday Live on 19 May 2018. She speaks about the music she inherited from her parents and listened to when she was growing up in Glasgow, and the track she wants to pass on to her daughter. On the day of the Royal Wedding, she also spoke about her own 'poetry wedding' to the late Simon Powell, founder of Poetry Live!.
Imitaz's Inheritance Tracks are available to download and listen again here.
Front Row, BBC Radio 4, Thursday 19 April 2018, 7.15pm

Imtiaz Dharker was interviewed live on Front Row on 19 April about her new collection Luck is the Hook. She spoke to Stig Abell about chance, what feeds her imagination and about how she is never quite sure when she takes up a pen whether a poem or a drawing will be the result. When he asked her how she would like people to respond to the collection, she said 'I want them to… feel jostled to an edge. I want them to hang by their fingertips, as I did in some of the poems.'

Imtiaz read her beautiful sonnet 'The trick' on the programme, and then read two further poems for the podcast: 'The Elephant is walking on the River Thames', followed by a haiku 'First sight, through falling snow'. All three are from Luck is the Hook.

Imtiaz Dharker also contributed to the first item about the Windrush (from 7.47), and spoke aobut how poets from the Caribbean such as James Berry, Jean 'Binta' Breeze, John Agard and Grace Nichols (all Bloodaxe poets) had enriched British poetry.

First and last item & podcast. She joins the Windrush discussion from 7.47). To listen, click here.
2017 INTERVIEWS ON 'THIS TIDE OF HUMBER' FROM LUCK IS THE HOOK

'This Tide of Humber': the final poem in Luck is the Hook

Imtiaz Dharker participated in the BBC Contains Strong Language Festival in 28 September-October 2017.
Her long poem 'This Tide of Humber' was performed twice in Hull on Saturday 30 September 2017. JoinedUp Dance Company presented a new piece of contemporary dance inspired by this specially commissioned poem. The poem is now included in collection Luck Is the Hook, which takes its title from a line in the poem.
A film showing Imtiaz Dharker working with the dancers and reading the poem can be seen here.
Front Row, BBC Radio 4, Friday 29 September 2017, 7.15pm

Imtiaz Dharker was interviewed on this live edition of Front Row being broadcast from Hull in front of an audience. She read an excerpt from 'This Tide of Humber'. This specially commissioned poem will be broadcast in full on Radio 4 at a later date. It was performed live twice at the Contains Strong Language festival in Hull on 30 September 2017.
Click here to listen.

Imtiaz Dharker has written about 'This Tide of Humber' in The Rialto.
Click here to listen to Imtiaz read her beautiful poem 'Thaw' from to mark the winter solstice on Front Row on 21 December 2017. Both poems are now published in Luck is the Hook.
IMTIAZ DHARKER ON RADIO 4'S DESERT ISLAND DISCS IN 2015

Poet and artist Imtiaz Dharker, winner of the Queen's Gold Medal for Poetry 2014, was the castaway on BBC Radio 4's Desert Island Discs on 12 July 2015.
Kirsty Young asked Imtiaz to speak about two of her poems: 'Campsie Fells' from
The Terrorist at My Table
and 'Alan or David or John' from
Over the Moon -
Imtiaz's poem about the boy across the road whom she'd fallen in love with as a girl. There are also poems in
Leaving Fingerprints
that cover ground discussed in the interview: 'Barkat', about her mother's hospitality, and 'Green spiked hair', about running away from home, and then later encountering her father at Heathrow airport.
This conversation with Kirsty prompted some of the poems in Imtiaz's sixth collection
Luck Is the Hook
, in particular those about growing up in Glasgow.
Imtiaz Dharker: 'Poetry makes it possible to live':
clip from
Desert Island Discs
interview available
here
.
Imtiaz Dharker was The London Book Fair's first ever 'Poet of the Fair' in April 2018). A five-minute interview Imtiaz gave to The London Book Fair can be read
here
.
[15 October 2019]