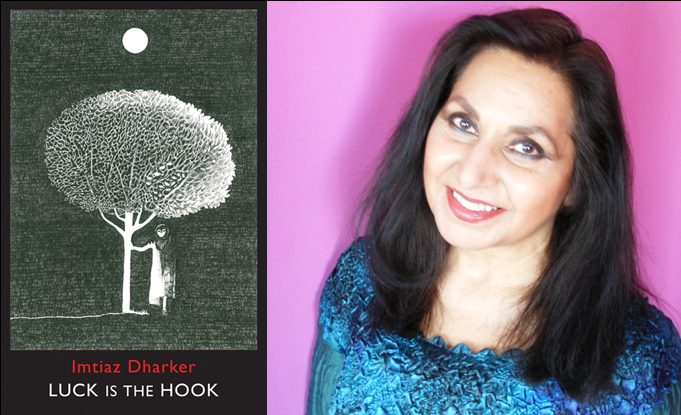 Imtiaz Dharker Radio Interviews
'Her clear-eyed attention brings each subject dazzlingly into focus. She makes it look easy, this clarity and economy, but it is her deft phrasing, wit and grace that create this immediacy'. - Carol Ann Duffy
Imtiaz Dharker was awarded the Queen's Gold Medal for Poetry for her fifth collection Over the Moon. Her sixth, Luck is the Hook, was published by Bloodaxe on 29 March 2018. The book was given a pre-publication launch at Verve Poetry Festival in Birmingham. She has read at a number of festivals in 2018, including Cúirt International Festival of Literature, Newcastle Poetry Festival and Edinburgh International Book Festival, with appearances at Ilkley Literature Festival and Woodstock Poetry Festival forthcoming in the autumn. See her events here.
Imtiaz Dharker was The London Book Fair's first ever 'Poet of the Fair' in April 2018). A five-minute interview Imtiaz gave to The London Book Fair can be read here.
Luck is the Hook is a recommended poetry book for National Poetry Day on Thursday 4 October 2018. More on this here.

The Poetry Programme, RTÉ Radio 1, Sunday 23 September 2018, 7.30pm
Half-hour interview with Imtiaz Dharker recorded in Armagh when she was there for the John Hewitt Summer School in July.

Imtiaz spoke very movingly to Olivia O'Leary about her upbringing in Glasgow and the effect that her elopement had her parents – subjects she addresses in poems in her new collection Luck is the Hook . They also disucssed religion, her drawings (Imtiaz illustrates all her collections) and her late husband Simon Powell, founder of GCSE Poetry Live!. Imtiaz continues to tour with Poetry Live!, along with the Poet Laureate Carol Ann Duffy, Gillian Clarke, Simon Armitage, John Agard, Grace Nichols and others, bringing live poetry to 25,000 young people across the UK each year.

Imtiaz read two poems from her first Bloodaxe title, Postcards from god, 'Prayer' and an extract from 'Purdah II', and 'The right word' from her 2006 collection The terrorist at my table. She began and ended the interview with poems from her new collection Luck is the Hook – 'Chaudhri Sher Mobarik looks at the loch', 'Stitch', 'Lapis Lazuli' and the beautiful love poem 'To have all this'.

'Imtiaz Dharker enthralled audiences with her readings at this year's John Hewitt International Summer School in Armagh… Among her many awards is the Queen's Gold Medal for Poetry. Imtiaz joins Olivia to talk about her life and poetry, and she reads some early poems and some from her latest collection, Luck is the Hook, published by Bloodaxe in 2018.'

Click here to listen.


IMTIAZ DHARKER ON RADIO 4'S FRONT ROW

Front Row, Inspire Season, BBC Radio 4, 7.15pm, Friday 10 August 2018

Imtiaz Dharker contributed to Front Row's Inspire season on 10 August. She was recorded on one of her favourite walks in central London.

'As part of our Inspire season, poet Imtiaz Dharker explains why walking through the city streets in the early hours gives her inspiration.'

Final item, from 22.33. Click here to listen.

Imtiaz Dharker also spoke to Front Row about Luck is the Hook on 19 April. Click here to listen. Last item & podcast.

The Cultural Front Line, BBC World Service, Saturday 23 June 2018

Imtiaz Dharker contributed to the BBC World Service's The Cultural Front Line on 23 June. She was speaking about the 1987 film Wings of Desire directed by Wim Wenders. This was a film that changed her approach to art and had a big influence on her poetry and her drawings. The item was tagged to her new collection Luck is the Hook.

'the award-winning poet and artist Imtiaz Dharker on the film that showed her that art can be a rich tapestry.'

Click here to listen. Final item, from 22.00.


Saturday Live, BBC Radio 4, Saturday 19 May 2018, 9-10.30am
Imtiaz Dharker's Inheritance Tracks were broadcast on Radio 4' Saturday Live on 19 May 2018. She speaks about the music she inherited from her parents and listened to when she was growing up in Glasgow, and the track she wants to pass on to her daughter. On the day of the Royal Wedding, she also spoke about her own 'poetry wedding' to the late Simon Powell, founder of Poetry Live!. Imitaz's Inheritance Tracks are available to download and listen again here.
Front Row, BBC Radio 4, Thursday 19 April 2018, 7.15pm

Imtiaz Dharker was interviewed live on Front Row on 19 April about her new collection Luck is the Hook. She spoke to Stig Abell about chance, what feeds her imagination and about how she is never quite sure when she takes up a pen whether a poem or a drawing will be the result. When he asked her how she would like people to respond to the collection, she said 'I want them to… feel jostled to an edge. I want them to hang by their fingertips, as I did in some of the poems.'

Imtiaz read her beautiful sonnet 'The trick' on the programme, and then read two further poems for the podcast: 'The Elephant is walking on the River Thames', followed by a haiku 'First sight, through falling snow'. All three are from Luck is the Hook.

Imtiaz Dharker also contributed to the first item about the Windrush (from 7.47), and spoke aobut how poets from the Caribbean such as James Berry, Jean 'Binta' Breeze, John Agard and Grace Nichols (all Bloodaxe poets) had enriched British poetry.

First and last item & podcast. She joins the Windrush discussion from 7.47). To listen, click here.
IMITAZ DHARKER GUEST CURATOR ON POETRY PLEASE

Poetry Please: Imtiaz Dharker, BBC Radio 4, Sunday 22 July 2018, 4.30pm, repeated Saturday 28 July, 11.30pm

Imtiaz Dharker was the guest curator for Radio 4's Poetry Please on 22 July. The programme ended with Clare Shaw reading her poem 'I do not believe in silence' from her second collection Head On.
'Roger McGough is joined by Imtiaz Dharker, with a selection of her favourite poems from the Poetry Please archive of listeners' requests. This week her choices include requests from some special listeners with whom she was on tour recently, Carol Ann Duffy and Jackie Kay [both of these were sung], as well as poems from Helen Mort, Liz Berry and Clare Shaw.'
Programme information here (no longer available online).
2017 INTERVIEWS ON 'THIS TIDE OF HUMBER' FROM LUCK IS THE HOOK

'This Tide of Humber': the final poem in Luck is the Hook

Imtiaz Dharker participated in the BBC Contains Strong Language Festival in 28 September-October 2017.
Her long poem 'This Tide of Humber' was performed twice in Hull on Saturday 30 September 2017. JoinedUp Dance Company presented a new piece of contemporary dance inspired by this specially commissioned poem. The poem is now included in collection Luck Is the Hook, which takes its title from a line in the poem.
A film showing Imtiaz Dharker working with the dancers and reading the poem can be seen here.
Front Row, BBC Radio 4, Friday 29 September 2017, 7.15pm

Imtiaz Dharker was interviewed on this live edition of Front Row being broadcast from Hull in front of an audience. She read an excerpt from 'This Tide of Humber'. This specially commissioned poem will be broadcast in full on Radio 4 at a later date. It was performed live twice at the Contains Strong Language festival in Hull on 30 September 2017.

Click here to listen.


Imtiaz Dharker has written about 'This Tide of Humber' in The Rialto:

[25 September 2018]