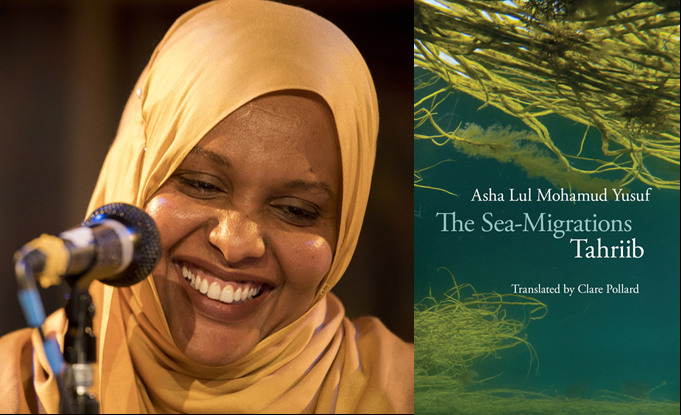 The Sea-Migrations Poetry Book of the Year in The Sunday Times
The Sea-Migrations, the first full-length book of poems by Somali poet Asha Lul Mohamud Yusuf, translated by Clare Pollard (with Said Jama Hussein & Maxamed Xasan 'Alto'), was published by Bloodaxe Books with The Poetry Translation Centre on 16 November 2017 in a Somali-English dual language edition.
The book was Jeremy Noel-Tod's Poetry Book of the Year in The Sunday Times, and was also chosen by Carol Rumens for her selection of the Best Poetry of 2017 in The Observer.
'Sometimes a book reminds us of poetry's real electric force in the world. Yusuf is a brilliant young Somali poet living in exile in London, who takes 'history's point/to ink a beautiful literature.'… Translated into lapel-grabbing alliterative verse by Clare Pollard, these piercingly direct poems throw open a window onto a war-torn country and its wretchedly displaced people.' – Jeremy Noel-Tod, The Sunday Times, choosing The Sea-Migrations as his Poetry Book of the Year
'Performance poetry often dies on the page. But the work of Somalian poet Asha Lul Mohamud Yusuf is an exception, strengthened by a highly craft-conscious, perhaps troubadour-like, oral culture. Though the rhetoric is impassioned and the diction down-to-earth, there are no simplistic politics lectures in her dual-language, Somali-English collection, The Sea-Migrations: Tahriib… One of the tools of classical Somali poetry, I've learned, is alliteration, and Pollard has the perfect balance, not too heavy and not inaudibly subtle…' – Carol Rumens, The Observer (Poetry Books of the Year)

Asha Lul and Clare will be reading together at Verve Poetry Festival on 17 February 2018. Click here to book.
See the PTC website for more detailed information on readings, and to listen to podcasts of Asha Lul Mohamud Yusuf and Clare Pollard reading poems.
They are included on PTC's film of poets touring in 2017. Click here to view (forward to 2.53 to see Asha Lul and Clare)
Asha Lul and Clare were interviewed together for Radio 4's Mother Tongue series presented by Helen Mort in August 2017.
[11 December 2017]